Imagine if the NFL rules never changed.
A quarterback can't throw a pass unless he's at least 5 yards behind the line of scrimmage. The offence begins some plays just a yard from the sideline and is penalised for throwing more than one pass during a series of downs. Player substitutions are prohibited. No communication from the sideline is allowed. Players from both teams grab their opponents' facemasks at will.
Thankfully those are the ways it used to be and our beloved game has evolved to be as entertaining as we now know it.
But who decides on these changes? It's not the refs, they are only there to enforce the rules, they don't make them. That is down to the Competition Committee. This is an eight-man (yes still a closed world there) panel of the great and good of the NFL and is made up of owners, club presidents, general managers and two head coaches.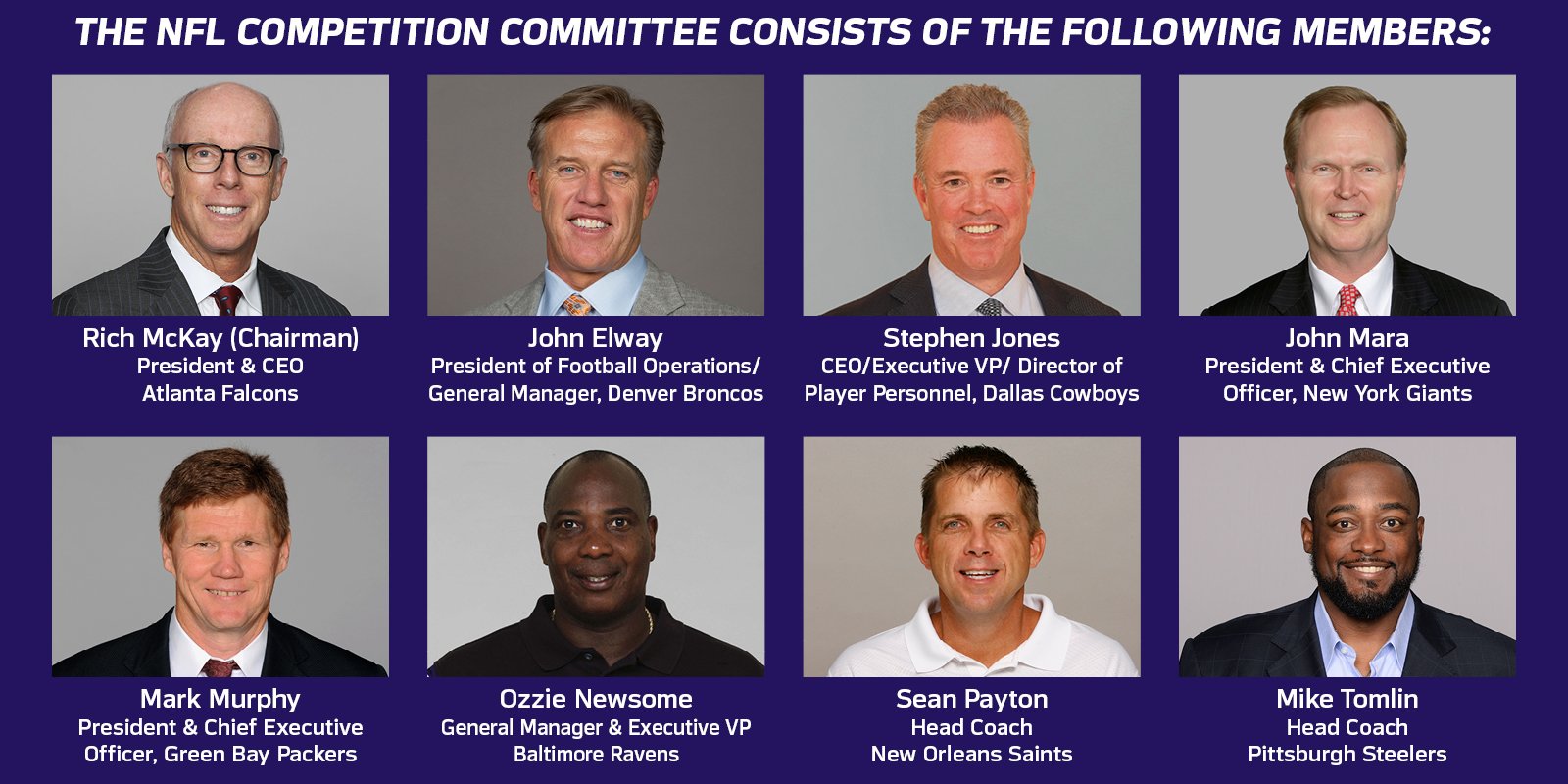 The Competition Committee's actions are based, in part, on feedback from a variety of sources. At the end of each season, the 32 NFL clubs fill out a survey, answering questions about player protection, officiating, competitive balance and technology. Leading up to the National Scouting Combine in Indianapolis, NFL Football Operations meets with coaches, general managers, players and NCAA representatives to gather their input about potential changes to the rules. There is also a review of data on injuries, instant replay and technology.
The Competition Committee discuss the changes and make recommendations that then get put to the NFL owners. They are meeting this week and here are the rule changes being put forward with a note at the end for which team requested, or CC for the Competition Committee.
Make permanent; After a touchback from a free kick, the next snap is from the 25-yard line. (CC) – PASSED
Change standard for a catch. (CC) – PASSED
Make penalties for Illegal Batting & Kicking the same. (CC) – PASSED
Roughing the passer and fouls on defenceless posture players reviewable by instant replay.  (Chargers) – FAILED
Personal fouls reviewable by instant replay system. (Redskins) – FAILED
Change the enforcement of defensive pass interference. (Jets) – WITHDRAWN
Authorise officials at NFL HQ to disqualify a player for a flagrant non-football act. (CC) – PASSED
A 40-second clock on coaches' challenge flags even if in TV time-out. – (CC) – FAILED
An extra point attempt is no longer necessary when a team scores a winning touchdown at the end of the game – (CC) – PASSED
A team scoring on a turnover after they've already had a possession in overtime can now win a game. (CC) – PASSED
I'll update this page when news from the owners' meeting is announced showing what's been passed and commenting where there is some clarity required.
What is a Catch?
This is one that has been discussed for years and whilst it has the shortest bullet point it's the one that will get the most attention. This year the rule is very likely to take a major update which will include the removal of the controversial element where a receiver has to survive going to the ground as part of the catch process.
What's now required will be Control, two feet (or one other body part) and a football move (or the time to make one even if the receiver didn't do it). Whilst fans may well cheer at this news, I fear the unintended consequence of far more fumbles ruled on the field and fans wanting a change again in the future.
Note: A football move is as little as a third step, two once control is established and the third to establish the catch.  Other football moves will be reaching for the goal line, tucking the ball away and turning upfield etc.
Other changes
There are other policy and bye-law changes being discussed, here are the details:
Bylaws
New procedures for draft prospect testing to be permanent after 1-year trial (CC) -PASSED
Reduce restrictions on reacquiring players assigned via waivers (BUF) – PASSED
Reduce restrictions on procedural recall waivers for players on Reserve/Retired list (BUF) – FAILED
Allow injured reserve players to be traded (DEN) – PASSED but only applying to major injuries.
Allow non-vested injured reserve players to avoid waivers prior to roster cutdown (MIA) – PASSED
Reduce postseason waivers from 10 days to 24 hours (MIN) – PASSED
Limit Western teams from playing more than 3 away games earlier than 1 p.m. in their home time zone (SF-AZ-LAC) – FAILED
Allow video on coach's tablets on the sideline and in the booth (CC) – TABLED for a future meeting
Injured reserve players may return after 8 games, not 8 weeks (CC) – PASSED
Injury settlements extended from 5 to 7 business days (CC) – PASSED
Revise reserve list reinstatement deadlines to close a loophole caused by Thursday night games (CC) – PASSED
Revise recall dates from military reserve list to be consistent with the trading deadline (CC) – PASSED
Policies
Allow officiating inquiries about specific plays to be shared with the opponent in that game (WAS) – FAILED
Require permanent female locker facilities in all stadiums by 2021 for home, away, and officiating staffs (SF)
Open contract negotiation and signing for a head coach candidate still active in the postseason (CC) – TABLED indefinitely
Relax tampering rules for teams contacting a veteran player who has been publicly announced as cut, but prior to the league's formal notification (CC) – PASSED (1 year only)
Points of Emphasis (POE)
A point of emphasis (not a new rule but more strictly enforcing existing rules).
1) Relating to illegal hits with the helmet. Rule 12, Section 2, Article 6 (i) says "using any part of a player's helmet or facemask to butt, spear, or ram an opponent violently or unnecessarily" is unnecessary roughness. Runners and tacklers are also prohibited from initiating forcible contact with the crown of the helmet. Fouls will be 15-yard penalties, which could be called more often in light of the emphasis. – STRIKE THIS OUT…. Despite this POE being sanctioned yesterday a new ad-hoc rule was announced today ….
"Playing Rule Article 8: It is a foul if a player lowers his head to initiate and make contact with his helmet against an opponent. The player may be disqualified.  It applies to any player anywhere on the field." – NFL PR, Brian McCarthy
This could be a major change, the devil is in the detail.  Wording and interpretation will be key here.  This on the surface goes beyond any existing NCAA targeting rule,
2) Rule a player down who surrenders their advance, not just by sliding or kneeling.
Comments
comments