BAFA National Leagues Predictions – Division Two: Week Eighteen
FINALLY. After 18 long weeks, we reach the end of the regular season in Division Two. Plenty on the line, including four perfect records, at least one of which is guaranteed to come to an end on Sunday. For the final time in 2017, it's over to our conference correspondents…
Clyde Valley Blackhawks Blackhawks vs Dumfries Hunters
Nothing to play for in this one except pride and maybe some experimentation ahead of the long off season facing both teams. The Blackhawks came into 2017 with a bang, having rebuilt after a year off and winning their opener against the Roughnecks in week 3 and then beating Dumfries in week 4, giving the suggestion that they might pick up where they left off in 2015, but that's where the winning stopped and it's left a big question mark over where they go from here. This year's squad is effectively the fruit of 24 months' work, since their last league game in 2015 and they stand on the verge of a 3-5-1 season at best. They have no youth or junior feeder teams anymore and their coaching staff will be wondering what they need to do differently in recruitment or in their practicing in order to drive our better results and get themselves in contention for playoff spots and a chance to get back into D1.
Things are likely to get more congested for them next year as West Coast cryptically announced a likely change of venue for next year and with the Trojans relegated to D2 and famous for filling up on players when they're in the bottom division and then falling apart when promotion has been gained, that's another team potentially in close proximity, fighting for the same players and resources to compete against each other. For the Hunters, I suspect it hasn't been the first season they'd have hoped for.
---
One win from eight after showing such promise in their associate and friendly games won't fill them with delight but they've scored more than the Blackhawks and more per game than the Roughnecks so with some work on their defense and some hard recruiting then they have the chance to come back in better shape and compete for a better spot in the standings. This one should go to the Blackhawks.
Carlisle Sentinels vs Northumberland Lightning
The Carlisle Sentinels will be looking to round of a challenging with their third win of the campaign as they host the Northumberland Lightning. They travelled to the North East just a few weeks ago, coming away with a 24-0 victory in a game that had a rolling clock from early in the first quarter due to a bad injury for a Sentinels player. Sitting at 2-6, it's been an improved season for Sentinels, with a game against the struggling Lightning and what we assume will be a no result from the Week 3 postponement that has never been mentioned again, a 3-6-1 record would be progress for the Cumbrians.
On the other side of the coin, Northumberland have had an horrific season. In previous seasons they showed glimpses of taking the next step, beating the playoff calibre Aberdeen Roughnecks in their 2016 season opener, but now they look into the abyss of a 0-9-1 season. Last week they travelled all the way to Walney to find out there was no referees forthcoming. There is talk that both sides would have liked to play the game with L1 coaches, but it would have left the Lightning with just 17 players to play.
---
Whatever way you look at it there will be some difficult decisions heading forward in the border county, they'll be looking to sign off with a win. Carlisle to win
Leeds Bobcats vs Gateshead Senators
This is what it has all been coming down to, the 9-0 Leeds Bobcats host the 9-0 Gateshead Senators in a winner takes the division and the #1 seed in the conference, the loser will likely host a play-off game at the #4 seed spot.
In eight games (both sides having a 1-0 walkover), Leeds have scored 395 points at a rate of 49.38 points per game, Gateshead lagging behind by a whole three points (392) which relates to 49 points per game. It's the #1 scoring offence in D2 vs #2 scoring offence in D2. Defensively, Gateshead hold the upper hand conceding 57 points in eight games (7.125 PPG), Leeds allowing a total of 65 points (8.125 PPG). The #3 scoring defence in D2 vs the #4 scoring defence.
Leeds last fixture was a 66-8 drubbing of the play-off bound Morecambe Bay Storm, the Storm, incidentally, will play the winner of this matchup. Since then they received a 1-0 walkover at the hands of the Knottingley Raiders.
Gateshead's last matchup, coincidentally was also against the Morecambe Bay Storm, coming out 42-14 victors in Week 16. The running game of the Senators was once again strong, RB Ryan Thomas Fletcher scoring a hat-trick of touchdowns on the ground, back Gavin Barr and Craig Lenahan also rushing for scores.
---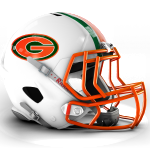 I'm going to side with the men from the North East in this final encounter. Their ground game has proved too strong for everyone, and it can allow them to control the time of possession.
Chester Romans vs Lincolnshire Bombers
One of these teams has already made the playoffs but will want to win to go into the post season with some momentum. The other team needs a win to make the playoffs. It should prove a cracking matchup to close out the regular season.
The Lincolnshire Bombers will come into this game brimming with confidence. They've already exorcised the ghosts of 2016s winless season, but now they could make the playoffs. A signature win against the Surge, who are also in playoff contention, have put them in the driving seat for a playoff spot. A win against the Romans will mean they will make the playoffs to face…oh…the Shropshire Revolution (according to the current standings). Doesn't seem fair for such a good season.
The Romans have not had the season they expected after last year. 2016 was dominant for the Romans and they were only beaten by eventual champions Leicester. They won at a clip but that pace hasn't carried into this season. Despite this they're still a playoff outfit having already qualified for the playoffs as the second placed team in their division. They can't improve their playoff seeding so this match is something of a dead rubber for them. However they'll be trying their best to go into the post season with a win before their playoff game against the Leeds Bobcats (again, according to the current standings)
---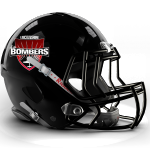 This one is a difficult one to predict. My head says to go with the stronger outfit who are playing at home. My heart says to go with the team who have bounced back admirably from a terrible 2016. I rarely let my heart rule my head…but today is the exception. Bombers to win
Staffordshire Surge vs <team name redacted>
<prediction blurb redacted>
To avoid any discontent or anger at potentially misinterpreted predictions this week, we have advised Will that comments relating to <team name redacted> shall not be published.
The Staffordshire Surge need to win to keep their playoff dreams alive. I mistakenly thought that the Surge held their destiny in their own hands last week, I was wrong. They need the Romans to beat the Bombers if they are to see the post season. However if they lose to the <team name redacted> then they won't make the post season at all. The Surge will be kicking themselves after last week's loss to the Spartans, as had they won then their path to the playoffs would be a lot easier. However fortunately for them they've come up against the perfect opponent to keep their end of the bargain up.
---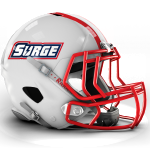 I'm sure the Surge would rather not rely on a team that has already made the playoffs to beat the team their competing with for the 3rd playoff spot. Staffordshire to win.
Bristol Apache vs Torbay Trojans
Bristol are hoping to hit a new record with this game – their first undefeated season. Currently at 9-0, Bristol know that they have playoffs to further their season. Unfortunately for Apache, they know that they need to not get too complacent with Torbay as they may have done last time they met. Torbay came off some big losses against the Sharks and Storm, but gave Bristol a very close game, which could have gone either way. Bristol have the talent with quick, aggressive defensive players; a large offensive line and a powerful running back core. Despite some initial problems against the Black Knights, the Apache eventually found their mojo and won 39-6. All three facets of the squad made an impact on the weekend. On offence once again, two touchdowns from powerful runner, Ed "Eagle" Green made life a misery for the opposing defence, while Frankie Pankhurst made a major difference on the Offensive line and was rewarded with an eight-yard rush at quarterback! On defence, Luke 'GB' Holloway has got three picks in three games and will be hoping to add to this against Torbay. Special teams wasn't forgotten either, Jake Farr made an impressionable return to Apache with tackles on four consecutive kick-offs.
Torbay are another team who are playing their final game this weekend. Torbay will be happy that they have just finished their most successful season with three wins. Their team looked different from other years, with a lot more talent on the roster and an improved attitude – it was just their inconsistency which became their weakness. Considering their last game against the Apache ended with a loss of six-points, the Trojans will be hoping that they can topple Bristol and make amends. The Trojans recently beat the Raptors 30-16, while it was a team effort, a lot of the credit goes to both their lines. On the offensive line in particular, rookie Joe Rabone and their oldest player, Simon Porter, made an impact against Jurassic Coast. On the defensive line, rookie Richard Hudson and Douglas Mobbs both helped keep the Raptors' offence from scoring. Mitch Coppin started to develop his skills at fullback the last time he met Apache by making surprisingly long yards in the second half of the game, but he was unable to find himself the endzone. After his first touchdown against the Raptors, he'll be hoping he can finally run it in against Bristol in his final senior game of the season. Head coach Guy Richardson has been happy with his team's performance in this campaign and is already looking forward to the 2018 season:
"This has been our best season since re-joining and is a great stepping stone for the 2018 season. It has taken a while to find and grow new players; 50% of our team this year had little or no previous experience. The addition of Blitz players this year has made a huge difference along with the late resigning our old QB, Aaron Butler. We're looking forward to our rookie camp and what further opportunities it brings"
---
While the last game was close, I think that Apache know what to expect now. Torbay are having to travel to Filton which always gives Apache the edge. Bristol to go 10-0 for the first time in club history.
Cornish Sharks vs Worcestershire Black Knights
The Sharks are likely to make playoffs and will be hoping to fix mistakes that they made against the Storm last week, in a game they may think that they should have won. It was a close game with Storm coming away with the 14-7 win. The Sharks' defense, especially their defensive line and linebackers, will be capable of stopping runs heading their way, forcing the Black Knights to pass.
Last week, the Black Knights had to face the conference champions, Bristol Apache. The last time they faced one another, they came away with a large number of injuries and a 61-0 beating. This time round, while they did lose 39-6, they did keep the game close in the first quarter of the game until Apache ran away with it. Toby Rhodes delivered some big hits on D and their only score came from James Browning who ripped the ball from the Apache kick returner and returned it for a touchdown. Worcestershire have had a commendable start to the National Leagues; they have won two games and lost the other two by two points (one being lost by two-yards!). Reflecting on their season, Head Coach, Rich Smith, was happy the Black Knights' first outing:
"Going into a season with 90% rookies it is going to be a tough time. We were competitive in five games and won two. The boys never gave up and we finished with thirty-seven players for next year. I'm proud of all of the hard work from everyone."
---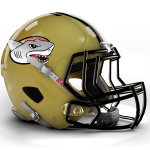 The Sharks may have lost three games, but they are still a strong side and will be too much for the Black Knights. Sharks to win.
Swindon Storm vs Jurassic Coast Raptors
Swindon currently have the potential to reach playoffs for the first time. Their win against the Sharks show how far they have come this season. Having received a 31-0 whooping from the Sharks at the beginning of the season, they managed to bag themselves a 14-7 win. Head Coach Rich Van Sloten regularly told me that every game was about raising the bar and that's exactly what they have done every game.
The Raptors are playing their final game of 2017 and unless things get really weird in the SFC 2 West, they will likely finish bottom of the table. As I've said before, while they aren't getting the wins, they have got a lot of positives to look back on: they have almost tripled the amount of points scored; cut their points against by 80 points and scored every game (last year they had five shutouts) and there is still a game to go. The Raptors' offence against the Trojans was able to compete thanks to the hard running James Baughtons, until he got injured late in the second quarter, which changed the tone of their O. Chris Coles helped show the importance of special teams in a game, with fantastic kicking; he scored a field goal and made some great coffin corner punts. A big kudos goes to Sean Tapping, who not only scored on a sixty-yard punt return, but caught a pick-six on the three-yard line that he returned for a touchdown by running the entire length of the field (Please do send that in for us to see and share!)! The Raptors will be hoping to upset the Storm, who have just defeated the Sharks, but unless their offence can improve their production, they will struggle to take a bite out of the Swindon's defence.
---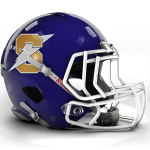 The last time the two teams met, the Storm won 40-6. Storm will be hoping to provide their second and third stringers game time in order to prepare for their potential playoff appearance as I feel they will be too strong for Raptors. Storm to win.
Berkshire Renegades vs Bournemouth Bobcats
Currently leading the Conference at 8-1 the Berkshire Renegades need a win this weekend to secure their place in the NL South playoffs. The team has really come a long way from their initial 36 point loss to the Cheetahs in week one, to beating them by 26 in week 16. The team now has 405 total points scored, whilst tied for second in the least points allowed at 97 with the Portsmouth Dreadnoughts. On a warpath to the playoffs and promotion to Division 1, they won't hold back this weekend.
At 3-6 and out of the playoffs the Bournemouth Bobcats had a turbulent season of comfortable wins and the occasional close loss. Beating the Renegades here would likely decide who ties for first place in the division with the Berkshire Renegades and could affect the seeding for the playoffs.
---
With the roll they are on and facing a team who has struggled to restrict the number of points allowed the Berkshire Renegades will win this one.
Portsmouth Dreadnoughts vs Hertfordshire Cheetahs
Both teams tied for second place in the conference, a position at the playoffs possibly riding on the outcome of this game and the chance to tie with the Renegades if they were to lose to the Bobcats on Sunday.
The Dreadnoughts are ahead of the Cheetahs in the table thanks to the 1-0 Walkover the Cheetahs were awarded in week 7 when the Conquerors forfeited the game. Both teams have similar points allowed but Portsmouth is trailing the Cheetahs by 58 points scored.
Also sat at 7-2 but third in the conference the Cheetahs are one win away from securing a place in the playoffs. After an incredible run deep into the season, the team has suffered two losses in a row and need this win for the security of a playoff spot. The team's average points scored is a TD above the Dreadnoughts but allows a very slim 1.3 points less per game. However small this is if the team can play to their average score this game should be theirs.
---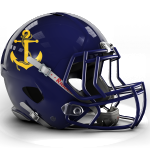 This will be a hard game to predict as both teams have done well this season, but I think it will be a Portsmouth win.
Hastings Conquerors vs Maidstone Pumas
The outcome of this game does not affect the conferences layout or team's chances of making the playoffs. A game of pride and finishing the season out strong will be the goal of both teams.
The winner of this game will decide who takes 5th place in the conference and who sits last. The teams have both taken large losses but at least one win to avoid that dreaded winless season.
---
This decision is also a hard one as the two teams are relatively close to each other. I would give this game to the Pumas who have scored more points and allowed less through the season so far.
Unfortunately, Lydon was unable to provide us with literature this week, so in steps Rob – who ruined JJ's prediction success rate a few weeks ago. Sorry Lydon. 
East Kent Mavericks vs Ipswich Cardinals
---
The Mavs will be upset they couldn't topple the Stallions last week. They'll take out their frustration on the Cardinals.
East Essex Sabres vs Wembley Stallions
---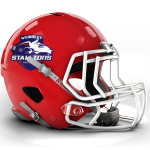 Wembley to complete a perfect regular season, and with a big score to boot.
Comments
comments