BAFA National Leagues Predictions – Premier: Week Fourteen
Outrageously, there's only one game in the top tier this weekend, as London Blitz look to bounce back from their defeat to the Warriors…
London Blitz vs Farnham Knights
After a tough loss against the Warriors on Sunday the Blitz this week host the Farnham Knights in their second and final matchup of the two teams this season. The Blitz loss Sunday means that it all comes down to their next match up with the Warriors as to whether they get the home ground in the playoffs, as long as they can get the win this weekend. Of course with the Knights currently at 0-7, the currently second best team in the Prem South shouldn't have a problem with gaining another win this week. That will take the Blitz to 8-1 and put them back ahead of the Warriors in the Standings.
The Knights managed a quick touchdown against the Aztecs in their last game in Week 12 but struggled to keep up with the remainder of the game. Having had a week off in Week 13 they may have had the chance to recuperate ahead of their game against a tough component on Sunday.
---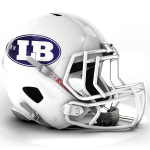 The Knights still have another three games left to play and will be hoping to get a win before the end of the season at the risk of going 0-10. The Blitz should be able to win this one comfortably.
Comments
comments