BAFA National Leagues Predictions – Premier: Week One
Just the one fixture in the top tier this opening weekend as the Pirates take on the new bloods to the Prem North, competing not only as conference rivals, but also for the title of top team north of the wall as Edinburgh and East Kilbride go head to head…
After struggling through a difficult season EKP look to put 2016 behind them and assert their dominance with this Scottish derby. It will be interesting to see how EKP cope with the loss of some big name players over the past twelve months or so, though reports are that attitude within the programme at least are much improved from 2016.
However, after gaining promotion with an undefeated regular season, the Edinburgh Wolves will come into the game used to victory and feeling confident of their chances to cause a big upset.
It's a local rivalry that should give us a good bearing on how the North is likely to shape up this season – are there going to be any huge and early upset as there were last season?
---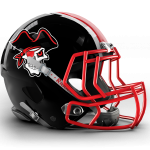 The smart money is on long established Pirates to give the Wolves a taste of the big leagues. EKP to win comfortably.
---
Comments
comments