BAFA NL '19 | Good Week / Bad Week: Week Five
The Summer Seasons are underway, and so Good Week / Bad Week returns as one of our core content pieces throughout the next five months of action! 
Week Five saw some incredibly eyebrow-raising scorelines, as a number of teams picked up their first wins of the season with upset victories, while on the flip side we saw the largest number of fifty burgers of the summer so far, particularly as the imbalance of power in Division Two becomes more and more apparent!
Honourable mentions
A lot of worthy mentions from the Under 17's game this weekend as we see four teams open or continue their campaigns with perfect records; the Highland Wildcats, Tamworth Phoenix, Yorkshire Assassins and Cobham Cougars all have perfect records following the weekend's action! Also deserving of recognition, the Manchester Titans North put in a strong showing this weekend, inflicting the first regular-season defeat the Chorley Buccaneers have suffered since 2017!
In the Under 19's game the Birmingham Lions and London Blitz both put in impressive showings, racking up hefty scorelines while continuing their perfect starts to 2019!
Two teams picking up their first Ws of the year after shaky starts, the Oxford Saints and Chester Romans took a step away from the cliff edge this weekend with wins over Berkshire and Lancashire respectively.
In our first Associate action of 2019, the Northants Knights notched up their first win, with a hard-fought 21-24 win over the Etone Jaguars. A great, competitive, fixture, with both outfits looking well on track for league-entry in 2020!
And finally, even though they ultimately came up short, a quick nod of respect for the Sheffield Giants whose defence impressed at the weekend, holding a previously prolific-looking Titans to a single score in a nailbiter of a Prem North clash!
Good Week
Knights notch up win at first time of asking!
The Edinburgh Napier Knights Under 17's kicked off their first-ever league campaign in Week Five, and impressed from the out as they took a win in their debut fixture versus the Hamilton Buccaneers.
Though they'd come up short in their subsequent two fixtures, against powerhouse programmes Highland and East Kilbride, the Knights have nonetheless impressed with their rapid rise from conception to conquest!
Tigers take first league win away from the Legion
The Thames Valley Tigers had a tough time of it in 2018, finding paydirt just the once across their six fixtures.
However, they made the most of their trip to rookie outfit, the South East Legion, to earn an 8-22 victory over the hosts.
The victory jumps them out the D1 table as a number of other outfits are yet to notch up their own first victories of 2019!
Exiles earn top tier win as Bristol fail to put up points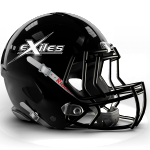 With the Aztecs offence failing to put up points for their second fixture in a row, the Exiles took a big step forward in securing their place as a Premiership programme.
They already made a good game of their opening clash with the Os, and this weekend's win will give their roster a huge boost in confidence!
It's worth noting there's some rumblings of controversy coming out of this fixture, but for the Prem's new boys they'll simply have their sights set on prepping for a daunting trip to the Warriors in Week Seven.
Cats continue clawing up victories
The Cambridgeshire Cats are putting together a helluva 2019 campaign, with their victory over the previously undefeated Bury Saints moving the Cats to 4-0, clear atop the SFC 1 East.
Their busy start to the season continues in Week Six with a showdown against the Stallions, but the matchup that's now looking especially tasty is the Week Eight meeting between the Cats and Hornets!
But which teams took a blow to their chances in Week Five?
Comments
comments