BAFA NL '19 | Good Week / Bad Week: Week Six
The Summer Seasons are underway, and so Good Week / Bad Week returns as one of our core content pieces throughout the next five months of action! 
Week Six saw a good number of blowouts, a handful of late comebacks, and some statement performances across all three tiers!
But which programmes had the best of it in Week Six?
Honourable mentions
The East Kent Mavericks senior team earned their first win of the season, besting the Pumas to break a losing streak going back to 2017.
On the flip side, we saw a couple of teams keep their win streaks alive via heroic, come-from-behind victories. The London Hornets found themselves two scores down early on, but put together a strong second half to best Bury, while the London Blitz Bs completed a second comeback win of the season over an understandably frustrated Bournemouth Bobcats.
The Tamworth Phoenix are starting to look more like the team we expected them to be this season – a fifty burger shutout of the Wolves a clear statement of supremacy over the North.
Following back-to-back disappointing defeats, the Sussex Thunder bounced back with big win over the Dreadnoughts that they'll look to build on to get their season back on track.
And finally, a quick shoutout to the East Kilbride Pirates and Halton Spartans who are making strong cases for a continued climb up the Power Rankings in their respective tiers with confident wins at the weekend.
Good Week
Merseyside make a move for postseason action with a takedown of the Titans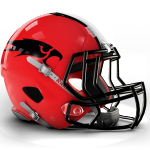 The Merseyside Nighthawks have moved into the #2 spot in the north as they outpaced the Manchester Titans in a top tier shootout.
Giving their somewhat tentative start to their campaign with a narrow win over Leicester and the hefty loss against the Phoenix, Merseyside have clearly been gaining momentum over the past couple of weeks – something they'll be eager to maintain as they head to a brace of bye weeks before returning against the Wolves in Week Nine.
Legion march to first league victory
The South East Legion earned their first ever league victory this weekend as they took away a low-scoring 3-8 win over the Cambridgeshire Cats U19s. 
An amalgamation of U19 outfits, perhaps the sprinkling of previous experience from their former programmes has allowed the Legion a fairly fast start – taking only two outings to earn their first U19 Division One victory.
Still, the South East side will want to learn what they can from their successful clash with the Cats, because their schedule from here out looks rather intimidating!
Exiles looking meaty as their burger streak continues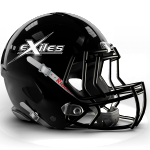 We'd have to do a lot more digging, but we suspect the Kent Exiles U17s must be approaching some sort of record already as they've made it to five straight fixtures with 50+ points scored following a successful 3-0 tournament hosted by the London Blitz in Week Six.
Their fixture versus the Warriors ended up being awarded, else these young ballers might've had a shot at six-straight on Saturday, and I'm betting they'll be gunning to keep their streak alive when they finally return to action in Week Eleven with a tournament that includes two teams they've already 'burgered' once this summer!
Vikings Pillage Senators For Huge Rivalry Win

If the Northumberland Vikings intend to challenge for promotion this summer, THIS is much more like the sorta scoreline we'd be looking for them to put up, as the Vikings dominated their local rivals, the Gateshead Senators, in a UKAFL live-streamed showdown.
Though they got off to something of a slow start with a turnover-laden first-quarter, as the game ground on the Vikings playmakers began to come to the fore, and they ruthlessly racked up a big scoreline on the Senators – a statement to the rest of D1 North that the Vikings are just as capable of putting up big numbers as their likely key contenders for top tier football – the Steelers and Pirates.
But which teams took a blow to their chances in Week Six?
Comments
comments