BAFA NL '19 | Power Rankings: Premiership Week Four
This year's Power Rankings for each of the three tiers of the BAFA National Leagues Adult game are being decided EXCLUSIVELY by our Patreon members, so if you want your say on who's top dog in each tier?
You can join our Patreon for just $1 a month and directly contribute to the growth of the game, and DC's survival!
Head to https://www.patreon.com/dblcoverage to learn more.
In the meantime, let's check out how the Patriots of the #BritballNation see things stacking up in the top tier after the weekend's action:
12. Farnham Knights (0-2-0) | No Change
Yet to break their duck in 2019, the Knights head to another bye this weekend before returning against the Olympians, eager to begin looking like a team that can compete in the top tier.
11. Kent Exiles (0-1-0) | No Change
A late-game loss against the Olympians sees the new boys to the Prem South remain outside the top ten.
In truth, I think that's probably a bit harsh as the Exiles led for the majority of their top tier debut against the Os, but they've got the perfect opportunity to make amends when they travel to the Aztecs this Sunday.
10. Sheffield Giants (0-3-0) | Down One
Sheffield are likely a better side than their 0-3 record would imply – they ran the Wolves close in Week Four, despite taking a long trip north of the wall.
However, sooner or later they've got to start notching up some Ws if they want to remain a top tier team… and this weekend's tilt against the Titans looks like a tough fixture to kick off a win-streak with.
9. Leicester Falcons (1-2-0) | Down Two
They might have dodged the fifty burger, but Leicester's drop down the rankings continues after suffering a significant loss to the Titans in Week Four.
It goes to show how well the Titans have taken to top flight football over the past few years, as these two teams had a much closer contest when they last faced one another during Manchester's promotion campaign.
Carrying a number of crucial injuries and obviously still missing some of the players they expected to field during the preseason, the Falcons clearly have some ground to make up.
Perhaps luckily then three byes weeks beckon before Leicester return to action once again – a chance to really shake up the top tier as they travel to Tamworth in Week Eight!
8. Bristol Aztecs (0-1-0) | No Change
Bristol stay sat in 8th having not seen action since Week One.
Still, we'll see them again this Sunday as they play host to the Exiles – a game we know Kent will have circled as one of their key fixtures for 2019.
If Bristol look to reclaim at least their #3 spot in the south this summer a confidence performance this weekend will be crucial.
7. Edinburgh Wolves (1-0-0) | Down One
The Wolves win, but drop into seventh, perhaps courtesy of the narrow margin of their win over the Giants.
They're likely still adjusting to some key departures during the offseason, and as such a win in their season opener against the already blooded Giants is nothing to dismiss.
Edinburgh travel to Merseyside this weekend.
6. London Olympians (1-0-0) | Up Four
Big climbers this week, the London Olympians kicked off their 2019 campaign with a strong second-half victory over newcomers to the top tier, the Exiles.
In truth, it's perhaps a little surprising to see the Os climb so high courtesy of only defeating a recently promoted team, but they'll have an opportunity to prove their worthy of the climb up the ladder when they play host to the Blitz on Sunday.
Sure, few will be looking for an Olympians win, but if they can hold their own against their cross-capital rivals that should be enough to hold onto a decent rankings position.
5. Merseyside Nighthawks (1-1-0) | No Change
No movement from Merseyside, despite a hefty loss to Tamworth in Week Four.
They'll turn their attention to this weekend's game against the Wolves, likely a crucial fixture if the Nighthawks intend to keep within touching distance of the top teams in the north and possibly make a return to postseason action in 2019.
4. Manchester Titans (1-0-0) | No Change
Despite their dominant debut against the Falcons, Manchester remain in the #4 spot… but just barely!
We actually had a good number of Patreon pollsters placing the Titans above both the Blitz and Phoenix following their impressive showing in Week Four – could this be the year the Titans come into ascendancy?
First up we'll see them head to Sheffield on Sunday, looking to pile on the pain to a 0-3 Giants. Don't be surprised to see a more closely contested scoreline than last week though.
2. London Blitz (2-1-0)
Blitz drop down to third following a tough-looking loss to their south London rivals.
The Warriors scored early and often throughout the Week Four clash, and it's a worrying sign of the potentially growing gap between the defending champs and the rest of the League if even the Blitz aren't able to keep pace with them during the regular season!
The Blitz will look to bounce back swiftly with another cross-capital matchup in Week Five as they head to the Olympians, eager to get their mojo back.
3. Tamworth Phoenix (2-0-0)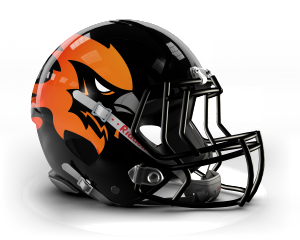 Sure, we're not seeing the kinda numbers they were putting up last year, but they're still perhaps sounding things out after some key offseason departures.
Even so, it was a more confident-looking win over the Nighthawks, and though some pollsters have the Titans hot on their heels or even surpassing the defending Northern Champs, for now the Phoenix remain the team to beat in the north.
1. London Warriors (2-0-0)
Oddly, the Warriors might actually look at their Week Four result as something of a disappointment…
Considering the incredible rivalry between the Blitz and Warriors, we're fairly sure the south London side would've had no problems stacking a Burger on the Blitz once again, but came up just shy.
They're the unanimous #1 team in the Nation once again this week, and in truth I'm not sure I see that changing any team soon, short of some kinda horrendous slip up from the reigning Britbowl Champions.
---
This year we'll also be tracking the rise and fall of each team in the rankings throughout the season with this handy graphic:
Comments
comments