BAFA NL 2018 | Predictions Week Twelve – Premier
Just a single game taking place in the Premier, where the Pirates seek to end their poor run in 2018 and keep their hopes of remaining in the top tier intact.
Prem North
written by George Buksmann
East Kilbride Pirates vs Merseyside Nighthawks
With relegation looming overhead the deciding fixtures finally begin to take place as East Kilbride host Merseyside this week, with the reverse fixture being played in week 14.
With just three games remaining East Kilbride play Merseyside twice and finish the season away to Tamworth. Their next two fixtures are vital, must win games as Merseyside currently sit fifth in the table and Tamworth are expected to complete another perfect season.
"It's obviously a must-win game for us. That adds a lot of pressure and drives up the need for us to be as good as we can be on the day," said HC Jamie McLaughlin, "On the one hand we have to understand that, but on the other, we have to be capable of treating it as any other game. We're still trying to develop and execute the same way we have been in other games."
Preparation will be no different for the Pirates, to them, this fixture is no different to a normal week, they'll go through their scouting and work through their normal preparation steps. "If we focus on taking care of our individual jobs then we will give ourselves the chance," the Pirates head coach said.
The Nighthawks offence was clearly outlined as the biggest concern for McLaughlin, but with Merseyside also having some defensive frailties, it presents an opportunity for the Pirates offence to exploit it and top their best offensive performance.
"We need to contain their significant talent at the offensive skill positions. They've shown in multiple games that huge performances by individual receivers can drive their O. We must ensure that we keep the obvious threats under control. Offensively, we just need to continue building on the platform we've built for ourselves. The players have been working hard and the successes are beginning to show – it's a case of getting the most we can out of that work on Sunday," McLaughlin said.
Sunday will be the culmination of everything the Pirates have worked for this season, with loss potentially spelling relegation.
"It's been no secret that the team has been building from the ground up during this past 6 weeks. There have been some amazing moments in that time and we've seen some guys really start to develop," said HC Jamie McLaughlin, "Sunday will be a continuation of that process and we need to believe in our ability to do what's needed to win the game. We know that execution in all three phases has let us down at different stages throughout the year and it will need to be sharp if we want to win and to stand a chance of Prem football next year. That's our primary focus as coaches right now."
The Nighthawks find themselves in the more favourable position, having played one less game than EKP, a more 'generous' fixture list (not having to play the Phoenix twice to round out the season), and most importantly they have a win from when they topped the Titans in the 'Miracle on Merseyside'.
"It's evidently a must-win game in the fight to remain in the Premier North. We know what we need to do on and off the field, and the last two weeks have been focused on getting guys healthy post-Edinburgh and correcting fundamental errors we've been making," the Nighthawks said.
Just like the Pirates, Merseyside to have been relentlessly studying game film as this is just any other game week, arming their players with the knowledge they need to prepare for Sunday.
The Nighthawks have looked to their previous successful seasons in 2016 and 2017 for inspiration, knowing that they are fully capable of performing at a higher level. "Our defence have been under a lot of pressure lately, and anything the Offence can do to keep our D off the field and refreshed will obviously be a positive step," they said.
With it being "business as usual" for Merseyside both teams will be preparing for a tough encounter, as both teams desperately need a win to keep their seasons alive to ensure safety. On paper, Merseyside has the advantage here, however they have struggled defensively conceding only 14 points fewer than the Pirates. Equally, their offence also struggled against a dogged Edinburgh defence, and with Scottish teams known for their resilient defences we could see a repeat of that.
---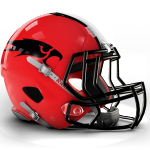 It's not totally out of the question that EKP snatch the win here, but they will really need to show up to this game to transform their season. Nighthawks to win.
Comments
comments