BAFA NL Predictions Week Five – Division One
Ooh-ee are there some tasty games in the middle tier this weekend, including a number of teams getting a second shot at one another!
NFC1 North
written by Nathan James Sharrocks
Lancashire Wolverines vs Gateshead Senators
Not the start the Wolverines will have wanted in Division One. After the 33-33 tie ball game against this week's opponents, the Gateshead Senators, the Lancashiremen returned to the Northeast for another close game, being pipped by a point by the plucky Northumberland Vikings. Things got ugly at the final whistle though, with no fewer than FOUR Wolverines ejected, with three players now set to serve a ban this coming week.
Head Coach, Lex Dunn, had this to say,
"Disciplinary measures have been discussed by the club's committee and actions are being taken. The club is currently communicating these actions to the three individuals and a public apology will be made by means of a press release later this week."
With two OL and a QB having to sit out this game, it's tough to see how the Wolverines will triumph over a team they tied with just a few short weeks ago.
The Senators meanwhile will relish their chance to take a W in what they'll have billed as one of their toughest of the season, particularly with the long journey down to Preston before the game.
QB Robb Watts will be looking to have another composed outing whilst defensive captain Joe Anderson will be looking to add to the two interceptions he had against the Wolverines in Gateshead.
---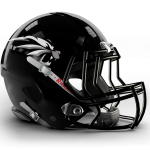 This is a tough one to call. The ejections won't help the Wolverines but with strong alternatives at QB and OL they won't suffer too much, whilst the Senators have a long journey down to Lancashire. Expect another close game, but I have to back Lancashire to go 1-1-1. Lancashire Wolverines to win.
NFC1 South
written by Grant Dean Lawless
Doncaster Mustangs vs Sandwell Steelers
After Shropshire whirled through Doncaster, a few weeks ago, the Mustangs will still have a taste of blood in their mouths.  The takeaway from this game, where the gave up a giant 50 burger, is that they managed to put up three scores on the stout Revolution defence.  From what I've seen, I expect to see Mustangs WR core pick up a score or two on the Steelers… Whether or not the Mustangs defence can hold their own is another story
Sandwell's last outing saw them hold off the same Revolution, who rallied hard in the fourth.  They got the score but opted to go for two, and the win, rather than tie it up with a Field Goal.  WR, Josh Lawrence proved to be the difference maker in this fixture, with a fluttering of targets and a triple score on the day.  Defensively, the Steelers Front seven continue to cause havoc; forcing several errant throws and turnovers by the Shropshire QB.
---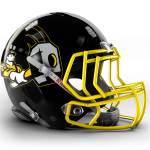 Using a simple equation: Sandwell > Shropshire. Shropshire > Doncaster. Therefore: Sandwell > Doncaster
SFC1 Central
written by Chris Fox
Sussex Thunder vs Ouse Valley Eagles
When OVE hosted Sussex two weeks ago they managed to hold the presumptive favourites to a scoreless first half. A not unimpressive feat considering that even for a home game the OVE sideline was less than packed, with less than 40 players dressed for the game and injuries taking a toll throughout the game.
There seems to be an aura of bad luck around the Eagles as when they do get a break it doesn't quite end up as expected. Toward the end of the first half, ball hawk Mike Turner managed to secure an interception, his first of two, that could have gone for points if it had been lateralled, and a blocked extra point was instead secured by the Thunder for two.
Football luck is a real thing and the Eagles just need a little bit of it to go their way because they're right there, ready to compete with the best of them.
Sussex get their first home game of the season this weekend and will be looking to put on a show for their fans. After travelling to OVE two weeks ago and coming back with the win they should rightly be coming into this game full of confidence. Their aerial attack has provided all their touchdowns so far, but they also gave up four INTs in their last game which raises questions about their QBs decision making abilities.
---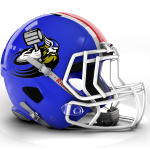 Sussex have bounced back from their opening weekend stumble and OVE have yet to demonstrably solve their roster issues, so we'll be backing the home side to walk off the field victors this weekend.
Solent Thrashers vs Bristol Apache
A fairly rude awakening for the Apache last weekend doesn't bode well for their future in the middle tier, but a single game doesn't define a season. Club Chairman James Talbot had this to say about the game:
"We had one or two personnel issues, missing a couple of starters on the O line for example. We also have a large contingent of rookie players this year and in our role as a development team we are going to try and give them game time as well. It was much easier to do in Division Two.
Ultimately we made a few errors and Berkshire didn't. I don't think they are 50 points better than us but we have to wait a few weeks to prove that. Obviously, our focus has already moved on to Solent. We've not played them since there was only the one tier below the Prem in 2014 but know where they are a threat. It'll be an interesting game."
When they travel to Solent this weekend there is no reason they should change their commitment to being a development team, and with one game under their belt the rookies will already be more prepared for the drastic difference between training and a live game situation. A strong coaching staff means that you can trust the Apache to have made the adjustments necessary to get the best out of their players moving forward.
Solent have had a month off since their opening weekend win against Oxford. In that game the Solent linemen on both sides of the ball had complete control of the LoS, punching holes for the backs to rack up 7.4 yards per carry whilst holding their opponents to a measly 3.2 yards per carry on an equivalent number of attempts. It might be pretty receivers and backs who score most of the points and get the praise, but it all flows out from what the big boys upfront do and Solent's get the job done.
When asked for comment, Head Coach Steve Rains had this to say:
"Bristol were playing their first game against a team playing their 3rd – we are sure they will be stronger this week and of course for us with such a long break its like starting the season again.
Against Oxford our Defense had a good day – particularly the D Line. – which was encouraging as it was the first game with our new Defensive Co-ordinator Graham Jessett.
We struggled a little on Special Teams but have addressed that by supplying focus through the appointment of Chris Howard as Special Teams Co-ordinator following his transfer from the Farnham Knights.
On Offense – I've always focused on having a strong ground game, but as was the case last year, that is balanced by some real talent in the passing game. We don't single out players – its a team effort driven by great work from our Offensive line."
Solent and Bristol may have only played the one game each and although they had opposing outcomes from those games this should not be viewed as a sure thing by any means. Solent will need to keep up the pressure that they were able to generate in their opening fixture and approach this game with the respect it deserves, it could easily turn in to a trap game.
---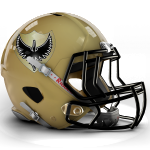 Bristol will need to put their mistakes behind them and trust in the coaches and scheme as they come in to this game. Although I can see this being a competitive affair, I believe that experience will tip the scale in favour of the home team and Solent will come out on top.
SFC1 East
written by Nick Wilson-Town
Kent Exiles vs Colchester Gladiators
Following last weekend's results, I think it's by now fairly official… that this conference in the worst in the league if you're a prediction writer!
The Gladiators came into Week Four undefeated through their opening two, facing a London Hornets team who'd fallen short against a Stallions side the Glads had found success against in Week One… But lo, in a situation unerringly reminiscent of last season where all the SFC 1 East's teams ended up with overlapping wins and head to heads? The Hornets upset Colchester, and suddenly the Gladiators are looking a lot more vulnerable.
From the perspective of their upcoming opponents? This is perfect timing.
The Exiles opened their season with a loss in the most painful fashion – a closing seconds onside-kick recovery, capitalised on for a win-by-one for the Cats. However, they bounced right back at their next opportunity, dominating local rivals, the recently promoted-by-proxy East Kent Mavericks on Sunday.
With a lot of momentum at their backs, and the Gladiators having stumbled to just nine points in their last outing? Kent has a great chance to keep their season on the right track and maybe even nudge into pole position in the conference on Sunday.  Look for Week Four offensive MVP, Wesley Eversley, to provide a strong backbone to the Kent ground attack following his 100+yds of offence and brace of scores on Sunday.
As with so many football fixtures, this one's likely a matter of who makes the least mistakes. Both teams have proven an ability to put up scores if they're allowed, and nor is either side exactly porous on the other side of the ball! Whichever way it goes, I wouldn't expect more than a score in it.
---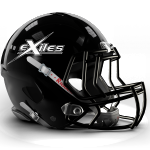 Given that the Exiles are coming in off such a nice win, and have the home-field advantage? I'll give them the edge here… But let's be frank, right now any matchup between five of the six teams in the East looks like you might as well predict the winner with a coin toss – this conference is TOIGHT, like a Toiger.
Wembley Stallions vs Cambridgeshire Cats
Two teams that have had mixed results so far, go head to head – each with a chance of taking pole position in the conference if results go their way!
Both sides come into the game off the back of wins… But we'd suspect both sides would have liked said wins to be a tad more convincing!
For the Stallions, their 17-6 win over the Hornets was more than just a victory over a local rival – it also avenged losses to the Hornets from two-season hence, where the Hornets had previously scuppered the Stallions shot at promotion back in 2016. It also establishes Wembley as a contender in this hotly-contested conference, their first middle-tier notch in the W column… All very positive signs as they host a Cats team that have been tough to get a grasp of so far this season.
The Cats opened up their campaign with their much-talked-of come-from-behind win over Kent, but followed it up with a disappointing loss to the Gladiators. Fast-forward to Week Three, and they took what looked like a nice 22-7 win over the East Kent Mavericks… Only for the Exiles' subsequent 48 point blowout of the Mavs in Week Four, make the Cats' scoreline look rather modest by comparison!
As such, much like last season, trying to predict fixtures in this conference based upon comparable form so far this season? …Gives me a headache!
---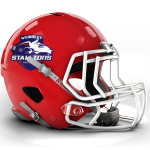 As with the other game in the East this weekend, don't expect there to be much between these two contenders… But I'll opt for the Stallions to have the better mojo going on following their meaningful win over the Hornets in Week Three.
Comments
comments