BAFA NL Predictions Week Four – Division One
In to Division One now, and our correspondents cast their eyes over all four conferences with some potentially big implications already in the NFC1 South…could we have a relegation decider in Week Four?
NFC1 North
written by Nathan James Sharrocks
Northumberland Vikings vs Lancashire Wolverines
Nice comeback Northumberland! 19 points to nil down at the half, the Vikings came conquering back to beat the Gateshead Senators 20-19, with quarterback Nathan Baker leading the offence with a maturity that defies his age. The QB, who must enjoy being a Viking as he also kits for the Edge Hill team of the same moniker during the Uni season, and the Northumberland outfit will want to avoid the same disastrous start this week though, as they take on a Lancashire Wolverines team desperate for their first win in Division One.
The Wolverines let a 19-7 half time lead slip to finish 33-33 in a nailbiter against the Senators last time out and they'll not enjoy their 0-0-1 record. Their defence contains experience with the likes of Matt Lago and Andy Stackhouse lining up alongside some talented rookies graduating out of the Chorley Buccaneers juniors team (watch for Dan Cleary and Jack Stewardson) but they'll need to shore up to stop a repeat of the second half spillage.
This has the potential to be a bit of a shootout, with both offences clearly capable of putting up points in a hurry.
---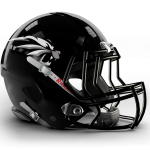 They've both played the same team in their only game so far, with Northumberland taking the upper hand, but I'm banking on Alex Dunn and his Lancashiremen to have utilised their week off well and to come into this one strong. Lancashire Wolverines to win.
Glasgow Tigers vs Leeds Bobcats
Another game where both teams have been promoted and both have played the same opposition in their first game out, the tough looking Yorkshire Rams.
The Tigers held up well though, succumbing to just a 10-0 defeat, whereas the Bobcats let in 31 unanswered points against their county rivals. This doesn't bode well for the Leeds men, who have the long journey to Scotland ahead of the game.
Both teams need to get their offences on the board in this one, in what could be an early indicator as to who stays in Division One and who is relegated, whilst shoring up the defence will be high on the agenda for Leeds also. Whilst it's premature to be looking at teams facing the drop, the NFC 1 North is a tough division this year so a win here will be vital for both of these teams.
---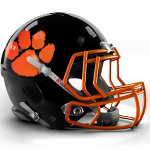 With a stronger defence and with Leeds having to make a long journey, I have to look to the home team to put the W on the board here. Glasgow Tigers to win.
NFC1 South
written by Grant Dean Lawless
Coventry Jets vs Nottingham Caesars
In their eight quarters of football against Leicester, these two teams combined for 5 Quarterbacks, 8 turnovers, 3 for scores, 1 Field Goal and 0 touchdowns. Those who are new to Britball, welcome to the NFC1 South.
It's worth noting, that both Coventry and Nottingham defenses went toe to toe with the Falcons offense. And although they both came out losing, they both put up valiant fights. The Jets in their first half before running out of gas; while the Caesars defense didn't get going until it was already over.
Coventry lacked players in both quantity and quality when they were dismantled by the Leicester Falcons. They will have come out of the game feeling they did a solid job. Against a team who are just better, they were defeated by fatigue rather than by anything else. They need to find a playmaker to get a win against a Nottingham side that bested them three times in 2017, each by a single score.
The boot of WR, Jack Winfield, who smashed a 40 yard Field Goal, stopped the run of shutouts for the Caesars who are now without a win in their 5 previous fixtures. They couldn't get the ball moving on the ground, with the longest rush of the day measuring only 2 yards before being fumbled on the ensuing play. The play air attack wasn't much more impressive; only finding success when the play sheet had been thrown out of the window in a game that was out of reach.
In the first of back to back fixtures between these two teams, it's all to play for. Two wins here will all but guarantee the victors Division One football in 2019. Obviously Doncaster will be there or thereabouts too, but this should be quite an interesting watch for a defensively minded spectator.
---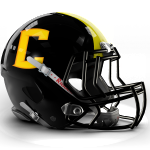 Caesars to win in a scrappy game without an offensive score.
SFC1 Central
written by Chris Fox
Berkshire Renegades vs Bristol Apache
After scalping the presumptive favourites in Week 1 their last outing turned out to be a much more even affair. Although both sides had the led at points in the game, neither could clinch it and it was only a missed 39-yard field goal that kept the Renegades from losing.
A well-balanced offence that can grind it out on the ground or tear off big chunks through the air can put the Renegades in position to score but aggressive play calling saw them turn the ball over on downs twice, once inside the 15-yard line. Leaving points on the field might not make such a big difference in Division 2, but in the middle tier it's all a lot tighter. As they prepare for their third consecutive home game of the season, the Renegades will need to have used their bye week to improve what needed to be improved, especially the kick-off coverage that gave up a 90 yard touchdown run back.
Bristol have had a late start to their season, this is their first fixture following their realignment to Division 1 at the start of 2018. We'll see if the three additional weeks of training have paid dividends as they get the new crop of Apaches ready for the rigours of football. Although the Apache lost their powerhouse veteran running back Jon Walters this offseason, Ed Green has stepped up to fill in.
However talented he may be his success will be predicated on the oline in front of him, none of whom were starters for the Apache last year.
The last time these two teams faced off was only last year in the SFC II Semi Final, where the Renegades managed to travel to the Wise Campus and come away with a 27-33 victory.
---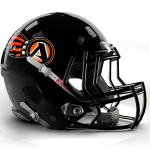 Even with it being such a short time since they met, the offseason has brought about a whole host of changes and in this writers opinion it should be enough to see the Apache come out on top.
SFC1 East
written by Nick Wilson-Town
Colchester Gladiators vs London Hornets
London opened their campaign last weekend, and much as we predicted they were steady, but lacked the spark on offence to pick up an opening win against new boys to the tier, Wembley.
As such, they're going to have even greater questions asked of their offensive production against the somewhat surprising top-dogs in the East coming into Week Four, the Colchester Gladiators.
Yes, despite only dodging the drop to the bottom tier by merit of league realignments during the offseason, so far the Gladiators have more than proven BAFA justified in keeping them in the mid-tier, having seen off both the Cats last weekend, and the Hornets' most recent opposition, Wembley, back in Week One.
Now, admittedly, neither of these wins have exactly been comfortable – outpacing the Stallions by 8 points in their season opener, and holding off Cambridge for a mere three point the following weekend… But inch or a mile, Gladiators have found a winning formula this year and if they can perform to par? Should be considered strong favourites here.
---
Don't expect a blow out – in fact take that as a given for pretty much every game in this conference this year, which is awesome – but Colchester get the nod to take this one.
East Kent Mavericks vs Kent Exiles
A local rivalry we've not had the chance to see for a couple of years, with EKM mixing it up in Div Two, while Kent have been consistently competitive in the middle tier.
Both sides opened their years with disappointments – Kent suffering a demoralising final seconds loss to Cambridge in Week One, while the Mavericks have so far looked the most off the pace in this conference in their 22-7 loss to the Cats last weekend.
It's tempting to put a lot of hype into this one, what with it being something of a local derby, but at the same time? It's going to be asking a lot of the Mavericks to shake things up and best an Exiles side that have seen playoff football in recent seasons.
EKM took the boost into the middle tier through realignment after being one and done in the 2017 Division Two playoffs (a 34-7 loss to Berkshire) and this is a helluva conference to be stepping up to – boasting a bunch of teams who went toe-to-toe with the Os last year, who are now mixing it up in the Premiership.
---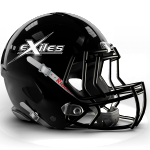 Their players will no doubt develop as the year goes on, but right now I've got to pick against them until they give me a reason not to – Exiles take it.
Comments
comments