BAFA NL Predictions Week Four – Premier
On to the top tier now, and it's just the North in action. Fear not fans of the South, your conference returns with a vengeance next week!
Premier North
written by George Buksmann
Sheffield Giants vs Manchester Titans
Sheffield's reign atop the Prem North didn't last long, as they fell to the Wolves 30-10 on Sunday.
A high snap off a Giants punt, resulting in a safety, gave the Wolves an early lead. This was quickly followed by a touchdown from Wolves RB Calum Davidson, the first play after the kick-off. The Wolves would convert on the point after attempt and extend their lead to 9-0.
It wasn't long before the Wolves struck again, explosive feature-back Calum Davidson breaking out for another touchdown run, 16-0 Wolves.
As the first half began to close out there was hope for the Giants, Anthony Marsden would pick off Jamie Morrison to claim his second interception of the season. With time running out, QB Dan Johnson once again found WR Deivydas Merkelis for a Giants touchdown, making it 7-16 before half-time.
In the third quarter, Alex Cooper added a field goal for the Giants, 10-16. However, this would not be enough as the Wolves dominant run game got going again in the second half as they added two more touchdowns. Calum Davidson shone and finished the day with 245 yards and three touchdowns on 25 carries.
"The game was closer than the final score suggests," said HC Toby Chesters, "It was 16-10 just after the half and it stayed that way through to the last five minutes of the fourth quarter, where we conceded two late touchdowns while chasing the game. We cannot afford to give anyone, let alone a strong Edinburgh side, a 16-point head-start and turn the ball over seven times."
Sheffield will put "trust in process" as they look to their upcoming game, "Edinburgh is in the books and we are 1-1. We are pleased to welcome Manchester to Sheffield and we are looking forward to the contest," said Toby Chesters.
Manchester has had a week to recover from their outing against the Tamworth Phoenix. While definitely tough, an opening loss against the reigning champions clearly doesn't define the team.
"We're practicing with a new sense of purpose and intensity," said HC Pete Birds, "We know the team is keen to not have the first game being the defining moment of the season, and that's not what we want the identity of the 2018 Manchester Titans to be. We're working hard to build momentum to shake off the tag that game has given up, and we'll relish any underdog status the community wants to award us. Thankfully, we've had a week to lick our wounds and rebound ready for a big game against Sheffield, so the past week has been about correcting our mistakes, regaining the confidence and putting in the maximum amount of work to kickstart our season."
Birds has put an emphasis on starting the game "fast and aggressive" as the key to overcoming the Giants. "Whether it's through game-changing special teams, suffocating defence or explosive offensive play, we need to start the game with momentum on our side. The players are all in, but being able to see that translate from practice to the game will provide a surge of confidence, acting as a reminder of the football we played last year and are able to play this year. We understand the quality and physicality Sheffield brings, but we approach each game fearlessly," he said.
The Phoenix game was a necessary wake up call to everyone involved with Titans organisation, but HC Pete Birds is confident in his staff and players that they'll get the job done on Sunday.
"We've had a bye week, and now hit three games on the bounce with a fantastic opportunity to prove we belong on this division against premiership heavyweights. The Giants are a fantastic team, a perennial premiership side who will always cause teams problems, and they'll be eager to keep us in our place. We need to keep believing without fear and stay confident without becoming complacent. We're All In this Sunday in doing everything we can to take the next step with this club."
---
Upset on the cards. Manchester to get their first W.
East Kilbride Pirates vs Edinburgh Wolves
Edinburgh opened their season in the perfect way possible, with a W over the Giants, in doing so they certainly proved my prediction wrong, and all credit to them.
The Wolves offence lit up the Giants defence through RB Calum Davidson, their defence was stout too and had their own flashy plays with a Connor McPhee pick-six.
There appeared to be very little off-season rust as the Wolves powered to victory, and with a short week ahead, they will be preparing just as hard for their biggest rivals, the East Kilbride Pirates.
"A win this weekend would be fantastic for the team's morale," said HC Don Edmonston, "After a draw and a big defeat last season the team will be looking to for a statement rivalry."
Edmonston and his staff will be hoping for another big outing from RB Calum Davidson and the rest of the offence to get on the board early, in what I expect to be a gritty game.
"We are delighted to make the long away trip and return both with the win and no serious injuries. We have a short turnaround to prepare for another away trip to East Kilbride to try and gain our second win in as many games. We have had some great individual performances but we also scored in all three phases of the game, which is always welcomed but we will take each game as it comes. There are no easy games in the Prem North," said HC Don Edmonston.
The Pirates have had an extra week to prepare following their week two loss to the Sheffield Giants. East Kilbride will need to get their offence firing to stand any chance of beating the Wolves, on their last outing they were shutout and QB Neil Baptie was picked off three times. With that being only the first game of the season, there is time to turn it around.
We try to be consistent with how we prepare," said HC Ross Templeton, "(We will) resolve issues that we had from the previous game first, then look ahead to what we expect the Wolves to do so we can prepare the players for what they will see."
EKP want to continue to build on their core of new rookies and graduating junior players as the future of the team.
"The biggest plus was getting so many rookies and new players a lot of game time, we have a new influx of players coming through that we hope to be the core of the team for years to come, so starting to build their experience is beneficial," said Ross Templeton.
Did we mention that this is a rivalry game? It has been almost 22 years since EKP lost to Scottish opposition, spanning 25 games. It was August 1996 when EKP last lost, this was to the Fife 49ers, when now Wolves HC Don Edmonston was on their roster!
"It would mean a lot, we want to stay the top team in Scotland," said Ross Templeton, "So we can't deny that playing the Wolves is a big deal. We also need to get our first win so this is an important game for us."
"The game against the Giants was disappointing, we didn't perform how we wanted, and as coaches, I don't think we did enough to help our guys succeed. But it is a lot easier to identify the issues and learn from your mistakes in a loss, so we have been working to correct them for the game against the Wolves," said Ross Templeton.
---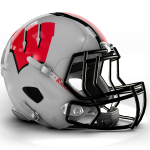 Unless EKP can find a way to get their offence firing, I think we'll see Edinburgh break that streak. Wolves to win.
Comments
comments