BAFA NL Predictions Week Nine – Division Two
A busy weekend of matchups across Div Two as a wealth of mid-table teams look to get their seasons into gear and become true contenders for postseason action…
NFC2 North
written by Matthew Davies
Clyde Valley Blackhawks vs West Coast Tojans
The two teams have met once already this season, with the Blackhawks coming out 22-12 winners in a surprisingly close game, considering the perilously small squad that the Trojans have been able to muster for their games.
Their last outing saw DC/LB/stand-in-QB Tam Chapman suffer a nasty leg break, ending his season and prompted the Trojans to take the desperate measure of advertising on Facebook for a QB.
Whether the call was answered will become clear this weekend but they did manage to secure the services of Dave Orr to step into the fold as DC and attempt to steer the defence through a tough local rivalry game.
Clyde Valley had a healthy squad at their home loss to Aberdeen on Sunday and despite their trademark physicality, they struggled to keep up with the scoring of the conference leaders.
Ultimately scoring has been a big challenge for both teams, with the Trojans and Blackhawks averaging 9 and 12 ppg scoring respectively so far – compared to 24 and 22ppg conceded.
---
I don't see anything unusual happening this weekend – the Trojans main concern will be whether they have enough players to see out the physical encounter but the boys from Wishaw should take the spoils!
NFC2 Central
written by Stuart Dick
Halton Spartans vs Carlisle Sentinels
Where to start? Sorry Halton for not believing in you against the then-undefeated Furness Phantoms. I've put too much stock into the 2017 version of the Morecambe Bay Storm – my two failed predictions the outcome! With Furness whaling on the Storm in both their opening two games – adding a delicious 50-burger on both occasions – I assumed the Phantoms were a playoff calibre side – having beaten a playoff team from last year, emphatically, twice.
However, Halton demolished the Phantoms with several highlight-reel plays. Running Back Dan Morris ran over four tackles to score from 10 yards out. Quarterbacks Rik Lowthion and Tom Everson produced through the air, regularly throwing deep – once drawing Furness offside before tossing an easy score. The Spartans look like the only contenders for the Chester Romans in the conference – a side that have already defeated them in a shutout.
The Spartans now face the comparatively easy task of the Carlisle Sentinels, who have struggled with play numbers, meaning they're having some difficulty completing games this season. Carlisle have played ten quarters of football on their way to an 0-4 record, including a forfeit against the Chester Romans in the first scheduled meeting between the two sides, and a 41-0 loss before calling it at the half, in the second.
They've already faced off against the Halton Spartans once this year, losing 38-0 at home. With a playing squad of less than 25 travelling to their previous game, can they muster a bigger squad for this fixture? This correspondent hopes so as we all want to see the players play.
---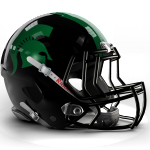 Halton win big and move to 4-1 as they enter the home stretch of their season.
NFC2 South
written by John Brady
Birmingham Bulls vs Crewe Railroaders
First up is the current top team in the Conference, Birmingham, against a team who has had a week off to rally after a mixed start to the season.
Birmingham have been riding high from the get-go, with a devastating 33.5 offensive points on average. However, they ran into their stiffest opposition of the season so far last weekend, Lincolnshire brought it right down to the wire in an exhilarating 42-39 game that required the Bulls snagging a go-ahead score in the closing seconds!
They will need to correct any mistakes on defence quickly, lest Crewe take advantage of them and put points on the board.
Crewe's start to the season hasn't been as explosive as Birmingham's, with a current 2-2 record on the board. They've opened the year with a home loss to Birmingham, and two wins over Humber were then sandwiched by a hammering from Staffordshire.
Expect them to bring the fight to the Bulls on both O and D, but will it be enough to come out on top? Unlikely.
---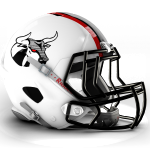 Birmingham Bulls to win.
Lincolnshire Bombers vs Knottingley Raiders
This game looks to be a critical moment for both teams, as they attempt to turn losing streaks into positives and kickstart a strong second half of their campaigns.
Lincolnshire has had the tougher go of it so far, with four losses to the conferences' top two teams, Staffordshire and Birmingham, no doubt chipping away at their morale.
However, they have proven that playing on home turf boosts the bombers to play their best, as they fought both Staffordshire and Birmingham to the wire in very close games. They look to continue this fight back and put their first W of the season on the board against Knottingley.
The Raiders have also had a tough go of things this season, similarly having early losses to both the Bulls and the Surge. However, they have had five weeks off, giving them a huge amount of time to recover from injuries and work on weak areas, so expect them to come into this game fresh and hungry for a W.
Both teams are no doubt desperate for a win by this stage, so expect a fight to the very end. However, the Bomber's recent strong showings against teams Knottingley struggled with are likely to make themselves known on the scoreboard.
---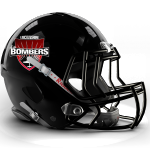 With both the home field advantage and their recent performances against very strong opposition, I have to give it to Lincolnshire.
Humber Warhawks vs Staffordshire Surge
This game looks on paper to be the easiest to predict, however Humber will be looking to use the home advantage to their benefit.
Staffordshire has been on fire from the get-go, with not only the best points for/against average (32.6/7.9 if you must know) in the conference but also an unbeaten five-game winning streak. They look to push for points on offence while holding back Humber on D, contesting the top of the table with Birmingham.
The Warhawks have had a tougher go of things so far in the season, with an early 50 burger force fed to them by Staffordshire way back in Week Two, and both home and away losses to the Railroaders.
They look to use their time off (their game against Knottingley was postponed) to work out kinks in their offence while shoring up their D, to give the rookie-heavy side the best chance of stopping the Surge in their tracks.
---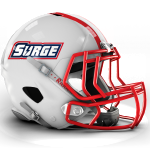 Given the scoreline the last time these two teams met, and the performances for both teams since then, it's unlikely that Humber will be the team to end Staffordshire's winning streak, though do expect a better showing than the last time these two teams clashed. Staffordshire Surge to win
SFC2 West
written by James Ogier
Worcestershire Black Knights v South Wales Warriors
Finally, after six long week (yes six!), the South Wales Warriors are returning to the field to play their third game of the season. As many coaches will tell you, a bye week is great to sort out little issues with your team, but having too many could lower morale or have people getting bored.
The South Wales side will be excited to go this weekend, finally geting their playoff (and promotion) hopes back on track. Despite the long run of bye weeks, the squad has remained fairly consistent ensuring that they're ready to hit the ground running this Sunday.
The last time the Warriors saw action, they came off with an impressive 50-0 will over the Jurassic Coast Raptors. Whilst the Warriors are sitting at 2-0, they know that gaining that extra W will be no easy task as they have the Worcestershire Black Knights standing in their way – a team looking strong in their second year in the league.
Warriors Head Coach Geraint Roberts spoke of the long break and the challenges that they face against the Black Knights:
"We're itching to get playing again. The six weeks between games has been tough. We're expecting a tough game on Sunday as Worcester look to be a good team."
The Black Knights put in a strong showing in their last game and putting up their third W of the season with a burger, 50-6, against the Cornish Sharks – their highest offensive score to date!
The offensive game was managed well by Matt Cole who treated his wide-receivers, Chris Jones, Rodrigo Guevara Rios and James Brown to five passing touchdowns between them. Not wanting to let the 'pretty boys' get all the credit, Sean Franks punched the ball in twice.
Behind a score of 50-6 is also a threatening defence for the Knights. Josh Chambers quickly ruined the Cornish Sharks' day – causing them to make adjustments. James Bacon managed to force a safety, while Tom Tandurella's aggressiveness helped keep Worcestershire's D looking strong.
Looking at our records, Worcestershire have never met the South Wales Warriors before this weekend, meaning that they may not fully know what to expect. However, being able to spread out the ball on offence to all receivers and their running back puts them in a good place.
Speaking to Worcestershire Head Coach Rich Smith, he understands that even though they have come off of a big win, they must remain poised to prevent silly mistakes and over-complacency against a strong squad:
"Going into Sunday, spirits are high but it will be business as usual. We are 100% healthy with some key players returning from long term injuries who are biting for a bit of action. We have done our homework and are as ready as can be."
This fixture looks very likely to play a pivotal role in the playoff rankings at the end of the season. I envisage that this will be a tough game with a close scoreline – very hard to predict.
---
I think with the South Wales Warriors having six weeks off, expect a bit of rust as they go against one of the toughest teams in the SFC 2 West. Black Knights to win.
SFC2 South
written by Patrick McAleer
Hertfordshire Cheetahs vs Hastings Conquerors
With the season racing by, return matchups are popping up on the schedule, but that top of the table clash between the Cheetahs and Dreadnoughts still eludes us for another month! This week we have the never-say-die Hastings Conquerors travelling to the Hertfordshire Cheetahs, a team that put 70 points on the scoreboard against Hastings in their season opener.
Last time out the Cheetahs had a nice win against an improved Bournemouth Bobcats team, but with RB Adam Adeniji suspended they looked to Conor Wilson and Matt Lake to fill that void. Both players stepped up, with Conor rushing for two TD's and Matt pipping him to Offensive MVP for the game.
The defence meanwhile prevented a late comeback from Bournemouth, which was helped by LB Jordan Legge getting a crucial sack on third down, forcing a punt and a sigh of relief on the Cheetah's sideline. While defensive MVP Charles Kahonde forced two fumbles and made three solo tackles during the game, to epitomize that Cheetahs pride.
I had the chance to catch up with Cheetahs HC Craig Barnes yesterday, who shared
"This game presents a challenge for us to continue to improve and play with the same intensity as in previous games. We are however purely concentrating on our own performance. While we are delighted to welcome back Adam Adeniji after his suspension, we will be taking this opportunity to give our full squad game time. We have of course prepared for Hastings like any other game, we respect them regardless."
The Conquerors come into this one bottom of the table and have conceded the third most points across all conferences (Hastings fans, don't work out the average). However, the can take some solace in having at least scored in two of their three games so far. QB Jake Beale, who joined from the Sussex Thunder, is starting to build a connection with rookie WR's Jake Thompson and Aaron Gausden-Field, so hopefully they can build on this on Sunday. Aaron was unlucky not to get a score against Portsmouth, but a flag called it back, which would have been the first score conceded by the Dreadnoughts all year!
In a tough conference and with a small squad, it was always going to be a difficult season for the Conquerors, but I'm sure they will be looking to improve the score margin from last time out.
---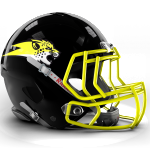 The weather forecast for Sunday is meant to be sunny, so I'm predicting the Cheetahs to have the BBQ out and to be serving burgers, 50 burgers, against the Conquerors this week.
SFC2 East
written by Nick Wilson-Town
East Essex Sabres vs Norwich Devils
The regular preds man, Joe, seems to be MIA this week, so I'll do my best to talk this one up at short notice!
Luckily for me, this weekend sees the return leg of the last outing for both these teams, so odds are with only a single weekend off in between, we should be looking a fairly similar scoreline?
The Devils are three games into their rookie campaign and are already turning a few heads. Their loss to the London Blitz B to open the year now looks fairly modest compared to the smackdowns the Blitz have been handing out since, and while I'm sure the Devils would have liked their first taste of burger meat in their win over the Pumas, the truest measure of their season so far came in their first leg against the Sabres, in Week Seven.
Despite sitting at 1-2 coming into that game, the Sabres have been a highly competitive team in the SFC 2 East this year, their two losses prior to the Devils each coming by less than a score in some epic-shootouts with the Cardinals and Spartans. They kept that trend alive when they came up six points short of Norwich – 21-16.
The biggest takeaway for me from that scoreline was the Devils managing to hold the Sabres to only 16 points, a clear sign of maturation for the fledgling outfits' defensive unit. The Sabres were beginning to rack up some crazy numbers ahead of that fixture – close to a thousand yards of passing in the three games leading up to the clash.
Writing this 30 minutes before it's set to go live, I haven't got time to go digging for who the playmakers are for each side, but I think the form each side have shown so far this season gives a good inkling into what to expect from this matchup.
---
Look for another closely-contested game. There's a big part of me that thinks homefield may be a key factor here (the Devils are yet to win an away fixture since their return to the league), but ultimately the Sabres' inability to close out games leads me to think the Devils will move to 3-1, looking like serious postseason contenders in their first year back in the big league.
Comments
comments