BAFA NL Predictions Week One – Division One
On to the second tier now, and the ultra-competitive expanded four conference set-up. We have a doozy in the NFC1 North, with expected conference title challengers Leicester Falcons and Sandwell Steelers squaring off to open the campaign.
NFC1 North
By Nathan James Sharrocks
Yorkshire Rams vs Leeds Bobcats
Well, what a start to the season this could be! What better than a win in a county rivalry game to get your season off on the right foot? That's what both teams will be looking for as they face off for the first time in a competitive game.
Yorkshire started 2017 slowly, losing to the, then, Newcastle Vikings, before lighting a fire on their season and rolling to the playoffs.
They'll want to start 2018 with the fire already lit, but, with their long-standing captain and defensive talisman, Adam Cowley, now on the sideline as GM and co-DC, can they find the same kind of potency? The answer should be yes.
They're still packed with talent, with the vast experience from the likes of DB Chris Lawton and WR Spencer Whybrow being joined by youthful talent supplied by the likes of QB Dan Haywood and WR/DB and last year's Rams MVP, Tyler Broad. With a close tie to the successful Leeds Carnegie University team? The roster is looking strong.
Meanwhile, the Bobcats are the new boys on the block. Splitting out of the Yorkshire Rams youth programme, the Bobcats have a number of former players and coaches from the outfit, who excelled last year as they gained promotion after an impressive 10-0 record in Division Two. Led by a youthful coaching unit (HC Miles Stanford is just 24) the Bobcats could be an exciting team to watch this year, and may surprise a few in their Division One exploits.
---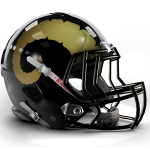 But for this one I have to nod to the experience of the Rams.
Yorkshire Rams to win.
---
NFC1 South
 By Grant Dean Lawless
Sandwell Steelers vs Leicester Falcons
The Leicester Falcons are travelling to Sandwell Steelers in a must-win game… Yep, a must-win game in just Week One!
Unfortunately for us pundits, Leicester have taken a cloak and dagger approach in recent weeks: keeping their player cards relatively close to their chests.
An interesting approach considering they will be live streaming their home games this year through their new partnership with Onside Productions (who cover the Nottingham Caesar home games, and the National finals).
We heard from Leicester Falcons early in the offseason that Joe Brammer was taking over QB duties as he partners up with new Offensive Coordinator Coach Juniper, who were together at the Derby Braves.  For the Falcons though, everything goes through Free Safety and Gadget man Taylor Brown; who is probably the best player in Britball right now.  If Sandwell can keep the ball out of Brown's hands, they should be in a good position to take this early fixture in stride.
Meanwhile, it's all change at Sandwell.
Chairman, General Manager, Head Coach, Offensive Coordinator, Defensive Coordinator & notably Quarterback.  We see a kitted return of Tristan Varney, the original poster boy of the Birmingham Lions.  A solid pocket passer with a wealth of experience, and more importantly; experience of winning.
Helping out last year's lead RB James Jones-Cross we see the additions of Julian Morgan and Antoe Walters, creating a true three-headed rushing monster.
Defensively, the Sandwell front seven looked incredibly strong last year, their pressure created many highlights for the Defensive Backs, who just needed to be in the right place; and often they were.  Expect more of the same on defense as we see the majority return for 2018 including the disruptive Defensive Line Trio of Bates, Rafferty and Banner #BRB.
It's not often that Game One could be so key in the race for the conference crown, but this may be one.  Expect to see Leicester coming quickly out of the gates, taking full advantage of the Derby Braves connection; who were still playing together in March as they fell short in the BUCS final.
---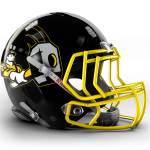 If Sandwell can weather the storm early on, they'll be in it at the final whistle.  Part of me wants to predict a tie for this one, if I'm being pushed: Sandwell for the sneaky win in a high scoring affair with a trick play or two.
---
Shropshire Revolution vs Nottingham Caesars
Shropshire Revolution took Division Two by storm in 2017.  Amassing 436 points in their ten-game regular season, conceding only eight points a game; they were great.  Adding to this, they dominated their postseason opposition, completing a perfect 13-0 season.  Able to both put up big points and keep the opposition at bay; Revs managed five #50Burgers and five shutouts in their historic season that saw almost every club record broken.
One of those records included a defence that scored more than it conceded, led by GB linebacker Alisdair Jarvis.  Retaining the majority of their squad, and having an unchanged coaching setup, the Revs will look to pick up exactly where they left off.  Offensive Coordinator, Coach Holtschke, has continued to develop his tools in the offseason, testing their mettle against the Worcester Black Knights and National Champions Tamworth Phoenix.
Early reports indicate they have an aggressive run-blocking offensive line which should see them make an instant impact in their return to Division One.
The Nottingham Caesars started the season strongly in 2017 before stumbling down the stretch, where they managed only two scores in their final four games of the season whilst turning the ball over in those games a whopping 25 times!
Still, finishing the year with an impressive record of 7-3, the Caesars barely lost out on their playoff berth to emerging rivals, The Sandwell Steelers.
However, a turbulent offseason has left some holes – the starting QB and three WRs transfer to Sheffield Giants.  Whether this will be a blessing in disguise, is yet to be determined as they look to limit the interceptions that savaged the team last year.  Veteran QB Simon Denning has returned to kitted football, having spent the past few seasons playing flag football.
The Caesars defence has seen minor changes with Coach Holden taking over the reigns as Defensive Coordinator; whilst keeping the majority of the squad together they will look cause problems for much of the conference as they did last year.   Freeing up Edge Rusher, Andrew Wilkins, will be the key to success for this team.
At this stage of the season, it's always difficult to judge where teams will fair, but I can see the Shropshire Revolution causing a lot of heartache in 2018.  They'll be underestimated and have weapons all over the field being directed by some innovative Coordinators.
---
The Caesars could be a force to reckoned with, but the juries out as to whether they can get points on the board.  I just don't see where the points are coming from.  While the Caesars defense has the ability to keep them in games, this ones looking like a Revolution win in a defensive battle.
---
SFC1 Central
 By Chris Fox
Oxford Saints vs Solent Thrashers
Oxford had a mixed bag of a season last year, finishing with a 0.500 record which is fine for a newly promoted team. During that year they went through about five different QBs and have moved on from all of them… Instead, Head Coach Andrew Day has moved last year's star Running Back, Tony Glover, under centre. The Saints have a history of finding success with an American at QB, and we'll see if this move will have them marching to victory once again.
The Thrashers started off slow last year, losing their first two games, before pulling it around and making the playoffs. With two graduates from the Solent Seahawks Academy and a strong core of vets, Solent should expect to repeat or better their record from last year.
Head Coach Steve Rains is in his second year with the Thrashers and was unwilling to single out players in what he calls "the ultimate team sport". We'll wait and see how well the team gels when they face adversity together.
---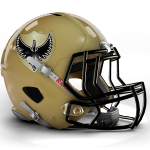 Week One is typically a "finger in the wind" type of prediction however, news has reached us that #7 James Walter will not be playing for the Saints in 2018, which means that we'll be coming down on the side of Solent for this game.
---
Berkshire Renegades vs Sussex Thunder
The SFC II champions come into their first competitive game of 2018 with a home fixture. This will help them settle in to what could be a tough year as they get used to balling at a higher level. Although they only suffered a single loss last year the slate has been wiped clean and they'll need to prove they deserve to be here in Division One.
This is the second year in a row that Sussex have faced a newly promoted SFC II champion for their opening game. Last year it was Oxford and this weekend they'll be travelling to Berkshire to show the new team just how big the step up to Division One football is.
An impressive aerial attack saw the Thunder roll over everyone last year, a 10-0 season that was ended in the first round of playoffs. Although they rightly have their sights set on the Division title, they know that road starts with a win in Week One.
---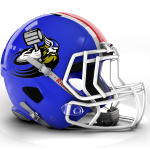 Expect the Sussex Thunder twitter feed to be going crazy on Sunday with household names like Chris Evans, Adam Fishlock, and Ben "Chuckle" Chuckwu-Onu as they rack up the points and get the W.
---
SFC1 East
By Nick Wilson-Town
If you're interested in writing about the SFC1 East for DC, get in touch at editor@dblcoverage.com
Cambridgeshire Cats vs Kent Exiles
The SFC 1 East was pretty much the feistiest conference in Britball last year, with only a late-season revival from the Olympians being the difference maker between a quintet of teams that were consistently running one another close and confounding the pundits with overlapping head to head victories!
While we've not really heard much at all back from any of the teams involved this preseason, expectations are that we're likely to see something pretty similar once again this season, as while the conference winners, the O's, are off playing Prem ball once more, the Conference is still stacked with many familiar faces!
First up is a repeat of last year's week one scheduling – Exiles @ Cats – and while it might only be the first week of the season there's a real possibility of a grudge match on the cards from the get-go!
These two teams last met in their final fixture of the 2017 regular season, where a narrow 20-16 Cats victory essentially cost the Exiles the SFC 1 East title!  The win represented something like redemption for the Cats, who'd lost the opening meeting between the two sides 7-35 – a hefty defeat they'll hope to dodge in 2018! Further, it rounded off a four-game slide for the Cambridge side, and allowed them to finish the year on a high, even if it still saw them missing out on postseason action thanks to a half-game advantage for the Exiles.
Coming into the year off the back a respectable postseason outing, making it to the 2017 semis, the Exiles will be hoping to hit 2018 with some great momentum and follow on from the impressive Sapphire campaign of their Women's squad.
---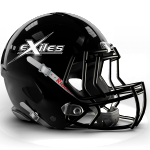 They're a well-built, well-rounded programme, and have got to be feeling like the promotion of the Olympians in their opportunity to take the reins in the East. It's Week One, it's Britball… Anything could happen! But for now we'll back Kent to start their year off strong!
---
Colchester Gladiators vs Wembley Stallions
One of the beneficiaries of the realignment to a six-team middle tier, the Colchester Gladiators might have been expecting to be playing Division Two football this season, following finishing bottom of the East last season.
However, the stars aligned in their favour, and just because they took the spoon in their conference, doesn't mean the Glads weren't a very capable Division One team in 2017! They took three wins in one of the most competitive conferences in the country, and were a score or two more in a couple of games from being right up in the playoff race!
They've dodged a drop to Div Two, and open their season with a chance to prove it was the right move as they face newcomers to the middle tier, the Stallions. Yes, one of the hottest young programmes in the league, the Stallions enter 2018 off the back of an undefeated regular season and impressive postseason run – eventually falling just shy of the D2 South title.
Having built themselves upon a great base as a programme, the Stallions have proven themselves a team on the rise, and even in their first year in the tier could well be contenders, even in as hotly-a-contested conference as this one!  A big roster with some standout athletic playmakers, expect them to look to prove their Div One credentials right from the outset here.
---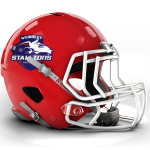 Gladiators once again shouldn't be a pushover to anyone this year, but Wembley could still be carrying some good momentum from 2017 and so we'll give them the nod.
Comments
comments