BAFA NL Predictions Week One – Division Two
National Leagues football is finally back! After months of waiting, and that was just for the schedule to drop, we dive in to Week One action this weekend. With all six Division Two conferences in action, what better place to start?
NFC2 North
By Matthew Davies
Clyde Valley Blackhawks vs Dumfries Hunters
The first game of the year in Scotland sees Dumfries travel to Wishaw to take on the Blackhawks – two teams who struggled last years, with 4 wins between them.
Both teams have tuned up with pre-season scrimmages against Premier Division opposition, with the Hunters visiting EKP and the Blackhawks hosting the Edinburgh Wolves. Recruitment has been a key offseason focus for both outfits, with CVB registering a considerably sized squad featuring their usual collection of old heads, with some young rookies to add to the mix and Dumfries raiding the Scottish American Football archives to bring a number of familiar names out of retirement.
This should be a relatively close-fought event, as both teams will be fresh and looking to stamp their authority on the small division early on in the year. Offensively they scored a similar number of points in 2017, but Dumfries struggled to stem the tide of their opponents, conceding over 100 points more than the Blackhawks last season.
Keeping their opponents out of the end zone will be crucial if they want to progress this year. The teams meet three times last year, as they did in 2017 where the Blackhawks took the spoils on all three occasions, however with the exception of the final 39-20 blowout, the games were relatively balanced.
---
This time out, I expect much of the same, with the home field advantage giving the edge. CVB to win a close one.
---
NFC2 Central
 By Stuart Dick
Morecambe Bay Storm vs Furness Phantoms
I'm doing it…..Morecambe Bay stormed….into the National League last year – a winning record and a playoff berth in their rookie campaign. With both Leeds Bobcats and the Gateshead Senators earning promotion to the promised land of Division One ball – the Storm must fancy their chances of a NFC 2 Central division crown. A 5-4-1 record was followed by a first round exit to the Shropshire Revolution – who went on to win the NFC North crown.
All five defeats in their rookie campaign came against sides who will be in the league above in 2018 – so they'll be chomping at the bit to compete in the revamped NFC 2 Central.
QB Chris Mayne returns under centre with the likes of Danny Mclennan, Adam Horrobin and Dion Feather as offensive weapons – but Morecambe Bay will have to shore up a defence that conceded 30 points per game last campaign.
The newly named Furness Phantoms are another side who'll fancy their chances this term. Walney – as they were named last season – finished with a 4-5 record, but all their wins came against teams with losing records. If they'd played their 10th game – a home fixture against Northumberland – they would have had a 5-5 record – not too shabby for a 3rd year outfit.
Year 4 could be the year that the Phantoms finally make a trip to the postseason in the rejuvenated NFC 2 Central. No Leeds Bobcats and no Gateshead Senators increase the win possibility in the division for Furness – but with Northumberland merging with Newcastle to play Division One ball that's two potential wins off the board. The Halton Spartans (4-6) and Chester Romans (7-3) also enter the division – and both will also be eager to stamp their authority on the division.
---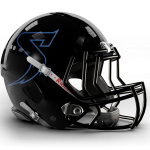 Week One and we have a toss-up in a division that could take a few weeks to figure out. Morecambe Bay picked up the victory in the meeting between the two sides in 2017 season 22-20, I'm going to take the Storm in close encounter.
---
NFC2 South
By Nick Wilson-Town
If you're interested in writing about the NFC2 South for DC, get in touch at editor@dblcoverage.com
Birmingham Bulls vs Knottingley Raiders
Some's preseason favourites to bounce right back out of the bottom tier, their Birmingham Bulls are a storied programme with a great history, that will be frustrated to find themselves playing Div Two balling in 2018 – a mere 10 pts the difference maker between it being the Jets, rather than the Bulls, kicking off their year in the NFC 2 South this season.
Birmingham's biggest issue in recent years has been player retention – while they're a well-established programme, the west-midlands is a crowded heartland of the British game, and the Bulls have seen too many talented ballers depart for pastures new lately.
As such, they'll be looking to this campaign as an opportunity to reinvigorate the team, hoping to use their experience of a higher level of balling to get some positive vibes back in the Brum outfit who saw only a single win last season.
The biggest questions will be asked of the Bulls offence, who averaged only around a single score per fixture in an impressive NFC 1 South last season.
Luckily, Birmingham enter a heavily rejigged NFC 2 South, where the biggest offensive producers from last season have moved on – either upwards or sideways, so there should be every opportunity for the Bulls to find their footing in 2018.
Game one they face a Knottingley Raiders side that will hope to have learnt a lot from their debut 2017 campaign.
FInishing 1-7-1, the Raiders had shown a lot of potential in their build up to BAFANL life, but came a cropper against some very strong sides in 2017's NFC 2 Central – the likes of Leeds and Gateshead inflicting the kinda losses that make it hard for a new young programme to keep their player base engaged and healthy. They were forced to forfeit in Week Sixteen, but finished their year on something of a high with a tie against fellow 2017 Rookies, Morecambe Bay, who'd defeated the Raiders handily earlier in the year.
Hopefully with a fully recovered roster and the prospect of a shorter season ahead of them, the Raiders are ready to take the next step forwards as a team in 2018.  Their sideways slide from the Central into the South should certainly provide some new challenges for them, and we'd certainly be looking for them to go beyond their one-win campaign this year.
---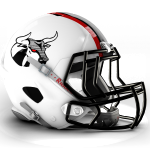 Still, it's something of a trial by fire to take on a former-Div One side in your season opener, so we'll not be picking Knottingley this weekend. Bulls to take it.
---
Staffordshire Surge vs Lincolnshire Bombers
Now this game has the potential to be a very interesting one giving the form of both these teams in 2017!
Each side finished the year 6-4 in 2017, with the Bombers ultimately frustrated to miss out on playoff balling by a SINGLE POINT of head-to-head disadvantage!
With the top dogs from last season, the Shropshire Revolution, now playing middle tier balling, and the second-place Chester Romans side-jumped to the NFC 2 Central? Both these sides have surely gotta be thinking they're the heirs apparent to the Conference Crown?!
With a reduced number of opportunities to stake claims on playoff berths in Div Two this year, odds are every single matchup is going to be crucial for teams with aspirations such as these two.
For the Surge, hopes are a revamped coaching roster will give them the steel down the stretch that they lacked last season – losing three of their final five games and taking a #50Burger bludgeoning in their brief postseason trip to the Leeds Bobcats.
Jon Wyse has returned to the Staffordshire HC role after a brief (well, 20 year!) diversion, and brings a new philosophy and structure to the Surge that may well be a difference maker this campaign as the team begins their 'adventure' of the 2018 season.
The enter the year with a nice amount of depth, particularly on the lines, which is always crucial in balling at this level, where it's often a lack of the bigger bodied athletes that sees a team crumble later in the year. If their able to displaying greater consistency this season? They've got to be amongst the favourites to see postseason balling this year.
Across from them, the Bombers may well be out to prove a point from day one. They narrowly missed out on some historic first-ever postseason action last year and a win here would be the perfect way to start their campaign.
We've heard nothing back from the Bombers this preseason, We apparently didn't spot the Bombers preseason Q response, so our apologies there guys! But either way it's worth noting they displayed their strongest form down the stretch last year, beating the Surge in Week Sixteen, and coming close to cheating Chester out of the #2 spot in a narrow Week Eighteen loss. If they've carried that momentum through the long, cold offseason? They could be onto a good thing here…
---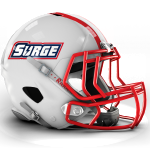 But for now we'll take the Surge, if only to reward the good behaviour of actually coming back to us with preseason info! for apparently even less of a reason than the iffy one we'd already opted for! Expect these two to be close rivals this year, but we'll stick with our choice of Surge for now :p
---
SFC2 West
By James Ogier
Somerset Wyverns vs South Wales Warriors
Two very different teams with very different goals. One with a wealth of games under its belt, while for the other, their first fixture in the National Leagues.
Somerset Wyverns are the 'new kids on the block' after having successfully completed their associate year. They're ready to represent the sport in Somerset and fill the void between Torbay and Bristol. Despite being an associate team last year, the Wyverns are no stranger to gridiron: they played around six games during the 2016/2017 season and have made the most of division two's new eight-game schedule by organising two pre-season friendlies. Having played their pre-season games against Portsmouth and Torbay, the Wyverns will be hoping that this would have been enough to get their fairly inexperienced side the preparation it needs to compete. Head Coach, John Chambers, talked about the journey that his club has made  to get where they are now and how enthusiastic everyone is:
"For some of the players it has been a long process: starting in 2015 with a couple of guys throwing the ball around the park. Personally, I feel immensely proud of the whole organisation. We have a great group of coaches and all the players have always taken things on board and strived to get better every week."
Speaking to club chairman, Simon Champion, he spoke with me about how the club is feeling about their first fixture:
"The Somerset Wyverns camp is very hyped at the moment. A lot of mixed emotions of nerves, adrenaline and excitement but generally our players can't wait to get out their and play their first ever game as a Wyvern."
The strongest part of their squad is their defense. They managed to hold Portsmouth to zero-points at halftime in their pre-season friendly, but eventually managed to lose 33-6 by the end of the game. Whilst it's a pre-season game, so you don't want to look into it too deeply, I'm sure it would have echoed back to camp that they need the stamina to stay competitive for the whole sixty-minutes. I have no doubt that Coach Chambers and his ten-man coaching staff would make the necessary adjustments.
Both Champion and Coach Chambers have acknowledged that the Warriors are an experienced unit, but both shared the same sentiments about their first game. Ultimately, they want their players to enjoy the moment and "play to the best of our abilities and that's really all our coaches have ever asked of our players – is to the the best they can be."
What a ride it has been for the Warriors as of late: 2015 – zero wins; 2016 – three wins and voluntary demotion; 2017 – zero wins and demotion. For players who have been with the club over the past few years, they're going to be playing with a chip on their shoulder – and rightfully so! No team would like to drop from the top tier down to the bottom in three years, but maybe it's an opportunity to have a fresh-start for the Welsh side. In order to maximise recruitment, the Warriors have held opened sessions in four locations across South Wales and as a result how 35+ new players join their squad. This should not only pay dividends this season, but also for future seasons – especially if they keep up this model. Despite going winless last season, the Warriors are used to a higher level of competition so should be able to keep up with a rookie side. The last time the Warriors were in division two, they were crowned champions and there is no illusion that they will be seeing this division are their temporary home for a year as they fight for promotion. When catching up with Head Coach Geraint Roberts, he discussed the work that had gone on, but also how they're not getting complacent because they're playing a new team:
"We're really excited and can't wait for the season to start. It's been a long off season with a lot of work going on behind the scenes. There's a positive vibe with a mixture of new and returning players.  The Wyverns are a complete unknown to us; however, having seen their results from their associate and pre-season games it's clear that they're ready for league competition. I'm sure Somerset will be a formidable opposition on Sunday."
---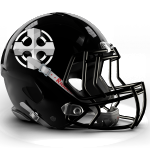 This will be an interesting match to see how ready the Wyverns are for competition, but to also see if the hard work by the Warriors has paid off. When looking at the Warriors' experience compared to the Wyverns, I feel it'll be help them come out on top this Sunday.  Warriors to win.
---
Worcestershire Black Knights  vs Jurassic Coast
Last season, both teams were fighting to avoid bottom place in their conference with the Raptors eventually sitting at the bottom with a 1-9 record.
Last year was Worcestershire's first season in the National Leagues and despite their 2-8 record, they would have been frustrated with themselves as they lost two games by two points. At the same time, this would have giving an insight into what they could achieve in this conference and hopefully it's a motivation for this year. Another team making the most of the new eight-game season for division two, the Knights played two pre-season games against Revolution and Bulls – beating the latter.
Worcestershire are returning without star fullback, Sam Bennett who was responsible for many of their touchdowns last season. Their offence has balanced out with Worcester Royals' quarterback, Matt Cole, who recently transitioned from wide-receiver. The Knights have hoped that Cole, in conjunction with WR, James Browning, will make them a serious passing threat this year. Very little of the team left this year, so they're hoping that a roster with experience will be fighting in the SFC 2 West this year and that they'll be finally able to make a dent against the 'bigger boys' in the conference.
The Raptors have won two games in two years and will be hoping that this year, they'll be able finally build on this. Last year, they did show that improvements were being made, with their total offence for rising from 33 to 94 between one season and the next. Though one would hope that their defence has continued to improve as they'll still struggle this season if their defence is allowing 32.7 papg.
---
The two games between these teams were very close last year. Worcestershire have recruited well this year and alongside side their links with the university teams, I can see them coming out on top.  Worcestershire to win
---
SFC2 South
By Patrick McAleer
Bournemouth Bobcats vs Portsmouth Dreadnoughts
So here we are, the first game of the season and we start with a rivalry game. Neither team will want to start the season with a loss, especially with both sides having title aspirations with Berkshire being promoted. Let's take a look at the sides.
Bournemouth come into this one with the majority of their squad returning and with some new athletes added to the mix, so HC Simon McLean is optimistic for the season. As we know, it all starts with a QB and the Bobcats are glad to have Craig MacDonald returning at the position for them. Expect Craig to make plays, while having long-time servant and now player-coach Davy Baker in the backfield. The Bobcats are likely hoping for more of a backfield by committee approach and for some new players to step up here. On defence, the Bobcats play from the front with captains Matt Clarkson and Will Brooks on DL, so they will be hoping to make plays against that strong Portsmouth o-line. Bournemouth faced the much improved Torbay Trojans in a preseason game a few weeks back losing 34-0. The 0 on the board will leave some questioning whether Bournemouth can keep up with Portsmouth here, however I've heard this game saw a lot of snaps for offensive rookies. So it wasn't about the score and should pay dividends down the line for the new talent.
Portsmouth have also had most of their squad return and have added some new young and experienced ballers to the side. After losing to Wembley in the playoffs last year, I'm sure they're coming back hungry, but how will they cope without star RB Patrick Kanyinda, who broke his leg in that game and isn't expected back soon. After shutting out the Bobcats in the 2nd fixture of this one last year, Portsmouth will be hoping to repeat this and make a statement of their intentions. To do so they will be looking for Defensive MVP Aldo Navarro and MVP Joe Clulow to make plays from DL and Safety respectively. With a 33-6 preseason victory against the Somerset Wyverns under their belts, I expect Portsmouth to come into this one with confidence.
---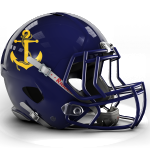 I think this one will be decided by which team comes out of the blocks the quickest and has shaken the most rust off. With the Dreadnoughts taking both wins last year and having got the W in the preseason, I'm going with Portsmouth on this one. Dreadnoughts to win.
---
SFC2 East
By Joe Pinkstone
Essex Spartans vs Ipswich Cardinals
This game pits two teams against each other with very different recent histories.  The Ipswich Cardinals remain somewhat of a doormat in the division and are set to embark on another season of 'competitive' football.  A win this year will be only the second since 2015.
In the last two seasons, the Cardinals have a record of 1-19 and last had a winning season way back in 2011 when the President was sane and Gotye was more than just somebody than we used to know.
It remains to be seen if the team from Suffolk will be better equipped to handle the toils of the division in 2018 than they were in their ill-fated 2017 campaign.
With a roster of more than 40, hopefully they have enough quality to go with the quantity and stay competitive in this fixture. With their only win of last season coming against the struggling Sabres (a narrow 0-6 victory).
Essex look set to compete for the conference crown this year, with an established receiver corp, veteran players and a strong foundation to build from it is hoped by many they can push Blitz B all the way.
A blowout loss to the Amager Demons in Denmark during pre-season may prove a valuable learning experience for the Spartans going into a season where, for the first time, they will be heavy favourites in most contests. 5-4 last season,  three of them defeats came against the now-departed Stallions and Mavericks, it would take a brave man to bet against the solid Spartans.
Their other loss of the season? Well, that was against Blitz B.
Perhaps concerning for the outfit from Essex is that in the second game between these two teams last season they allowed Ipswich to take the game to within a single point. Offensive woes made life difficult for a sturdy D. Will it cripple the team this year in what looks a more open division? Only time and fixtures will tell if they can find another gear and progress to more than a pedestrian pace.
---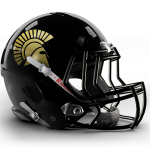 As for the matchup this weekend, look for the scoreline and result of this one to go the same way as the first time these teams met last season with a shutout win for the Spartans.
---
Maidstone Pumas vs East Essex Sabres
A Bargain basement matchup for all concerned with British football, the Pumas Sabres game pits two struggling teams against each other in the first game of the season.
East Essex scored 81 points last season on their way to a 1-8 season and had an embarrassing demolition at the hands of the Stallions who handed them a tasty 63-0 loss. With a new HC and now entering their sophomore season in the national league, this game could be one of only a few opportunities this team has to record a win. Inconsistency was the issue for the team last year, with some good performances overshadowed by capitulations against weak teams.
With more reps under their belt and veterans returning with a season's worth of experience behind them the Sabres will hope that, heading into the 2018season, they can continue to improve.
Maidstone has moved division and seem to be looking to establish some kind of identity. Subject of many cruel jokes and hilarious memes, the team is in dire need of leadership and talent.
Following a season where they received more spankings than my ex-girlfriend (thank you Berkshire and Hertfordshire), they must be hopeful a weaker division can see them record a winning season.
The much-beleaguered team will be hoping a change of fortunes follows the change in completion and their campaign got off on a good foot before a single snap of football was played, courtesy of the BAFA-scheduling Gods.
The Pumas will only play theBlitz B and the Spartans once apiece. 2 games against Ipswich, Norwich and east Essex give this team the best chance to succeed long-term in a make or break season for the club.
The squad has had some reinforcement with the signing of OT/DT Joel Boyes. After moving to the Kent Exiles he has returned to the Pumas hopping for more game time and joins captains Scott Bernard and Antony Hatcher on the defensive line, arguably the strong point of an otherwise frail squad. An inexperienced QB in the shape of Adam Hazelwood is playing behind a young offensive line that was suspect against quality pass rushing last season.
---
Forced to pick between a struggling offence and the porous defence I am inclined to back the Sabres to get the win. Not much in it, but the team that will win will be the one that makes the fewest mistakes, not the one that makes the most plays.
---
Comments
comments