BAFA NL Predictions Week Seven – Division Two
Following another successful BAFCA convention last week, the BAFA National Leagues returns to action with a large number of games in Week Seven. All games will hold a minutes silence prior to kick-off in memory of Charles Mack of the Cambridgeshire Cats and CEO of Britballerz.
NFC2 Central
written by Stuart Dick
Chester Romans vs Carlisle Sentinels
Three weeks ago, the Carlisle Sentinels were forced to call their game off against the Chester Romans due to lack of available facilities and player safety – forfeiting the game and moving to 0-3 on the season. As neither side has played a game since, I could just go back to my week 5 prediction and copy and paste it – but I wouldn't do that would I? The answer is yes, mostly.
It's top versus bottom as the Chester Romans take on the Carlisle Sentinels in the NFC 2 Central, and on first view it would be tough to bet against the Romans. Both sides have played the Halton Spartans this season. The Spartans travelled to Carlisle and picked a 38-0 shutout victory in Week 2 of the season – with Chester hosting Halton a week later, the Romans winning 30-0. That's a 68-point swing against their common opponent.
Carlisle has a 0-3 record suffering big defeats at the hands of both Halton and the Morecambe Bay Storm. Defensively they are giving up 42 points a game and scoring just 3 per game on offense in games they get on the field for. They've failed to score more than a touchdown in sixteen of their past eighteen games. Their 3-6 record of 2017 seems a distant memory in what seems a much tougher division – all those wins coming against teams that are no longer in the NFC 2 Central.
Chester, meanwhile, have not had the joy of taking the field with an opposition since the 29th April where they handled Halton quite convincingly. Will the Romans show ring rust against the Sentinels or will they continue their march and sweep aside the Sentinels who will be just trying to get enough players together to fulfil the fixture – if three weeks is anything to go by.
---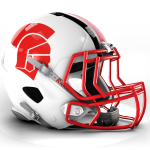 The Romans go to 3-0, whilst the Sentinels move to 0-4.
Furness Phantoms vs Morecambe Bay Storm
Another re-match as the Morecambe Bay Storm look to overturn a 36-point deficit from week one as they take on the Furness Phantoms – who haven't taken the field since that 50-14 victory to open the season – laying dormant for the past six weeks.
The game was close early in Week One – but the Furness Phantoms soon hit the ground running and pounded the Storm with a 50 burger – baring in mind before this game they'd only ever scored more than that on one occasion in their three-year history as the Walney Terriers – and it was against the Northumberland Lightning who had to bring me out of retirement for one game only. Beating a team that was in the play-offs last season by this emphatic score line made this correspondent sit up and take notice. The Furness Phantoms have taken a massive leap in year four – but just how big will be seen in Week 8 and Week 10 when they face off against Halton and Chester away from home.
Morecambe Bay meanwhile must miss the relative ease that was the 2017 NFC 2 Central. Their play-off appearance last year – although extremely creditable for a first-year outfit – may have made them complacent heading into this season.
They currently sit at 1-2 but still must face the Chester Romans twice and the Halton Spartans who beat them just a week ago in a shutout – as well as facing a Phantoms side that put a 50 burger on them in Week One. Better news though is that the injury to the player who was taken away in an air ambulance – ending the game – suffered no severe injury, just a painful bruise of the spine – we wish Paul all the best in his recovery.
---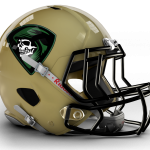 Phantoms take this one and move to 2-0.
NFC2 South
written by John Brady
Staffordshire Surge vs Crewe Railroaders
Staffordshire will look to continue their unbeaten record for the season, with their offence (currently the overall highest scoring in the conference) looking to push for points against what is the Railroaders. Their main aim for this game is to score enough points to place top of the division, and hopefully move up in the power rankings.
Crewe is also looking to continue their winning streak, with back to back wins against Humber no doubt giving them a confidence boost coming into one of their toughest games of the season against a very strong offence on their home turf.
Both teams will look to put large numbers of points on the board to try and push up the table, but Staffordshire have proven to have the more explosive offence, so combined with the home turf advantage, this game is likely theirs for the taking.
---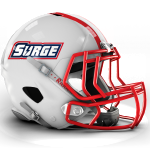 Staffordshire Surge to win.
Knottingley Raiders vs Humber Warhawks
Both of these teams have had tough starts to their seasons, with back to back losses in all of their games. Therefore this game will prove crucial to both programmes, with both aiming to put points on the board.
Humber have had a tough go of it so far in the season, with losses to the Staffordshire Surge and two to the Crewe Railroaders, both home and away. This streak, while demoralising, will no doubt have given experience to both players and coaches and exposed weaknesses in their playbook. The rookie-heavy Warhawks will be looking to shore up their offence, who are yet to find paydirt outside of a conversion for a special teams score, and end their losing streak.
Knottingley have also had a tough start, with losses to the two highest teams in the conference, the Birmingham Bulls and Staffordshire Surge. Birmingham, in particular, was a tough start, with a 43-0 loss to start their season. However they have had several weeks off now to regroup and train hard, and look to come fresh and prepared to this game.
This will be a tough, close match for both teams, and the scoreline will likely show it. On aggregate the Raider's defence has let up more points than Humber's, however, the Warhawks have scored the same amount of points, though in three games as opposed to two. I predict that Knottingley will take the W, due to the fact they come into this game relatively fresh, but it could go either way.
---
Knottingley Raiders to win, but it'll be close.
SFC2 West
written by James Ogier
Somerset Wyverns vs Torbay Trojans
Having played two more games than the Trojans, Somerset are currently sitting 2-2. The Wyverns are coming off two wins on the road, with their last being against the Cornish Sharks. The key to the Wyverns' 28-18 success against the Sharks was their offensive line standing strong to allow QB Tom Golden to pass heavily and use his spread of receivers. The receiving unit really shone against the Sharks with Rowan Symonds racking up two TDs; Jake Viney finding the end zone once and Matt Hadfield completing a two-point conversion. RB Ross Owen helped the team become a dual threat and kept the game fresh by running the ball up the field to test the Sharks' defence.
The Wyverns did lack depth against Cornwall on defence, which still managed to hold the Sharks for most of the game, until the Sharks managed to steadily sneak points on the board in the latter parts of the game. Despite having not met one another this season, they are no strangers. The Wyverns have met the Trojans during a pre-season scrimmage and played them to help with their associate status. The Wyverns know the team well, which will benefit them in this fixture.
Head Coach JC Chambers understands that this will be a crucial fixture:
"This weekend's game will be a test for us. We know Torbay have strengthened in all departments this year; as clubs we know each other well. It will be an enjoyable game whatever the score"
Torbay are currently sitting on a 2-0 season and having only played two games, they will be excited to get back on the field. The Trojans last stepped foot on the field on May 13th where they won 15-7 against a tough Worcestershire Black Knights.
Behind the Trojans' strong offensive line, they have been racking up yards with their impressive unit of running backs at their disposal with Adam "AK" Kevern and James Lunt finding the end zone against the Knights. The Trojans have improved their running game further by adding Aztecs RB, Chris Robson-Close to their roster.
Having struggled in their passing game, the Trojans will be able find success keeping their RBs fresh with heavy rotation. The Trojans have been eagerly awaiting QB Kieran Hopley to turn 18 in order to be eligible to play, but having not played senior league football, this could be a real test for the youngster if he is given the opportunity to step foot on the field. The Trojans could have scored more against the Warriors, but silly ball-handling errors cost them and hopefully they have solved these ready for this game.
In the two games that they have played, Torbay have only conceded seven points. To help bolster their defence, the Trojans have acquired Apache LB Darius Lynch.  After the impressive offensive display by the Wyverns, the Trojans will need to make sure that their DB core is ready to stop the pass from the get go – something they haven't had to worry about too much against their other opponents.
The Trojans' Chairman understands that it's not wise to take the rookie squad likely:
"We need to stay consistent and not expect this game to be a walk in the park. It's going to be very tough – if not the toughest. They are new to the league and have made a huge dent and should not be taken lightly."
On paper, Torbay's strong squad against a rookie team should be an easy pick, but this is the start of a new local rivalry. As many of you are aware, rivalry games are always the toughest! It'll be a hard game, but with their strong run game, I can see Torbay returning to Devon with the W.
---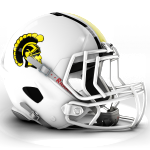 Torbay to win.
SFC2 South
written by Patrick McAleer
Bournemouth Bobcats vs Hertfordshire Cheetahs
This week the 2-1 Bournemouth Bobcats host the 2-0 Hertfordshire Cheetahs in a tasty matchup in the SFC 2 South . After getting the win against the Storm last time out, Bournemouth will be wanting to make their presence felt amongst the top two of the division and are coming into this one with confidence.
That win against Swindon saw an impressive comeback, where they put up 22 unanswered points, which HC Simon MacLean called "one of my proudest moments as a coach". Bournemouth are starting to kick it in to gear and each week have new players making big plays. This time it was FS and WR Tom Burn who scored another TD to add to his one in their previous game, while Jason Griffith also got on the scoresheet for the first time this season. The Bobcats were able to make key adjustments during that game against the Storm on both sides of the ball, so they will be leaning on defensive leader and DC Sam Williams for more of the same and to fill up the stats sheet.
The Cheetahs meanwhile are averaging 50 points a game and will be hoping to continue this, for that to happen they'll be looking to Rowan Higgins to pick up where he left off after his 203 yard outing against the Swindon Storm. Hertfordshire will need to improve their running game though, after Swindon limited powerback Matt Lake to only 39 yards on the ground that day, which was a team high. On the other side of the ball, the Cheetahs are looking to Linebackers Dan Levett and Jordan Legge to lead by example, as they both chipped in with sacks against the Storm, while Dan also picked up an interception.
Both teams have recently beaten Swindon, in what sounds to be slightly different games, with Bournemouth coming from behind and Hertfordshire maybe leaving more points on the field than they would have hoped, however the scores were pretty similar. So I expect this to be a very competitive game, especially with both sides coming in on form.
---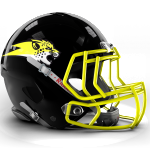 This week I'm picking the Cheetahs though, they seem to come out the blocks quickly and have a very strong passing game.
SFC2 East
written by Joe Pinkstone
London Blitz B vs Ipswich Cardinals
Blitz come in to the game 2-0 after a big win and a shutout victory against the Spartans. Led by signal caller Timothy Liechti, the Blitz B are quietly going about their business. I had my doubts of them going into the Essex game, which they emphatically dismissed as they showed that the game was no fluke and they are a force to be reckoned with in this division. I have them down as clear-cut favourites for the crown and I'll be surprised, and a little disappointed, if they lose a game. I had the Spartans dubbed as their most difficult opposition entering the season, and although the Spartans are turning out to be not all they were billed as, the Blitz are clearly a good unit.
Ipswich have gone from strength to strength this season after being the forgotten son of Britball out in Suffolk. However, they have had a fantastic start to the season and are due far more kudos than they've been getting. Besides, how often do you win a game by one score AND out up a 50-burger? Call it what you will, a shoot-out, battle of the offences, defensive nightmare or just a bloody good game, their 54-48 win against the Sabres last time out is sure to have their morale at an all time high.
These two teams are the only undefeated ones left in the division, but I expect London to assert their dominance on the league and start pulling out a lead on the competition. Ipswich are a good team, but I worry about the stoutness of their defence and think the Blitz will systematically pick them apart.
---
The most intriguing part of this division is who will emerge from the pack of four (Devils, Sabres, Cardinals and Spartans) as the second placers in the league and make  for playoffs ?
Norwich Devils vs East Essex Sabres
Norwich beat the Pumas in their last game in convincing fashion, with reps for the back ups later in the game. That kind of game experience could prove vital down the stretch when injuries and other commitments make crucial games tricky.
They seem to be gaining momentum and adding key pieces to their roster as they go, with rumours of a new linebacker adding much-needed spice to a rather beige outfit. Beige though they may be, they still conceded no points last time out. In their two games the offense played better in one and the defence played better in the other, and at 1-1 their season is finely poised and the rookies will not want to slip up and lose momentum heading towards mid-season.
If rumours of Bury players jumping ship come true (I don't think they are or will) that could push them into contention for the coveted second place spot and potential playoffs in their first season back in the league.
Whilst Norwich are gathering momentum and seem to be in a good headspace, the soap opera of a season for the Sabres continues. A home loss by six points in a game that saw 102 (!!) points scores is almost as difficult to swallow as their one-point loss to their bitter rivals in another thriller.
Now, at 1-2, they are a team that seem to be sinking. Seven points over two games would have put them top of the league and undefeated, but instead they sit second bottom, propped up only by Maidstone.
I think this will be a good game, I like the Sabres and think they are far better than their record suggests, and I like what the Devils are doing. I am inclined to swing this one the way of the McDevils as I think the mentality of the Sabres will inevitably be affected by the two agonising defeats. Close game, but the Devils to take it by three.
---
Winner of this might see a jump in the Div 2 Power Rankings, if all is right with the world anyway.
Comments
comments