BAFA NL Predictions Week Six – Premier
Another busy weekend in the top tier as the Prem South sees all teams in action once more, while the Tamworth Phoenix finally return to some domestic action against the Nighthawks:
Premiership North
By George Buksmann
Merseyside Nighthawks vs Tamworth Phoenix
After some hard-fought European games, Tamworth will finally resume their domestic campaign against the Nighthawks this weekend, having not appeared since their week two win over Manchester.
With Carlstad and Copenhagen now in the rear-view mirror, Coach Scott and his team will now turn their attention to Merseyside.
"The mindset does not change, regardless of the opposition," said HC Jason Scott, "We're going to play with the usual enthusiasm and intensity, focusing at one play at a time. Merseyside are a very good team, having finished runners-up in the north over the past two seasons."
Coach Scott will take positives from the fact that there are no glaring injury concerns for the Phoenix either, having such a deep squad allows Tamworth to rotate players without disrupting the on-field performance. "We have some sore and aching bodies after Saturday, but the majority will be good to go for the weekend," Scott said.
Defensively, DL Will Stone and LB Nelson Charles-Nwufoh played well at the weekend, and Coach Scott anticipates them to continue performing at a high level. Dan Raeburn has also impressed recently and could earn his first start against the Nighthawks.
The offensive line is "as good as ever," said Scott, allowing a backfield loaded with five running backs a greater chance to break out.
WR Will Hussey will return this week, further complementing the WR group including Jack Verling, Ben Burslem, and James Hossack.
"We'll go into Merseyside prepared; studying tape and working hard at practice," said Coach Scott, "Our preparation continues unhindered as we look to the domestic season, […] we will treat them with respect and spend time preparing for what they will throw at us."
Merseyside come into this game following a back-and-forth loss vs the Manchester Titans.
"We always come into the season knowing that this division is going to be ultra-competitive," the Nighthawks organisation said, "[..] We may be coming off a loss but we know where we went wrong and if that there was a slight improvement in execution on our behalf then there might have been a better outcome for us."
The Nighthawks can be pleased that, despite the loss, they still made plays on both sides of the ball. WR Liam Holebrook had a great game with 152 yards and one touchdown on 12 receptions. Hauling in a 55-yard touchdown while averaging 12.7 yards per reception earnt him offensive MVP.
Similarly, defensive captain and linebacker Mark 'Rio' Houghton had a day for the defence. He finished with 14 tackles, a fumble recovery and an interception with a 48-yard return, earning himself defensive MVP.
There are no fresh injury concerns for the Nighthawks, and they will have some players returning who missed the Titans game.
"Our games against Tamworth are always competitive, we bring out the best in each other and some of the football played is high class. But we will have the same mindset as always – it's all about us. It's all about what we do on the field, get our fundamentals correct, play for each other and be the best we can be. We look forward to welcoming the National Champions, it's going to be a good game as always," the organisation said.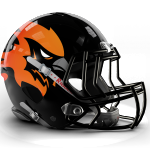 With some scores to settle following European losses, I suspect that this game could be a very one-sided affair as Tamworth try to bounce back. Phoenix to win.
---
Edinburgh Wolves vs Manchester Titans
Edinburgh come into this game having emerged as the leaders of the Prem North, following a competitive, history-making, game vs the East Kilbride Pirates.
"The players are over the moon," said HC Don Edmonston, "But under no illusion that we have a lot of hard work to do to minimize mistakes and play better football."
WR George Fell helped spark a Wolves comeback, having "the game of his life, with clutch first down conversions and two touchdown catches!" said Edmonston.
Fell would finish the day with five catches for 80 yards and two touchdowns, averaging 16 yards per reception. QB Jamie Morrison and RB Calum Davidson also added to the scoreline with rushing touchdowns respectively.
"Their start has not really surprised us as they are a very well coached, experienced side," said  Edmonston, "We know they will be a formidable opponent, not to be taken lightly. As previously stated we need to focus on ball security, possession and eliminating mental errors."
A fully healthy Wolves roster will look forward to welcoming the Titans this weekend.
Manchester will equally be riding a high coming into this game, having beaten the Merseyside Nighthawks 42-31 for the first time since 2009.
The Titans air-raid offence was on display once again with Adam Bamber, James Newnes and Luc Kinder all finding the end-zone. Joe Nicholson had a highlight game with three touchdowns.
The defence too made essential plays to help see the game out. Alfred 'Shark' Mzengereza, Charlie Dixon, and Cade Makin all made stops up front, while the defensive backs Chase Johnson, Dave Barnett, Ryan Allen and Stuart Robinson all battled hard to help limit Merseyside's potent receiver core.
This is a hard game to call – on paper, it appears to be the most entertaining and competitive game to date in the North. Previously we've seen the Wolves struggle to get started, but crown themselves comeback kings and Manchester's' explosive air-raid offence that can drop points on anyone.
This could turn into a shoot-out… And the Titans have proven themselves to have some big guns in recent outings.
---
Premiership South
By Rose Wilford
London Warriors vs Bury Saints
Another win in the bag for the Warriors means it's looking likely once again that they'll be joining the Blitz in a leapfrog-affair at the top of the conference – at least until the two top teams in the south meet.
Their game on Sunday would have been a shutout had it not been for the Olympians last-minute touchdown where time expired during the play meaning they didn't get the opportunity to kick the XP.
All round great work from the Warriors means they head into this game 2-0 and will be thinking that their only competition again this year will be the Blitz. The teams don't meet each other until Week Ten so time will tell who will likely come out on top. This weekend they host the Saints in a game which could be heavily one-sided.
The Saints haven't had the best start to their 2018 season, with two shut out defeats and a loss against Farnham they head to the Warriors knowing this will be one of their more difficult games. The Saints haven't giving up however, Head Coach Nowlin said the team has played three really good teams but have felt they've had too many self-inflicted errors.
Nowlin shared,
"I'm proud of all the players who have played with us. It's no secret our numbers are the lowest of any team in the top tier but the effort we have given has been outstanding and the attitudes pre and post game have been great. Players that have stood out have been Dante Decker, who leads the team in receptions and Jonathon Howser who has been the most productive three way player for us.
I also have to mention Aaron Wheatley, Chase Martin and Troy Cockerill, they are the only three players left from the championship teams and they have taken on the role as leaders and mentors for our new players. We owe them a debt of gratitude for their play and leadership."
The Saints know that this weekend they will have to play their best game of the year,
"We know we have our hands full. The Warriors are one of the best teams in Europe, they are well coached with a big roster."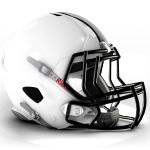 All signs point to a Warriors win here… The Saints will do well to keep the score beneath the burger-line
---
London Blitz vs Bristol Aztecs
This weekend sees the double header for the Blitz with both the A and B team hosting games and the Blitz hosting a family day for all involved. If you're in London this weekend it will be worth heading down to, to catch two great games of football!
As for the A team, the Blitz have had two strong wins this season, beating both the Saints and the Knights so this weekend could see more of a challenge with the Aztecs.
The Blitz have some strong players who have been having great games so far, Oliver Bishop had a good day on Sunday, leading the team for tackles, getting a sack, a forced fumble and a safety. Other stand out players for the Blitz are Palmer Foster, who had a scoop and score, Ed Cheadle with two picks and Conor Durham who had a sack and forced fumble.
I'm also hearing the offensive line had a big day helping with lots of rushing yards. Coach Duncan Burford said
"Last week was another good win, but it highlighted some things we need to work on. So we're back to it this week. We have seen Bristol put up some impressive performances since Week One, so I'm sure they'll be up for the game. But, as always, we're focused on what we're doing. We'll be looking to start fast and keep building. Sunday is a doubleheader with Blitz B and we're putting on a lot of activities for our first family day… so there's plenty for spectators on top of a great game!'
The Aztecs have also been working hard and come off the back of a win to the Saints. If they hope to get to the playoffs and head up the table they know how important the win is against the Blitz this weekend, especially after their loss to the Warriors.
The Aztecs defence had a strong game against the Saints with both a defensive shutout and a score. As they head into the game on Sunday they will know the challenge they face.
Head Coach Chris Powles said
"It was good to get another win, there are never any easy game in the Prem so we enjoy every one we do get. Big step up this Sunday we realise both the challenge and the opportunity before us. We have made a lot of mistakes so far, so will be focusing on cleaning those up, go back to the film of Sunday and see where we can improve. As always we look forward to the competition."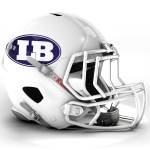 While the 'Tecs did upset the stakes a couple years ago, the Blitz are currently looking every bit the dominant force we've come to expect. It'll be their toughest test of the season so far, but I expect the Blitz to win this one.
---
London Olympians vs Farnham Knights
The Olympians loss on Sunday means they are currently sitting fifth in the table with a record of 0-2 as they host the Knights this weekend. They were at least competitive against the Aztecs, and will feel good about their chances against the Saints… If they manage to get the win this weekend that should bump them into a fourth place spot in the conference they should be able to hold onto for much of the season.
With the Olympians gaining a few of the Knights' old players during the offseason, there'll be a lot of familiar faces on the field. As both teams seem to be pretty similar in terms of their level of football the O's will be hoping the homefield advantage may be the edge they need on Sunday.
The Knights hosted the Blitz last Sunday and managed to score 12 points on the team that was last year's the leader of the pack – no small thing against an elite defensive unit like the Blitz.
With the Knights averaging 18points per game so far this season, having only played two games, against the O's 6.5points per game who have played the same amount, this statistic could imply that the Knights come into this game with greater potential? Certainly Farnham have a number of playmakers on their offence that are a danger against any and all opponents, so expect them to put up points… but at the same time, it's easy to argue their numbers are bloated by their win over Bury.
Big picture, both these teams are likely to provide one another's most competitive matchups this season…
Only time will tell for each of them, but I'm going with my gut and picking the O's to get their first win back in the top tier.
Comments
comments