BAFA NL Predictions Week Two – Division One
In to week two in the second tier now… can the Senators replicate the week one form of fellow promotees Shropshire and Berkshire? Elsewhere, look out for a Sussex to bounce back from an opening day humbling…
NFC1 North
written by Nathan James Sharrocks
Gateshead Senators vs Lancashire Wolverines
It's promoted versus relegated in the first match of the year for these two teams as the 9-1 Division 2 Senators of a year ago take their place back in Division 1 to face off against the Wolverines who fell from the Prem last August.
But all is change for the Wolverines. New committee, new coaches and new players, with a solid recruitment filling the void left by players leaving at the end of last term. Head coach, Alex Dunn has done a fantastic job in building up the confidence of the team, with a core of experienced guys such as OL Jamie Worrall, QB David Mead and LB Matt Lago surrounded by hungry new blood. It'll be interesting to see how they get on in Division 1, can they make the leap straight back up to the upper echelons of Britball?
Meanwhile the Senators have gone about business as they always tend to do in the off-season. Quietly and efficiently. They rejoin a tough Division One having gone 9-1 in the NFC 2 Central last year, joining their local rivals, the Northumberland Vikings.
It's no secret that the Senators have struggled in recent years, with a plethora of new teams springing up in the North East competing for new players and coaches, but they seemed to put that to rights in 2017 and a good intake of players this year should see them compete to keep their place. But their finest addition of the off-season? Those orange colour rush jerseys! Delightful.
---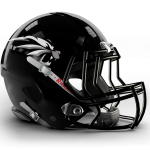 For this one, it has to be the experience of the Lancashire men. They've lost some talent, sure, but they've rebuilt and they have to be excited to be playing ball again. Lancashire Wolverines to win.
---
NFC1 South
written by Grant Dean Lawless
Leicester Falcons vs Coventry Jets
Leicester opened their 2018 campaign in style when they travelled to Hadley Stadium and defeated the only real competition in the conference, The Sandwell Steelers.
The dominant rushing game was the emphasis; not surprising when their Offensive Coordinator was a lineman in his playing years! With last year's star RB Nat Eaves still recovering from the broken leg he suffered in playoffs, the Falcons leant on Marcus Francis, who played in Denmark last year.
Scoring on his 2018 debut, he managed to amass some impressive highlights that saw him HURDLING and stiff arming Steelers Defensive Backs.  Tolu Ogundala presented a change-of-pace option and fresh legs to spell Francis; scoring himself.  When Eaves returns later in the year, this could prove to be the strongest backfield committees in the country.
Coventry open their 2018 campaign visiting the Division 1 favourites.  With a huge overhaul in the offseason, they saw changes throughout the program, most notably at Head Coach.
Last year's Defensive Coordinator, Colin Branagh took the reins; recruited a new DC in Sam Kendall; Branagh resigns, Kendall becomes Head Coach and OC, promoting Danny Smith from Special Teams Coach to DC.  The merry-go-round off field is paired with an exodus of key players transferring to several teams, with a decent share to Tamworth Phoenix with the allure of playing European Football.
This sees the Jets claiming a squad of 45-50 players which are about 60% rookies, but complemented by the return of several veterans, including Safety, Elliot Strong.  The Jets will look to get the ball into the hands of Italian WR Silvio Amato, who played last year for the Terni Steelers; and they'll need him to bring some flair to an offense that really struggled in 2017.  If they expect to meet their season goals of a winning season, they are going to need something special.
---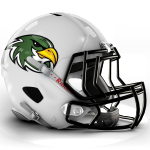 In what looks like new money vs old money, this one screams BLOWOUT.  Leicester to make a statement. The game is being streamed by Onside Productions, as are all of the Falcons Home games this year.
---
Doncaster Mustangs vs Shropshire Revolution
Doncaster Mustangs find all new opposition this year as they return to Wheatley Hills Rugby Club.  Following a tough season where they managed only two wins, The Mustangs find themselves in this year's most competitive conference .  Dwindling numbers throughout the year in Doncaster saw them struggle against squads with larger rosters.
With a high percentage of players going both ways, conditioning must be spot on if they want to avoid seeing a repeat of last year's results.  Mustangs will look to take advantage of their ties with Hull University where WRs Ed Pearce and Joe Powell combined for over 1500 yards and 15TDs over the winter.  Defensive Captain and third year Linebacker, Craig Jones is a reliable presence in the middle of the defense, and will look to rally the team to protect their turf in South Yorkshire.
Shropshire will feel that they have what it takes in Division 1 following an opening day win against the Nottingham Caesars.  In the scrappy affair, defense ruled the day, assisted by awful weather: the Revs had multiple sacks.  Freely strolling into the Caesars backfield, they managed QB pressures on the majority of plays, forcing him to boot out of the pocket.
Offensively, Shropshire weren't able to put together many meaningful drives but did capitalise on great field position following a botched snap on a punt.  Last year's offensive MVP, Mark Phillips, pulled in an uncontested catch on corner route from QB, Alex Wake.
Despite the torrid conditions, Wake was able to remain composed throughout the afternoon, largely thanks to the strength of the Offensive Line, featuring GB hopeful Guy Whittaker who was outstanding on the day at Right Tackle.
Mustangs are only one year departed from a playoff berth in Division one, so although they struggled last year; they do have players who know how to make something happen.  Small squads often struggle in the fourth quarter, but if these men can band together as a unit, they should look to take a few wins this year.  Shropshire though, are making a habit of winning.
---
Their stout defence allows for the offense to take risks and make mistakes.  How they respond to coming from behind is yet to be seen, but we will have to wait a few more weeks to find out.  Revs Win.
---
SFC1 Central
written by Chris Fox
Ouse Valley Eagles vs Sussex Thunder
Oh, how the mighty have fallen. Not able to get much going last week when they travelled to Berkshire, with their only touchdown coming on a long run after catch by Chris Evans, the Thunder will need to rebound in their next fixture against the Ouse Valley Eagles. Any hopes of another perfect season might be out the window, but it is far too early to write them off yet. They'll need to get their road head right as they make the even longer trip this weekend.
The first game of the season for the McMasters side and here at DC we're wondering what kind of team it will be this year. With less than 44 players registered it's clear that their game day roster is going to be anything but deep. Obviously if they have the right talent at the right positions they could still compete, but with no big signings being touted I wouldn't expect it.
---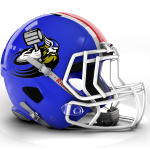 In February in the NFL the presumptive favourites fell afoul of the underdog Eagles; but this is britball and with the Thunder on the war path, any attempts for these Eagles to fly will see them struck down in the storm. Sussex to get their first win of the season as they right the ship and move to 0.500.
---
Berkshire Renegades vs Oxford Saints
Making a smooth transition in to the middle tier, Berkshire Renegades have made it clear that they have come to ball out. Dropping behind in the first quarter by a field goal, they immediately hit back with a long touchdown pass to take a lead they wouldn't surrender.
A couple of missed extra points were points left on the field but they showed an ability to score points on the ground and through the air. Holding the usually prolific Thunder in check has certainly made an impression in their new conference, but only time will tell if they truly belong.
Oxford started their second year in a row with a loss at home. A wrist fracture took a key part of the defense off the field early in Q1, strong safety Martin Fitzpatrick (who we wish a speedy recovery), and the lack of this veteran playmaker contributed to Solent racking up over 350 offensive yards on the way to the win.
Poor field position in the first half hampered the Saints ability to get points on the board, and a confusing decision not to punt at midfield didn't exactly help, but impressive returns from Josh Peck who had a standout game got the Saints in position to score. QB Tony Glover showed his running back roots as he made plays with his feet, accounting for more rushing yards than the rest of the offense combined. When given time in the pocket he made throws that justify his position under centre.
The Saints and Renegades haven't faced each other since a controlled scrimmage in preseason of 2014, but back in the National League days these teams squared off regularly. As they bring the old grudges back to fire up the current young crop of players both sides will need to remember to keep their heads, as penalties played a big part in both of their first games.
---
Riding high from their big win and being the home team will have most people pulling for the Renegades, and when you add in Oxfords porous offensive line and depleted defense, this seems to be a foregone conclusion. Berkshire to keep up their momentum, take the win, and send the Saints trudging home with a loss.
---
SFC 1 East
written by Nick Wilson-Town
Colchester Gladiators vs Cambridgeshire Cats
Two teams coming in perfect after Week One, but neither side exactly breezed through their opening day victories!
For the Gladiators, who dodged a drop to Division Two due to the league realignments during the offseason, they had their Division One credentials to prove, taking on promotees, the Wembley Stallions.
In what appears a corker of a shootout showdown, both teams found ways to consistently put up points, with the Gladiators drawing first blood to take a lead they'd never quite relinquish.
Still, the Stallions certainly made them sweat, pulling within a point in the third, but the Gladiators resilience shone through to take the W, 34-26!
However, they'll be wanting to ensure they left some of that toughness in the tank for this weekend as well, as they face a Cats side that already proven they'll go above and beyond to get the cream this year – their come-from-behind one-point win over the Exiles hinting that the SFC 1 East is once again likely to be the hardest-fought, nails-bitten-to-stubs conference in the league this year!
With less than three on the clock, the Cats trail by 9. They drive into Kent territory and opt for a FG to bring them within a score. (10-16) They gamble with an onside kick, and recover it – capitalising on the momentum shift to drive down the field before QB Mark Rivett connecting with Josh Gilreath for the game-tying 35yd score… And Scott Spearink splits the uprights on the PAT to give Cats an opening day win in incredible fashion!
As such, neither team can approach this matchup with complacency – they'll both remember how they each took a W from their meetings in 2017, results that would ultimately see the Cats miss out on postseason action, while the Glads very nearly ended up relegated!
Looking ahead to this weekend's game? I like the amount of offence Colchester generated in their Week One win, and if they can maintain that kinda output? It'll set them in good stead this season.
However, I can't help but feel like the Cats must be riding quite a high following their final-seconds heroics, and that kinda momentum can be tough to shut down.
---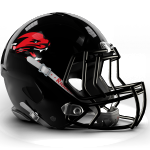 Expect this matchup, hells, this conference, to be another hardfought one… But we'll give the edge to Cambridge on this occasion as they took their W against more proven opposition last weekend.
---
Comments
comments