BAFA NL Predictions Week Two – Division Two
It's a special "Longest Prediction In The World" in the SFC2 West this week, as a number of the third tier sides open their campaign.
NFC2 North
written by Matthew Davies
Aberdeen Roughnecks vs Clyde Valley Blackhawks
The Blackhawks opened their account with a too-close-for-comfort win against the visiting Hunters to take the early spot on top of their division and get to build on their performance in week 2 with their longest trip of the regular season to the Granite City.
Opening games are often rusty, nervy affairs so the boys from a Wishaw will be glad to have got theirs out of the way with a win. For Aberdeen, this will be their biggest challenge; trying to make the transition from practice tempo to game speed as quickly as possible. Last year the three games were perfectly split – one win each in Aberdeen and a draw in Wishaw.
---
It's a close one to call and my early season optimism for CVB wasn't exactly buoyed by Sunday's result, but they've got a game under their belts so I'm gonna go with the Blackhawks to win again and maintain top spot.
---
West Coast Trojans vs Dumfries Hunters
A one-point loss in their season opener will have been disappointing but should give Dumfries hope that they can complete this year and build on their 2017 campaign which saw them record a single solitary win. Their next chance to nail down a W comes this Sunday when they travel to Garscube, long-time Home of the Glasgow University Tigers and the latest in a long line of homes for the West Coast Trojans.
The two teams have never met in league competition but Hunters founder Luke Summer is a former Trojans player and they've met in friendlies so they're on familiar terms. Neither squad is blessed with big numbers, both triggering a BAFA Red warning (less than 34 players registered) last week so depth is unlikely to play much of a role in the encounter. It'll come down to whose starters can make the biggest impact and with a mobile quarterback and some other weapons on offence, Dumfries should have the tools to do the job.
---
The Trojans are somewhat of an unknown quantity. Their social media presence gives little away, except to state that they are still recruiting so it'll be interesting to see how their rebuild is progressing after a shambolic 2017. Dumfries to win.
---
NFC2 Central
written by Stuart Dick
Carlisle Sentinels vs Halton Spartans
Much like 2017, the first game of the season ruined my 100% prediction record in an emphatic blowout. The Furness Phantoms munching on a 50 burger against the Morecambe Bay Storm.
So, let's try this again, Halton Spartans travel to the Carlisle Sentinels in Week 2. The Sentinels recorded their best season ever in 2017 with a 3-6 record – one less defeat than in the 2015 season. These two sides have met before – in 2015 the two sides faced off two times in three weeks, the Spartans picking up 8-0 and 33-12 victories. An 0-8 season in 2016 – mustering a mere six offensive points in eight games. They improved last year with two wins over Northumberland and a tight victory over the rookie Knottingley Raiders – but will need to take a huge leap to compete this year in the highly competitive NFC 2 Central.
Halton, meanwhile have had a solid, if unspectacular first three years in the National League, with an overall record of 15-15 – and coming off the back of their worst season to date. This offseason leading tackler and former safety Doug Laughton has retired and moved to OC, while running back Martin Murphy has moved to the Merseyside Nighthawks – he'll be replaced by Daniel Morris who is one to watch on offense in 2018 alongside WR Ross Dryden. On defence look out for Defensive Backs Mark Donald and rookie Anthony Probyn.
---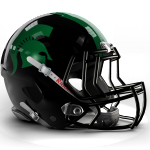 Expectations this year are play-off football for the Spartans. I think Halton will just have enough to beat Carlisle in week two.
---
NFC 2 South
written by Joe Pinkstone
Staffordshire Surge vs Humber Warhawks
Week one saw Staffordshire Surge best the Lincolnshire Bombers by a score of 16-0. With a spluttering offence struggling against a reshuffled Bombers defence, the Surge D more than held their own.
Although the Surge gave up a sack and two interceptions, they did put up two scores. Whilst the offence may have been pedestrian, the defence was brutishly effective against a struggling Bombers O in adverse weather conditions.
With a nice safety to break the deadlock, the now John Wyse-led club leaned heavily on its running game.
A big bruising side that faltered down the stretch last season, the physical style of play from the Surge will stand them in good stead throughout the season. A 2017 late-season QB change saw them scrape into the play-offs by the skin of their teeth – one single point over two fixtures. Once in the playoffs they were suitably dispatched by the high-powered Bobcats in unceremonious fashion – a 50-burger, no less.
A revamped O-line and physical style of rushing the ball could be the key to knocking over the competition in the coming year.
A solid-enough start to the season and a well-coached roster filled with size and strength should be enough to overcome a lack of dynamic playmakers on either side of the ball. In more friendly weather conditions expect Nick Gleadhall, a transfer from the Yorkshire Rams, to be the main threat along with RB Ryan Reid who returns to the Surge fold after a stint warming the bench of the National Champion Nix.
The influx of talent was centred around bulking up the trenches, with offensive linemen Ian Hollinshead (buying gloves not recommended), Sam Bradeley and Dean Hickin adding to an already dominant unit.
Strong links with the nearby Uni team – the Stallions – has added much needed youth to an aging roster.
Little is known about the Warhawks, except their diabolical track record for both wins and recruitment. Last season their win came against the lowly Railroaders and a lack of preparation and skill left them bereft of any real chance to make the postseason.
With players attending the Jags camp and some aging veterans, the small squad managed to field a team – just – for all its fixtures. Hopefully they can step it up this season.
With only 5.4ppg scored and 45.3 ppg conceded they had the second worst scoring offence in all of Div 2 (behind only Northumberland) and ranked dead-last in scoring defence.  They margin of victory for Shropshire (56) last year was larger than the total amount of points the Warhawks scored all year (54).
With a RB playing DT at times last season and an O-line more porous than a cheap colander a drastic turn-around is needed for the Warhwawks if tey hope to survive the season.
---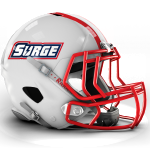 Humber will need a minor miracle to score, let alone win in this one. Surge in a landslide. #BurgerWatch
---
Crewe Railroaders vs Birmingham Bulls
Whilst Humber was categorically terrible in 2017, Crewe gave them a run for their money in the race to the wooden spoon. Few teams were as venom-less last season as the railroaders who struggled to get anything going on either side of the ball.
For reference, their results are as followed: L (68- 0), L (44-0), L (14-13, against Humber), L (31-7), L (59-0), L (46-16), W (23-6, against Humber), L (47-7), L (52-0).
For those not counting, that is 4 shutouts, 3 burgers and a total of only 30 points scored against credible opposition. For a team with its own fan club (yes, really. Go check it out) they need to pull something out the bag, as to where it is coming from remains to be seen. An offseason of rebuilding will be put to the test against, arguably, the favourites for the division crown.
Birmingham is one of the more storied clubs in all of britball. With a fall from grace similar to that of Lucifer himself, the Bulls find themselves in the basement of British football for the first time in quite a while. 4 times national champions, the last came when some on the roster were likely not born (1995). Their playoff drought now reaches back to 2011 and they will look to snap that unwanted streak this year in a weak division.
With a new HC in the shape of bearded Matthew Sheldon the Bulls made an immediate statement to the rest of the docile NFC2 South with a thumping of the Knottingly new-boys. Coming off the back of a resounding 43-0 win against the Raiders it looks like a new identity, new coach and a new level of opposition lends itself kindly to this British football juggernaut.
Expect an offensive fireworks show courtesy of the Bulls as they show their class as they dismantle the Railroaders who will be eying a .500 season as a huge success.
---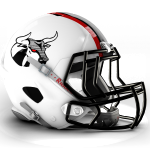 If I dubbed the Surge game a landslide, expect this to be an almost cruel affair. One of the friendliest teams in all of Britball but technically inept, the Railroaders will get steam-rolled in their first game of the season. Also look out for the humorous match report courtesy of the Crewe fan club post-game.
---
SFC2 West
written by James Ogier
Cornish Sharks v Torbay Trojans
We're only in week two and we're already being treated to a game which could be seen as one of the bigger games this conference may see this season.
In the first few years of the team's (modern) existence, Torbay was seen as the team that others would look forward to visiting as it was an almost guaranteed win. Chairman, Richard Christian, who joined the team last year as an offensive lineman, is keen to convert this team into a competitive unit. Last year, the team had their best season with a 3-7 record and if they had scored a touchdown extra in three other games, they could have finished with a winning record.
Similar to last year, the Trojans have recruited well and will hope that that is enough to propel them into their first ever playoffs. In order to recruit, the Trojans didn't have to look far: James Kittle, previously from Bristol Apache, comes to help fortify the offensive line, whilst Chris Garland, from the Oxford Saints and Michael Foxall-Smith, from the London Hornets, join the defensive and offensive sides respectively. Interestingly, the Trojans have taken advantage of players desperate to part ways with local rivals, Cornish Sharks, and picked up Adam "AK" Kevern (FB), James Lunt (RB), David Kriehn (WR) and Ben Jenkin (WR) to help continue the upgrading of their offense. While on defense, they've helped to seriously bolster their defensive line with "Sackaholic" Lewis Bowns, who managed to grab himself 21 sacks last season for the Sharks, now joining the fray. After a short-lived six-month retirement, wide-receiver, Tim Rogers, has chosen to return to the Trojans and continues to make their passing game dangerous. With their links with Plymouth Blitz strengthening, they have continued to add those players to the squad.
Unfortunately, alongside their gains, they have also had to experience some losses to their squad, with Aaron Butler (QB), Richard Chave (TE) and RIcky Drew (TE) all leaving due to varying commitments. I said it last year: Torbay does have talent on their roster, but they were never quite utilised in the right way/didn't make it count when it mattered the most. They would often start games strong, but quickly showed that they didn't have the ability to maintain this throughout a game. Richard Christian now sees a change in his team and feels that the team we see on Sunday will be different to which we saw last year:
"We have a different mentality this year. We have a fantastic coaching staff,  a very active committee and a squad who work extremely hard on and off the field."
Meanwhile, Head coach Guy Richardson is please with the recruitment they've had and believes that this will benefit them in the 2018 season:
"We've had a strong off season of recruitment with our large rookie intake and have managed to attract some good, experienced chaps. We've retained a large amount of last year's team, so we are in a good place going into the season numbers wise. We're in a good place with our depth and we're raising our offensive and defensive aspirations this year as it would be criminal to not use our new talent."
The Trojans played the Sharks early in their first game last season losing 0-6, whilst their second game gifted the Cornish side a burger with a 51-6 loss. Due to this, Christian knows not to take this game lightly:
"Sharks have always been a very tough program to play; they know what they are doing on the field and play with speed and aggression. We are going on the field as Trojans and we are aiming to leave with the W.".
For the past three years, the Sharks were always in the shadow of Bristol and Oxford, but now that they're gone (and Swindon have moved conference), the Cornish unit must fancy their chances of making this 'their year'. Coach Brian Smallworth returns to lead the Sharks and is hoping to not only clinch playoffs for the fourth year in a row, but to also finally get his team a promotion title. This may be easier said than done, with an exodus of key players having taken place over the summer and whispers of low player numbers having signed up to the squad. Coach Smallworth often stays tight-lipped before the first game of a season and so expect potential new players having joined the fray. Coach Smallworth does have links with Team Colorado, and having advertised to some of the players to join the squad, he may have been fortunate enough  to have bagged himself some experienced Americans who were looking at relocating. The Sharks often run hard and are able to grind for the entire length of the game.
---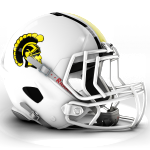 The games between these two teams (often known as the pasty bowl) are often very physical and competitive. Some may laugh at me; some may mock me, but I'm making a bold prediction this week. Torbay to win.
Comments
comments