BUCS Division One Predictions Week Eleven
Lots of fixtures in the middle tier this week as the conferences heat up in their contest for Premiership stardom!
Hull Sharks vs Newcastle Raiders
A return to action for the Champions in waiting, a victory this Sunday would see them finally crowned 1A North winners. Standing in their way is a home game against the divisions last placed team the Newcastle Raiders who also look like their fate is sealed.
The Raiders loss last weekend means, unless they upset the form books, they will spend next season in Tier 2, a sad demise for the 2009 BUAFL finalists. It's not hard to see where their downfall has come, outside of their opening day win, the Raiders have only scored three touchdowns in their last five games.
Hull's last outing against Northumbria saw them emerge 28-21 winners, but the Sharks were at one point 21-0 up before seeing the Mustangs claw themselves back to within a score to 21-16. Sam Fould's had yet another impressive game adding a running score to touchdowns from Curtis Osarenmwinda and Ed Pearce.
We can't see anything other than the inevitable here. A division Champ and Relegation sealed all in one game.
Northumbria Mustangs vs Sunderland Spartans
A great result for Sunderland last week at the House of Concrete (Gateshead Stadium for those in Britball who still have the carpet burns). An 8-6 win over Newcastle doesn't make the Spartans completely safe but with a double win on the head to head a single win or a Newcastle loss keeps them safe in Tier 1 for another season.
The big talking point last week was Northumbria's second half collapse to Glasgow. Pre-game both clubs' Head Coaches were falling over themselves to be labelled as the underdogs and DC went with home field advantage in a fairly unpredictable division. A respectable 28-16 behind at the break, the Mustangs somehow contrived to ship 45 points in the 3rd and 4th quarters and putting a nail in a revival that had seen them go three games undefeated before losing two on the bounce.
The 38-73 loss to the Glasgow Tigers (a hundred point game! In 48 minutes!) means the best the 'Stangs can now hope for is a 4-4 season and you would expect them to do that this Sunday. But the way this division has played out you never really know…..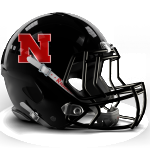 Sheffield Sabres vs Leeds Carnegie
Carnegie found it hard going last week against an ever improving Manchester team. Although grinding out the win in the end, Carnegie actually found themselves behind in the 3rd quarter after an interception and a fumbled snap set up the Tyrants in great field position. From their they found the soft zone in Carnegie's cover 2 defence to put a couple of TDs in and worry the Leeds Beckett boys. The game could have been very different, especially if a Spencer Hind TD had not been called back for a questionable hold during the first half.
Sabres seem to be going in completely the wrong direction. A team with a berth in the first ever premiership north season, could end up dropping down to Division 2 within three years! That would be a huge shock. The Sabres have been plagued by injuries this year, mainly to first and second string QBs, however losing QB's should not amount to shipping 75 points to your cross-city rivals. Rumour has it one of their top two QBs could be making a reappearance from his dislocated knee this weekend. Will we see a change away from the double wing offence that the Sabres have been running since post Christmas?
Carnegie didn't play at all well last week, and don't expect them to play as badly again two weeks in a row, especially with the playoffs on the line. Carnegie to win and with it gain a playoff berth.
Sheffield Hallam Warriors vs Manchester Tyrants
The Tyrants found some offence again last week, especially in a third quarter where they put 21 points on a shell shocked Carnegie defence. Don't expect that to happen this weekend. Once again Manchester must rely on their strong defensive line, to try and stop offences, as beyond that they have very little. This was evident by Carnegie's running backs making some serious yards when they broke round or through that first wall.
Hallam were on the losing end of a game for the first time since their fall from grace last season. Although many may call it a shock, it could and potentially should have happened against UCLan earlier in the season, with the whole catch-no-catch debacle we have mentioned before. It also doesn't help when your QB is throwing interceptions for fun, and definitely not when two of those come inside the red zone. Don't expect to see Dutch Stephenson throw any this weekend however.
Hallam will take this, as Manchester build to their showdown game against Sabres in the final game of the season, where they will most likely be required to score 33 points more than the Sabres to stay in division one come the 2017-18 season.
LJMU Fury vs. UoNAF
The Fury's President, Bob Evans, has said that the team was disappointed with the results away at Nottingham and Warwick earlier in the season and that he is hoping they are more competitive when facing them at home in the second half. Well it's your time to shine, LJMU!
Since the last time these two met, the Liverpudlians have recruited Merseyside Nighthawks' running back, Daishawn Honohan alongside Jeff Haney and David Sparrefors (who have playing experience in the USA and Sweden respectively).
Can these help them overturn the 44-3 defeat at the hands of UoNAF at the beginning of the year?
It's unlikely. Nottingham have outscored every other team in BUCS this year, with 256 points, whilst leaking just 10 over their six games played. Impressive.
We can also look at common opponents from the second semester to see how this game will go, with Nottingham thumping Staffordshire by 56 points to 0, whilst LJMU only put 13 on the same team a week later.
Nottingham  to continue their unbeaten streak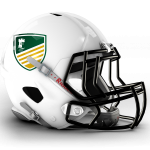 Staffordshire Stallions vs. Worcester Royals
Two teams that have fought hard in the 1A Midlands Conference this year, but ultimately struggled against some very tough opponents.
The last time they met, on the 4th December, the Stallions came away from Worcester with an impressive 0-18 shutout victory. However the Staffordshiremen haven't scored a single point in their three games since, whilst Worcester managed to force in a touchdown against second-placed Warwick. Can the Royals sneak a first win of the year?
The Worcester team have improved as the year has gone on, with their offence finding traction and driving well on teams, whilst the defence has been creating turnovers.
This game will hinge on the efficiency of Staffordshire's offence and Worcester's defence. If the Stallions can score some points then they'll win this one and effectively send the Royals down.
Oxford Lancers vs UWE Bullets
Well here we have the two teams currently at the bottom of conference that are squaring off. The difference is that these two teams have completely different outlooks in terms of what the last few weeks of the season will bring. A few weeks ago this game was considered a full blown battle not to get relegated; technically that still is the case but with the UWE Bullets playing extremely well after the Christmas break the tide has completely changed for them.
The Bullets are rising from the dead! Two games nobody expected them to win and they come out and get the job done. Very impressive work from this unit, we had them left for dead at Christmas when the losses mounted and they weren't competitive whatsoever. The chance of relegation is still a possibility but with a win this weekend that will be put to bed, and they can continue to focus on finishing the season strong.
The Oxford Lancers are firmly in the battle to avoid relegation, with another defeat this past weekend against the conference leading Cobras, the Lancers are now alone staring up at the rest of the pack. It going to be a tough for this team to recover, the game this weekend was meant to be a chance for them to take home a win in an even sided match up, but everything has changed in dramatic fashion in Bristol with the Bullets. This weekend now presents a major challenge, this Lancers squad need to give it their all and somehow take home the W if they are to stay in Division 1 next season.
The Bullets are rolling right now and I can't see how that would change this weekend. UWE takes home their third win.
Exeter Demons vs Solent Redhawks
Everything can change in this league so quickly it's ridiculous! After the Christmas break the Exeter Demons were sitting pretty in second place and were ready to challenge the Cobras for the top spot in the conference. 1 week and two consecutive losses later the team is now 3-3 and not looking as strong as they were made out to be. They were very close losses so you can't say this team has given up, just one or two plays extra in Exeter's favour and they could be 5-1.
With just two weeks of the regular season to go the Demons will want to recover and make it to 5-3. The playoffs are still there for the taking, if they beat Solent this weekend then they are in. There is a lot at stake for this team, losing another close game could be fatal as momentum is key heading into the post season.
The Solent Redhawks had a great win two weeks ago against the Oxford Lancers, and I'm not surprised they were able to put up so many points. I also wouldn't be surprised if they got blown out this weekend. This team has been so up and down all year it has been very difficult to know which team is coming out to play each weekend. We'll see what they bring to the table against the Demons, if Solent can pull this win off there is still a slight chance that they can take the second spot in the division. That can only happen if they win this weekend and then are able to reschedule their postponed game against the Lancers from a few weeks ago. We'll see what happens!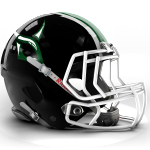 Reading Knights vs Brighton Tsunami
Readings penultimate game this weekend against the winless Brighton Tsunami will likely be a win for the Knights. It will still be a fight though as the Tsunami's defence have held 5 of their 6 opponents to less than three touchdowns. Reading are yet to score more than 20 points in a single game, averaging only 8.6 points per game.
Brighton's narrow loss to Sussex last week leaves them winless still. The team managed to put another 6 points on the board. But due to a special teams mistake and a pick-6, they succumbed to the loss. With their new Offensive Coordinator in place, the team will look to continue to work on their development and re-build ready for next season. Brighton have averaged 16.8 points allowed per game but in their last matchup held Reading to a single touchdown and PAT.
Making it that much tougher, the Tsunami lost WR and special teams player Josh Betchley in an injury in last weekend's game to a back injury but is said to be in good spirits and on his way to a full recovery. In conversation with Head Coach Cooling, he was asked the teams position in the conference and their approach to this weekends game. He said:
"Things are progressing well however, it is still an uphill battle… This Sunday is critical for us in the wake of relegation. And we are making no bones about it to the team. They all know exactly what we have to do and execute to stay up."
Coach Cooling also said:
"The team is in good spirits and it feels like we are finally starting to get on the right track and begin the rebuild after a difficult few months"
A win this weekend would see Brighton tie with Reading for the last place in the conference and deciding which team is relegated in Week 11.
This game will decide Reading chance of fighting for the number 8 seed in the playoffs later in the season. A loss this weekend would put them out of reach of the 3rd place spot and out of the playoffs this season.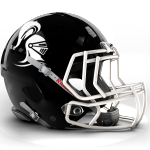 Portsmouth Destroyers v Sussex Saxons
The undefeated Destroyers have stuck with their name and continued to destroy the conference with a now 7-0 record after last weekends game. The team struggled to score against Surrey. After a single deep ball for a Touchdown and a high PAT snap leading to a run in 2-point conversion left Portsmouth 8-0 up in the 3rd, where the score would sit until the final whistle. Having won the conference the only pressure on Portsmouth is to continue the undefeated streak and win out the season, this weekend's game will decide whether it is 8-0 or 7-1 but either way, they run strongly into the playoffs and their chance to play in the Premiership next season.
Sussex took on the winless Brighton Tsunami last weekend where they won 14-0 and took their record to 3-3. Currently sat in the number 8 seeded spot of the playoffs a win this weekend will be key to fighting off the Knights who are still in contention. Speaking with Head Coach Duncan on the team and their progress he said:
"I would like us just to be able to move the ball more consistently. The team spirit is great as always."
When asked about the pressure of this weekend's game Coach Duncan said:
"Not feeling any pressure at all really… A long unbeaten run such as Portsmouth are on brings its own sort of pressure as well. I'm looking forward to it."
Feeling no pressure for this weekend's game, the Saxons will play with full effort. As mentioned by coach Duncan the potential of a perfect season for Portsmouth brings its own pressure.
Sussex will look to win out the rest of their season with a win this weekend against Portsmouth and then Reading the following week.
It will be a close game but Portsmouth to stay undefeated and take the W.
Cambridge Pythons vs RHUL Bears
What on earth happened in Harlington last week?
After an impressive run of five games unbeaten, the previously dominant Cambridge Pythons saw their winning streak come to a brutal end at the hands of the Imperial Immortals last weekend. As well as shutting out their visitors, the Immortals put a whopping 46 points past the Pythons, who had allowed just one score a game prior to their trip to West London.
With a spot in the playoffs still looking almost certain, the Pythons will be looking to bounce back from one of the biggest shocks of the South East 1A campaign and to recover some of their early form before the post-season.
On paper, the RHUL Bears will be seen as perfect opposition. Although the Bears are starting to improve with the ball, the have still not won a single game this season. They are just one defeat from confirming their relegation to Uniball's third tier after their defence struggled yet again in the 45-12 defeat at Kent.
When these sides met on the opening weekend, the Pythons were convincing victors, coming away with a 35-8 scoreline. After last week's blip, we are fully expecting Cambridge to come back firing. A game against the Conference's bottom side should give the Pythons a good chance of earning their sixth win of the season while providing their offence with the opportunity to put some much needed points on the board.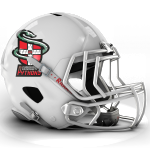 Kent Falcons vs UEA Pirates
Sunday will see the UEA Pirates close out their season as they travel to the 3-2 Kent Falcons. When these teams met just before the mid-season break, the Falcons came away from Norwich as 14-0 winners in a well-fought contest.
After experiencing the disappointment of their second defeat of the campaign against Imperial a fortnight ago, the Falcons recovered in the best possible manner as they cruised to a 45-12 home win over RHUL.
It has been yet another good year for the Falcons. Following Cambridge's collapse at the hands of Imperial, Kent now boast the conference's second best offence and defence, sitting behind the Immortals in both rankings.
For UEA, it has been yet another solid campaign which has once again cemented their position as a good D1 outfit. Although they have been unspectacular, they have been sound in all areas of the game.
Not only did they record two good results against RHUL, the Pirates were rarely outclassed by the teams above them in the table, losing by narrow margins, especially against the likes of Imperial and Cambridge.
While we are not expecting UEA to bow out of the 2016-2017 season with a bang, there are plenty of positives for the Pirates to take into next season. For the Falcons, Sunday represents a good opportunity to keep up pressure on the top two as they look for another good display from their offence, which has averaged 20 points a game.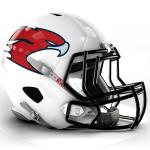 Comments
comments