BUCS Division One Predictions Week Nine
Lots of fixtures in the middle tier this week as the conferences heat up in their contest for Premiership stardom!
Glasgow Tigers v Sunderland Spartans
The Tigers went into last week's rematch in the City of Culture looking to avenge their first defeat in almost three years…and then the unthinkable happened. Glasgow for the first time in #* years (I'm struggling here! Anyone know the answer to this one? Anyone? Anyone? Beuller?) and lost two on the bounce. Not so much a "Bad Hair Day" more of a trip to the barbers after your hair has already fallen out.
The Tiger's aren't completely out of the Conference race yet but they need some help from Northumbria in what could turn out to be a real rollercoaster of a finish to the season. And it's that sliver of hope that has probably caused the Tigers Head Coach, Ian Cochrane, to express his frustration about the lack of allocated officials for this game during a busy weekend for BAFRA in Scotland.
This Sunday expect Glasgow to lick their wounds and take revenge on a visiting Spartans team who return to play after the Christmas break when they recorded a heartening win over Newcastle to keep their survival hopes alive.
Glasgow to re-find their mojo.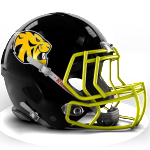 Northumbria Mustangs v Hull Sharks
What a win for the Sharks, a 20-6 victory over the reigning champs giving them an unstoppable track to an inevitable division title… but waiting around the corner are our (almost) literal dark horses, who despite two losses to start the year, shook a huge monkey off their back last weekend with success for the first time in the Stan Calvert game, walloping the Newcastle Raiders 52-0.
Outta nowhere the Mustangs are not only alive, but as the only team to have beaten Hull thus far, in control of their own destiny.
A win would remarkably put the 'stangs in first place and that's a huge credit to their coaching staff for turning things around so dramatically!
Sharks Head Coach, Gareth Wild, put their previous loss down to complacency, coming as it did in Week Four after a series of early wins.
This Mustangs team they face is a very different prospect however, and seems to have offence to spare in recent weeks. If Wild can calm the nerves of his team this time around and Quarterback Sam Foulds plays to potential, then the North will have fallen to Hull. A loss and it's (probably) all over…
At least until next week at least when Northumbria face, you guessed it, Glasgow! Get the popcorn out folks, this one is going to be a cracker.
We've picked Hull wrong all year. We may have done so again:
Northumbria to win (because we want the cliff-hanger finish!)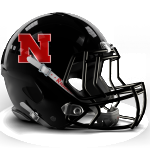 UCLan Rams v Manchester Tyrants
Ooo-ee! The Rams were looking hotter than a McDonald's Apple Pie last weekend as ground out a confident win over a Sheffield Sabres side that are playing with tenacity despite the adversity they've faced this year – losing key starters on offence, including both their starting and back up QBs – drawing a line under their go-to aerial attack.
The Rams have the athletes on their roster to make plays from pretty much anywhere on the field, and it'll be these break out plays that they'll look to give them an advantage this weekend as they face a Tyrants side that finally found some offence ahead of the Christmas break.
Yup, while the Tyrants D is not without ability, particularly on the line, their offence struggled through the first half of the season, going three full games without any points on the board.
Indeed, the Tyrants first two scores of the year were a safety and a scoop and score off a fumble, which doesn't bode well facing a UCLan side that shut them out in Week One and have been racking up the points in their last two games.
The Tyrants will hold their own, but they've not shown the familiarity with the end zone thus far to prove their capable of keeping pace with the Rams.
They've likely lost their conference crown, but the Rams will keep their season on course for a postseason appearance with a win here.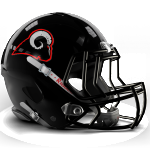 Sheffield Hallam Warriors v Sheffield Sabres
If you're a long-time follower of Sheffield-based Britball and happen to attend this game… you may find yourself a tad confused.
Yup, the world's gone topsy turvy, and in this year's Steel Bowl it'll be the Warriors with the passing game, while the Sabres run the Double Wing offence that Hallam made their name with.
The Sabres are hurting bad, though they succeeded at blindsiding the Rams last weekend when they opened up with the misdirection-laden offence. They moved the ball with grit, even if they only found paydirt the once, and if they can hold onto the ball long enough they should be able to keep the game in check.
That said, the way Hallam are playing this year TDs might only take a matter of seconds. They go into the second half of the season still boasting a game day roster of 60 players and with an offence centred around a seemingly unstoppable connection between Louis 'Dutch' Stephenson and Ronel Daley-Thomas – the pair took Carnegie apart last weekend, and the Sabres could find no answer to the pairing when last the two teams met either.
Expect something lower scoring than last time around, but the Warriors are back on top in the Steel City and should take this one.
Warwick Wolves vs. Worcester Royals
Once again, the 1A Midlands conference was extremely predictable last weekend, with the Wolves getting a comfortable 12-33 win over the LJMU Fury in the North West.
And the Wolves will be back in action, taking on the winless Worcester Royals at home, in a reverse of the fixture that finished 6-35 back in November.
Has much changed since that victory that makes me think there'll be an upset here? Unlikely. The Royals were bleeding players to injury before the break, and while they'll have had a chance to return to health they've struggled to keep pace in an exceedingly competitive conference.
Like a pre-"Red Wedding" Game of Thrones (Spoilers? Behave, it was four years ago), the Wolves will be running the Royals ragged, harrying their lines and taking their crowns.
Warwick Wolves to win by several scores
Staffordshire Stallions vs. LJMU Fury
Not a good week for the Stallions last weekend, as they succumbed not only to a 50 burger (56 to be precise) but also got shut out by the Nottingham Students.
Things won't get much better for them this weekend, as the visiting LJMU Fury will be keeping to their namesake, looking for a quick backlash to their defeat by Warwick last weekend.
This game's reverse fixture ended 32-7 back at the end of November, and we wouldn't be surprised if we see a similar result on Sunday.
The Fury's offence, sparking under the close coaching eye of the Merseyside Football Programme, will have a ton of fun on a Stallions defence that has struggled to keep teams under check and conceded 154 points so far – not only the worst in the conference but the second worst in the division (behind Newcastle). Stallions aren't without some talent on both sides of the ball, but don't seem to be able to get their pieces playing in unison yet this season and ultimately get out-muscled in the trenches.
LJMU should take this.
Solent Redhawks vOxford Lancers
Solent thoroughly proved me wrong last weekend. I thought after Christmas they would come back from the break and build on last year's positives to start playing some really good football… how wrong was I?!
Solent got beaten by a UWE team that had been blown out in every game this year and had only scored 8 points total heading into Week Eight. After beating UWE in Week One by the tune of 45-0, to then lose 28-14 to same team that hasn't been competitive in any of its games?
Not good. Was this game an aberration? Or is it the new normal? We shall see this weekend.
Oxford is coming off its first official game in a long time. Coming up against the conference leading Cobras, the Lancers held their own through the first half, but as the game wound on, the Lancers begun to look blunt and in the end were soundly beaten, taking a 26-0 loss. This team has a lot more of a chance to take home the victory this weekend, as Solent seems to be reeling.
Other than their opening day shut out of UWE, Solent's defence has begun to look pretty suspect, shipping 25 papg in their four fixtures since their opener, so here is an opportunity for the Lancers to get some points on the board.
This game could be and should be pretty close though. Solent aren't strictly out of the postseason race yet, but it'd be a big ask at this point of the year and require a lot of help from elsewhere in the conference. For the Lancers, somehow only three games into their year, they can still go on a run and in theory a shot at the conference crown is not beyond them!
I'm going for the Lancers to pick up a strong away win!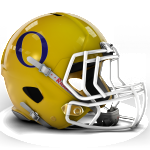 Cardiff Cobras v Exeter Demons
Everything these two teams have displayed so far appears to be pointing to this fixture being in all likelihood a conference deciding match up.
Whatever the result here, the Demons will still have a good chunk of football ahead of them in 2017, but they've already proven they can take comfy wins away from the likes of Oxford, Solent and UWE. They built momentum game by game heading into Christmas, and in most cases put in more convincing wins than their upcoming opponents – even while playing without their preferred skill position players in many positions. Australian wide-out Matt Owen has been providing the Demons with the deep threat that is allowing them more room to rush.
The Demons are winning by winning the battles in the trenches, with both sides of the line playing with dominance through the latter part of 2016.
However, it was the Cobras' defensive line that held the advantage when these two teams last met, with Cardiff making goal line stands that forced Exeter into a narrow loss after leading most of the game. Ryan Davies and Will Rushen have proven consistently disruptive, allowing MLB Tom Earl to find his way into the backfield to give opposing QBs a hug at least a couple of times each game. The Cardiff D will be coming in confident after a shutout win over Oxford, and while Exeter should at last have their backfield looking fairly healthy, they'll also have a layer of midseason rust to shake off.
Cardiff have shown a tendency to start out slow, but find pay dirt as they wear the other side down so conditioning will likely play a big role here. Expect Exeter to be first on the board, but whether they can put up enough points to stay ahead of the Cobras' offence that is averaging 24 points per game behind the rushing of Carwyn Chamblerain and rookie Ross Ludlow?
We'll take a punt on the Demons to really take this conference down to the wire.
Exeter by 2 points. Just to make things particularly awkward.
Surrey Stingers v Sussex Saxons
Starting the second half of the season off with a tight one-point win over Reading, the Stingers will be driven to make their mark on the conference with another win this weekend against the Saxons. The Stingers are now 4-1 in second place in the conference, currently four points clear of the 3rd place Saxons, but a loss against their southern rivals could quickly see that gap close, as well as cost the Stingers their chance to steal the top spot from Portsmouth later in the year.
For Surrey, there are some concerns that with the University only returning from the Christmas Break on Monday, the Saxons haven't been able to seize the opportunity to train much since last term.
When asked about the season so far Saxons Head Coach Duncan Workman said
"I was happy overall with the first half of the season. We competed in every game and our 2-2 could have been different with a couple of different outcomes to plays."
The Saxons need this win to stand any chance of keeping pace in the conference. However, with an extended break and possibly too many mince pies, it'll be a big ask for the Saxons to get back into football shape in just a week and take on the Stingers.
Stingers to win
Portsmouth Destroyers v Reading Knights
Continuing to do what they do, the Portsmouth destroyers maintained their impressive win streak in last weekend's win over Brighton. However, the team was held to only 10 points of offence, their lowest output so far this year.
In a wet game the score wasn't expected to be huge and the Destroyers have never been known for putting up 50 burgers, but the Destroyers had managed at least two touchdowns in every game to that point.
In their last meet with Reading the Destroyers held them to a 21-0 shutout, and indeed it's likely they'll look to their defence to be the backbone of the team this weekend against a Reading side that has come out of the break looking feisty and put a scare on the Stingers last weekend
Reading's loss last weekend has put them in a tight spot if they want to see the postseason. The team would need to win out the rest of their games, as well as see the Stingers or Saxons to lose all of their upcoming fixtures to stand much of a chance at the postseason. The Knights have missed out on three wins this season by a score or less but that won't stop them from training hard and facing the Destroyers with everything they have.
The Knights' Head Coach Andy Hollands reflected on the loss and this weekend's game:
"Heartbreaking. A little banged up but great spirits. Looking as always to find a way to win. Portsmouth are as good as advertised"
With the team in good spirits after a close game, they are playing one week at a time and focused on the upcoming game against the team Coach Hollands played for.
Portsmouth to stay undefeated and take the W
Imperial Immortals v Kent Falcons
Last weekend was a disappointing one for an Immortals side which has looked in good form recently. Their narrow 6-0 defeat at conference leaders Cambridge caused the Immortals to lose even more ground on the unbeaten Pythons. The Immortals will be eager to bounce back from this defeat in the same way they did for their last, but will be wary of their opponents. Imperial will want to avoid a repeat of their last meeting with Kent, which saw the Falcons earn a 22-16 overtime victory.
Kent will have only gained confidence from Imperial's second loss of the season. With just one loss so far in 16/17, the Falcons will leapfrog the Immortals in the South East 1A table if they can do the double over the former Prem Ballers on Sunday. The Falcons' campaign has benefited from a defence which has only allowed 30 points from their opening three matches. With two games against RHUL, and one against UEA still to come, Kent will be confident of ending the season in strong fashion, and reaching the post-season for the second year in a row.
After their last meeting started the Uniball season with a bang, we expect this game to be equally as exciting. Both sides have improved over the course of the season with good performances in all phases of the game. The fact that the Falcons are yet to play this side of Christmas could work against them, so we are backing Imperial to bounce back from last week's loss.
Imperial to take it.
UEA Pirates v Cambridge Pythons
Following their narrow victory over Imperial last weekend, Cambridge have the opportunity to all-but-seal a playoff spot as they travel to UEA on Sunday. The Pythons shut out the Pirates when they met back in November, cruising to an 18-0 victory.
The Pythons will be confident of doing the double over the home side, and maintaining their unbeaten run in the process. The key to their success has been their play without the ball. Cambridge have allowed just 22 points from their first four games, with Nottingham and Portsmouth the only teams across the whole of Division One to concede fewer points.
While last weekend's win over RHUL seems to have guaranteed UEA another year in Division One, the Pirates will know that they face an extremely difficult task. The Pirates' offence averages just 10 points a game and has only really excelled against the struggling Bears. Nevertheless, the Pirates approach their encounter with the Conference leaders with as much momentum as can be hoped for after a big win over RHUL and a very narrow loss at the second-placed Immortals just before the break.
Although both sides enter the game in decent form, it would be a huge shock if Cambridge were to suffer the first defeat of their dominant campaign at the hands of a Pirates team which has struggled against many of the other teams in the Conference.
Pythons keep on finding ways to win
Comments
comments