BUCS Division One Predictions Week Ten
Lots of fixtures in the middle tier this week as the conferences heat up in their contest for Premiership stardom!
Northumbria Mustangs v Glasgow Tigers
With Hull's victory over the Mustangs last week all signs would seem to point towards the race for the title being over – only two one-win teams stand between the Sharks and the crown, and neither Newcastle or Sunderland appeared to offer much resistance in their last meeting with Hull.
Therefore, it's likely that these two teams now battle it out for second place, meaning Northumbria would not only need to win, but by 8 points or more, to stand a chance at displacing Glasgow from the number two spot.
Last time these two met we saw an uncharacteristically loose performance from the Glasgow defence, shipping 28 points to the Mustangs – though thankfully the offence stepped up to the mark and posted 35 of their own.
With both teams operating a minimalist media presence this term it's hard to get a handle of their strengths and weaknesses from behind a keyboard, which is a shame as there seems to be some real success stories here.
So for the first time this year, we'll pick against Glasgow and go with home advantage.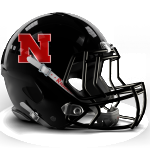 Sunderland Spartans v Newcastle Raiders
Sunderland have one of the most anaemic offenses in Uniball. Only 22 points scored in five games puts them behind only Brighton in Division one. That said, two of those scores came from Running-back Misba Islam against their opponents on Sunday in what was a shock 14-0 victory at the time.
The Raiders have really slumped since their opening day victory over Northumbria, losing four in a row and shipping a 50 burger to the self-same Mustangs in their first ever loss in the Stan Calvert trophy. Even after a week off, they have to be hurting and now face the prospect of what is effectively a relegation decider. The loser of this game is as good as done in the middle tier, barring a massive upset in their final two games. 
One of these two has to come through on the day and therefore we're going to roll the dice for a Spartans win!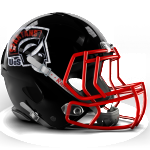 Tyrants vs Carnegie
The Tyrants put in a strong defensive performance last week against playoff-hopeful, the UCLan Rams, but their offense is still spluttering and struggling to get anything going. They have potentially the best defensive line unit in the conference, but if teams get past them there doesn't seem to be much left to slow teams down. When your offence is not really doing much except burning a few minutes of clock to give the defense a breather? It really does put you in a bad situation.
With the Sheffield Sabres imploding due to injuries, The Tyrants now have hope of staying up in Division One if they can put in some good performances to finish out the campaign. With their strong D line they could potential provide the biggest issues to the newly-fledged Double-Wing-wielding Sabres when the two sides meet in a few weeks.
Carnegie have been their usual selves all year. Solid, but really nothing special. They come off a bye week after losing to Hallam, and struggling to contain the Dutch Stephenson to Ronel Daley-Thomas link up. The bye week couldn't have come at a much better time as Carnegie lost two of their starting offensive lineman on the third drive vs Hallam, and both are hoping to return against the Tyrants. With a limited squad as Carnegie have, their ability to stay healthy will have a huge bearing on how well they do over the remaining part of the season – playoffs aren't out of reach, but they can't afford any slip ups.
Carnegie to win with their run heavy and "most boring in the league" offence, as the Manchester D Line stated last time these two met. If they can't go through, they'll go around and over the Tyrants D Line, while the Barney's O looks likely to struggle.
Hallam vs UCLan
This could be a cracker! UCLan should really have beaten Hallam last time out, but a couple of controversial calls, a catch-no-catch for the go ahead score, and fell just short.
Hallam are fresh off an absolute shellacking of cross city rivals the Sabres, who might be slightly fearful of being potential relegation candidates now. 75-12 is the kind of score we haven't seen since the pre-tiered days, and certainly weren't expecting to see in the era of the Mercy Clock. Being able to take your premier QB out the game early is always a good sign.. Thought so is seeing him pass for six TDs!
UCLan have it all to do for the rest of the season. If they want to have a strong position for post-season football they really need to win out, otherwise they could end up at worst, 4-4. That might not even be enough to make the playoffs which would be a dire disappointment following earning an undefeated conference title in 15/16.
Realistically UCLan need to take a game off of one of the teams that have beaten them already this season.
Hallam should have enough to win this one, and based on their past two performance they seem to be peaking at just the right time.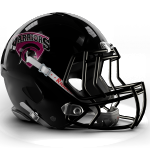 Staffordshire Stallions v Warwick Wolves
In last week's predictions I mentioned that the Stallions' poor defensive showings were a major issue, and that they'd get a pummelling at the hands of the LJMU Fury. Well, the Staffordshire lads and lasses clearly took my words to heart, shoring up a previously leaky unit and allowing just 13 points against a Fury side that put 32 past them in the reverse fixture.
However, the Stallions couldn't put a point on the board and succumbed to their fifth defeat in six games, not a good sign when going up against a Warwick Wolves team that is hungry to add another W to the board and cement its place as the second most dominant team in the 1A Midlands Conference.
Warwick could possibly have one eye on their game with Nottingham in a fortnight's time, where they'll hope to overturn the 7-28 defeat they suffered earlier in the year to take the Conference title.
But we're getting ahead of ourselves. Warwick's fourth-year quarterback George Roberts is having a fine year, orchestrating the offence and picking up his team's Offensive MVP nod against the Fury a couple of short weeks ago. If he does the same again, this game could get out of hand.

Worcester Royals v Nottingham Student
The Nottingham Students lost a lot of players at the end of last season, but when you can pick up GB's development quarterback Patrick Daley, running back Jacob Amadi and a US wide receiver in Jacob Cheatham to add to the likes of Will Hobbs amongst others already on the roster, you're not going to be in a bad position.
And so they've proven as they've run wild on the conference, scoring a monster 201 points to 10 conceded (a division best), with three shutouts from their five games.
You couldn't have a more polarised opponent, with the Royals struggling to gain any kind of traction, conceding a division-tying (with the Stallions) high of 167 after shipping 49 to Warwick a week ago.
Some lop-sided results don't fully reflect the effort and fight that the Royals put into their preparation and games themselves, but at this point in the season it's difficult to see where they will grab a win from, and it may be best to take the relegation to Division Two to rebuild and regroup.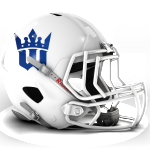 Cardiff Cobras – Oxford Lancers
The conference Champions have been crowned!
Congratulations to the Cardiff Cobras for winning the 1A South West after another tight, come-from-behind victory against their biggest rivals, the Exeter Demons. This team has shown consistency all season long; they turn up, get down to business, and take away wins. The scores they've put up against their opponents have been eerily similar. Two games against Exeter taking home wins of 12-14 and 14-11, two games against Solent with wins of 32-20 and 20-27 – that's consistency on both sides of the ball!
The first time they played the Oxford Lancers they won 0-26, will the trend of similar scores continue?
The Lancers have finally been able to play two games in a row! These games haven't gone the way the Lancers wanted though, with a 0-26 loss against Cardiff two weeks ago, and then a 47-6 loss against Solent this past weekend.
Solent seemed to be out to make a statement after a rough loss against UWE a couple weeks ago, so the Lancers came up against them at the completely wrong time.
They'll get another shot at the conference champs this weekend. Of course the aim is always to win, but with Cardiff looking on fine form, perhaps the Lancers should use this game as a learning experience so they can compete a bit more next season.
The Cobras will be aiming for a perfect regular season and to continue their momentum heading into the playoffs so I can't see them letting up. Cobras take it.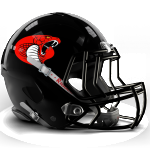 Exeter Demons – UWE Bullets
The Exeter Demons took a rough loss last weekend which knocked them out of running for the conference crown, but they still have a shot at promotion if they take the second spot and make it to the playoffs – could it be third time lucky were they to face the Cobras in the postseason?
This team still has a lot to play for in the final three regular season games and will be aiming to get to 6-2. The distance between this team and the Cobras isn't very large, as shown by the two losses they have taken against them this year both coming thanks to fourth quarter go-ahead scores from the Welsh Capital's team. I fully expect this team to come out angry in the last few weeks and prove that they belong in the playoffs.
The UWE Bullets are coming off a very improbable win considering how they started the season. They beat Solent 28-14 which is a great win for this team considering the 45-0 opening week scoreline against the Redhawks, and means they still have a shot at avoiding relegation. That should be enough to motivate this team for the remaining three weeks of the year…
Problem for them this weekend is that they coming up against a very strong Demons squad that is looking to cement themselves in the number two spot in the conference. Maybe this team can come out a surprise everyone once again? It's definitely possible… but I'm thinking a bit unlikely.
The Demons will be looking to get back into winning ways and I fully expect them to come out firing. Exeter gets the win.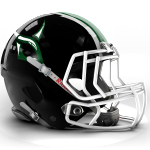 Portsmouth Destroyers v Surrey Stingers
Surrey are most likely the last, best, chance of stopping the Destroyers going undefeated in their 16/17 regular season campaign. They ran Portsmouth oh-so-close back in Week Two, with only a single point separating the two sides.
There's been a lot of water under the bridge for both these sides since that fixture, and while both teams are yet to lose a game since they last met, neither have exactly looked comfortable in their wins.
The Stingers have slipped through a couple of their games with less than a score of separation, and ever-dependent on their standout defence, the Destroyers' offence in particular seems to have stuttered off late – averaging just 11 pts/game since Christmas, despite playing the two lower-ranked teams in the conference.
Of course, as we've said all year, it's the Pompey D that wins games for them, and they've posted up four shutouts through six fixtures, with only one multi-score game against them… The Stingers.
Considering the aggregate scoreline currently stands at only one point of separation at the moment, it's very likely that this fixture decides the conference.
Speaking with DC, Coach Andy Scott of the Surrey Stingers told us:
"We managed to come away from the Sussex game correcting the mistakes on defence. And relatively unscathed injury wise. Portsmouth are a hard hitting team and we ran them close in Week Two. I think we are a better team than we were then, even though the conditions will be tough (marshes and pure mud). We have a chance to upset their perfect record."
We're expecting another low-scoring nail-biter, particularly given the combination of weather and strong Ds… but the edge has to go to Pompey who have found a way to win all year.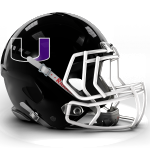 Sussex Saxons v Brighton Tsunami
It's looking more and more likely that we're going to see a hero to zero situation for the Tsunami as they follow their 15/16 Conference Championship with relegation to the basement tier. If they're going to make a move to save their spot in Division One, now's the time to do it, else next weekend's game against Reading becomes an absolute must-win!
There's no confusion where Brighton's problems lie – in an offence that's put up a doughnut through five fixtures – their only points of the season so far coming from a returned punt for a score against the Saxons last time these two met.
The Tsunami D was their foundation last year too, and isn't having a bad season by any means, but you can't average 1.2 pts per game and expect to win any fixtures.
As such, even though we're sure the Saxons are not having as successful a season as they would have hoped for, it's hard to look past them in this one. They're yet to be shut out so far this season, even against the hard hitting D of the Destroyers, so it's unlikely they're not going to be find the two scores that should be enough to seal a win here.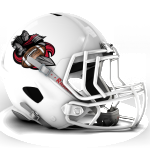 Kent Falcons v RHUL Bears
Sunday will finally see the Kent Falcons come face to face with the RHUL Bears, after their first scheduled meeting was twice put off by the joyous British weather.
Kent are still sitting at third in the 1A South East, despite suffering their second defeat of the campaign, this time at the hands of Imperial last weekend. As we have to expect of this conference this season, it was another close encounter which saw the Immortals edge it 14-6 as the Falcons failed to do the double over the London outfit.
Although they are still on track for a good season, and a place in the playoffs, the Falcons will want to increase their productivity with the ball. The offence, which was Kent's key to success last year, currently averages just 14 points a game from their first four games.
On paper, RHUL look to be the perfect side for the Falcons to bounce back against. Despite playing just three matches, the Bears look well off the pace in the Conference. Comfortably defeated 27-7 by UEA in their last outing, they have failed to win a single game, conceding an average of 30 points per game.
Another big concern for the previously dominant Bears has been their offence, which has managed just 28 points across their four fixtures. Fresh from a damaging defeat which looks likely to have handed Cambridge the Conference Crown, there probably isn't a better team for the Falcons to play right now.
Statistically, RHUL have been the Conference's worst team on both sides of the ball. We expect their offence to struggle once again as it faces a defensive unit which has allowed an average of just 11 points a game.
Barring one of the shocks of the season, Kent should have this one in the bag.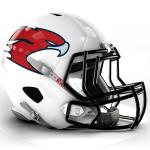 Imperial Immortals v Cambridge Pythons
This one is certainly the highlight game of this weekend's 1A South East fixtures as first placed Cambridge meet the second placed Immortals for the round two!
The last time these teams met, Cambridge took a giant step closer to securing the Conference title as they edged to a narrow 6-0 home victory, The performance very much epitomised the Python's highly successful campaign up to this point, low-scoring with the ball, but almost unbeatable without it.
Since that matchup, the Pythons have gone on to secure their fifth successive win of the campaign with yet another close game, this time at UEA.
After avenging their opening day defeat to Kent with a victory over the Falcons last weekend, Imperial come into this game with confidence sky high. Despite losing games against Cambridge and Kent, the Immortals have had a fine season, with the drop from the Premiership allowing them to make a return to winning ways.
Thanks to great performances from players on both sides of the ball, the London outfit have proven themselves to be solid team in all areas. Not only have they allowed fewer than 50 points from their first six games, but they are also the Conference's top scorers, with 98 points.
These sides' first encounter two weeks ago was an entertaining game which was dominated by the defences. Expect more of the same from their second meeting.
Although the Immortals are in good nick, they are faced with the Herculean task of overcoming a Pythons' defence which has restricted their rivals to an average of less than six points a game.
With a playoff spot almost guaranteed, another win for Cambridge will not only extend their winning run to seven matches, but it will also see the Pythons all-but-secure the conference.
Cambridge to win.
Comments
comments