BUCS Division Two North Predictions Week Eleven
As the regular season begins to shut up shop, there's still a title and a promotion spot to be decided in the north. Add to that some jostling for playoff positioning and the opportunity to build momentum into next season, and there's still a helluva lot of action for us to get our teeth into…
Heriot Watt vs Edinburgh Napier Knights
The Knights squeaked by their varsity rivals a fortnight ago, but the challengers to their promotion spot just keep on coming as unbeaten Heriot-Watt look to knock them off their perch.
Hawoo, who were the new kids on the block just a year ago, have gone from strength to strength in their second year of BUCSball. A 6-0 loss to the Predators in their first game has been followed by increasingly dominant margins of victories, capped off with their first ever 50-burger over Teesside last week. It speaks to the all-around quality of this team that they lost their captain Alex Birks to an ACL injury before the Christmas break, but still have been able to continue their imperious form in the new year.
This sophomore team could be about to pull out a shock and grab promotion, and I'm are backing them to make it happen.
Heriot Watt to win this one and send the conference into turmoil with a potential three-way tie at the top of the conference!
Edinburgh Predators vs York Centurions
The Predators received the proverbial gut shot to their promotion hopes a fortnight ago as their cross-town rivals took the spoils in a 14-13 nail-biter. Now, its all about playing for pride and BUCS points as they face a York side which has only been able to complete three of its fixtures this season.
A blowout win over UWS was followed by an OT defeat to Heriot-Watt at home for the Centurions, a loss which the powers that be on the York executive have put down to overconfidence coming out of that first win. A 14-0 loss to Teesside put the dagger in their hopes for a title run, and they will be looking to build a head of steam into next season with a good performance against strong opposition this weekend.
The Predators will be looking to take out their post-varsity frustrations on Sunday, though, and the Centurions may well bear the brunt of a rebound performance.
Predators to come out victorious.
Bangor Muddogs vs Bradford Bears
Bradford have had a tough season this year, not least due to the very little backing that their SU seem to be giving them. Training for an hour and a half each week is just not enough, especially when the floodlights are being turned off before their time is even up. Add on top of that the fact they have not been given space for any classroom sessions, and you start to understand why they are where they are. They have a very small squad numbers wise, but have got some sizeable athletes within their ranks, which goes some way to explaining how they have acquired two wins against the weaker teams in the conference.
The Muddogs must feel very hard done by. Now that the Gryphons have secured promotion due to their conference championship, Bangor "only" have some playoff silverware and BUCS points to play for. They will be ruing mistakes made against Leeds earlier in the season, and the Raptors doing them zero favours in losing to Keele which all but ended the slim chances they had of leap frogging the Gryphons.
The Muddogs will win this one, and move on to the playoffs with some solid warm up games played since returning from Christmas.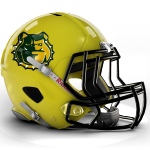 Leeds Gryphons vs Keele Crusaders
The Gryphons have a lot to thank Keele for, as their upset win over Liverpool all but handed the conference crown to the Gryphons on a silver platter. Keele got their second win this season last time out against the conference new boys Chester. They kept up with the rest of the conference in scoring a whole heap of points against them as well in what must have been a feel good game for the Crusaders.
As already mentioned, the Leeds Gryphons will be winning this conference what ever happens now, due to their superior head to head record with Bangor. This means, ultimately, that they should see a return to playing Varsity rivals Carnegie in the regular season next year, as long as BAFA don't do something ridiculous with the structure, again. (Can you tell our conference correspondent is relishing potentially three derby matches next year?) With only playoff seedings left to be determined, the Gryphons will be hoping to completely shut up shop on defence and grab a win, to give them the best possible playoff position.
Gryphons to win and stay unbeaten for the first regular season in a very long time.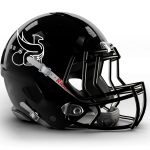 Chester Legion vs Edge Hill Vikings
Edge Hill have had a bit-part season, with their lowest point coming against the Gryphons when they had to forfeit at half time. They should have a good round off game in this one against table-proppers the Chester Legion. Add what should be a win this coming weekend to their performance against Bradford this past week and the Vikings could be building a bit of momentum, just at the wrong end of the season.
The Legion have been just what many expected them to be. However. not many would have expected them to fail to score a single point all season, whilst conceding at a rate of over 40 points a game. Only teams that have played in a higher division and completed more fixtures have conceded more points total. Let's just hope they can grow for next season and put up a better showing than they have in their first season in BUCS competition.
Edge Hill for the Win.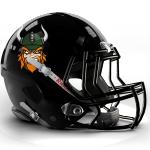 DMU Falcons vs Coventry Jets
Well, well, well – who saw that coming? We here at DC definitely didn't! The Coventry Jets are now sitting at second in the table after being beaten on the weekend by Leicester Longhorns. This week the Jets will need to dust themselves off as they head to Leicester one more time to face the DMU Falcons.
DMU still have another game to play after this weekend and will no doubt want to try to get points on the Jets. The Falcons are yet to win a game this season (other than the game forfeited by Northampton) and have only managed to score six points in three games. The Falcons will need to win both of their remaining two games to see any hope of bumping up the table into 4th place.
The Jets on the other hand only managed one score against the Longhorns on Sunday with a touchdown coming from RB Andy Owusu. This weekend the Jets will be hoping to finish their season on a high and try to earn a home playoff game. It will be worth seeing how many touchdowns the Jets can get in this weekend and if wingback George Chinois can end his good season with another score.
The Jets to take this one.
Comments
comments