BUCS Division Two North Predictions Week Twelve
Its almost time for the BUCS Points Big Dance! With just two of the region's three conferences in actions, there's a chance for more football for several of the teams involved this week. With many young teams in uniball's third tier, we're sure they will all be chomping at the bit for playoff football – even if their promotion aspirations wont be affected…
 Lancaster Bombers vs York Centurions
Both these teams are sat at the 2-3 mark going into this final regular season match-up, but there is a lot more to play for in this one than might otherwise meet the eye.
Other than being a much-awaited Roses derby, with enough deep-rooted passion and rivalry to match the Battle of Bosworth, this game could also decide which of these two sides make it to the BUCS Points Big Dance next month. Yes, we do realise that the phrase 'BUCS points Big Dance' is a about as oxymoronic as you can get..
Nevertheless, for two developing teams with a lot to prove, this fixture will mean a lot and its a tough pick for the prediction monkeys at DC Towers. Playing the 'he beat who he lost to' game doesn't really work here, as although Lancaster beat the Teeside outfit who shutout York, the Bombers were sat down by a Predators side who were squeezed out last week by the Centurions.
Having said that, that 14-12 road victory over the now well-heralded Predators will mean a great deal for a York roster and coaching staff which has undergone its fair share of ups and downs not only this season but for the last three years. They could have turned a corner on that winter's day in the 'Burgh, and we think they will reach .500 and potentially the third tier playoffs with a win.
York to close out the regular season with a bang.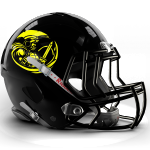 UWS Pyros vs Edinburgh Predators
A playoff team, albeit only on the hunt for BUCS point, faces off against a basement dwelling 0-5 outfit in this one.
The Predators have gone from strength to not so much strength this season as they countered a 3-0 start with two gut-wrenching defeats by almost the exact same narrow scoreline in their last two games. Now they are not even guaranteed a place in the BUCS Points Big Dance, and must take care of business on the road against the Pyros to give themselves the best possible chance of claiming a berth.
That said, they should be able to handle the best the Pyros can give this weekend. UWS have scored just six points all season, and a a 56-0 loss to Teesside has punctuated four consecutive shutout defeats in their last four games. Despite that, their best defensive performances have come in their last two games, and we expect them to continue that improvement against the Predators. We also want them to.
The future of American Football in this country won't be decided by drugged-up yanks coming out of the Finnish pros and to the country's best uniball teams, it will be decided by the perseverance of teams like the Pyros who face heavy defeats every time they step onto the field, yet continue to work hard week-on-week to encourage their inexperienced players to get better and love the sport that they play.
DMU Falcons vs MMU Eagles
This is it, the final game of the regular season for the 2A Midlands. With the chance of beating Lincoln to third place and a possible place in the playoffs, MMU will be going all out to win this one.
With DMU nominally still having the Coventry Jets still to play before the end of the season (though we can't see how the game can be rescheduled in time), the next week may be a struggle for some due to playing two games in a short space of time. DMU have had groundsmen raise issues with their own pitch and are struggling to find a suitable replacement. With this in mind, the Falcons have managed to move their fixture this weekend to Manchester so that it can definitely go ahead. If they can secure both wins in their remaining two games they could be in with a chance of placing fourth overall in the conference.
The Eagles on the other hand will be raring to go this weekend after waiting three weeks to train for this fixture. They will be well aware of what the outcome will be for them if they win this game so there is no doubt they will be extremely prepared. Scoring an average of 14 points per game they should be able to score a few more than two touchdowns this weekend against DMU who have only scored six points across the whole season.
It would seem that the chances that the Coventry game will be played are looking less and less likely, but we will keep you updated for that game.
For this weekend at least though, DMU and MMU will both be wanting to go all out.
MMU to claim the spoils.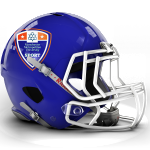 Comments
comments