BUCS Division Two South Predictions – Week One
Division Two has seen the most significant reshaping during the off season, with the number of conferences reduced from eight down to six. Each new conference sees an increased number of competitors, but a reduced number of fixtures – with five of the six new conferences scheduled to play six game seasons (and the eight team 2A South East getting an extra game each as a freebie.)
The Southern half of Division Two sees  many of the hotly-favoured teams in the tier begin their campaigns!
2A South
Charlie Coe, 2A South Correspondent
Brunel Burners v Chichester Spitfires
Widely tipped by our writers to make a mockery of the realigned BUCS structure, many expected the Burners to dominate the competition in the South 2A. However the Burners promotion hopes came crashing down in January with a 34-0 home defeat to Portsmouth. Dogged by injuries and absences towards the tail end of last season, the Burners come into 16/17 having lost three of their GB players during the offseason.
Even so, their competitive performance in their preseason scrimmage against Division One's Sussex Saxons would suggest they can handle the young Chichester programme this Sunday.
That said, the Spitfires are a bit of an unknown entity this year and could spring a surprise.
Despite losing a handful of players from 2015 and completely overhauling their coaching staff, the Spitfires are now going into their third season with some strong performances under the belt and a host of experienced veteran players who have been with the team since the beginning of their BUCS journey.
This one will be more competitive than the league table from last year might suggest, but Brunel are surely among the favourites to be promoted and should be able to get their first W on the board this weekend.
2A South West
Lydon Ward-Best, 2A South West Correspondent
Plymouth Blitz v Bristol Barracuda.
Over the last decade this fixture has produced some fantastic match ups with various blowouts over the years for both teams. However, the last few years have been a much more tense affair.
Last year 'Cuda ruined the Blitz's perfect season, so this is going to be a grudge match to start both team's campaigns.
Plymouth come in on the back of a brief playoff trip last year but now under first year Head Coach James "Donkey" Ogier. Coach Ogier has added to the ranks Uniball stalwart, Stephen Jones, as OC to provide some age and wisdom to a very young coaching staff.
Plymouth will once again be manned under centre by Filton Academy product, QB Fen Trudgian who will look to marshall their new O behind a rebuilt line. It says a lot about Fen's value to the Blitz's offence when you look at how their performance dropped off when he was unable to take the field for their final two fixtures of the 15/16 campaign. Plymouth averaged 30ppg through their first seven match ups, before scoring on 10 points total in their final two fixtures of the season.
Meanwhile, the 'Cuda, under the tutelage of long time UWE Bullet Ben Cooper, also come in with a new OC after the departure of Simon Preston to Exeter. Toby Smyth takes up the mantle of O line coach after finishing his playing career.
Bristol joined Plymouth and Gloucestershire as three of the top five offences in Division Two last season, and handed Blitz a bloody nose to finish the regular season in 15/16, so expect sparks to fly in Bristol
This one has all the makings of a shootout and is likely an early indicator of who will top the division. Ultimately, as with most Week One match ups, it will probably come down to who makes the least mistakes on the day as each team develops in their new offensive systems.

2A South East
We don't currently have a 1A North Western Correspondent. Interested? dblcoverage.com/apply
Canterbury Chargers v Essex Blades
An odd season from the Chargers last year. While they nominally came through the year with a winning record, it was tough to get a real feel for where the team was at off the back of only five competitive fixtures. The Canterbury team looked shaky ahead of the Christmas break, opening with a surprise loss to the ARU Rhinos and forced to postpone their first home fixture of the season. They returned in the new year clearly rejuvenated however, romping right over the Blades and returning the favour against ARU with an 18-0 win over the Rhinos.
So which Chargers should we expect to see entering this season? The Chargers saw only five players depart during the off season, but that still represented about a quarter of last year's season-end roster. Recruitment has been kind at least, bringing in some veteran ballers to help get the Chargers off to a fast start this year, including Ben Rogers (Hasting Conquerors/Sussex Thunder), Jacob Greenacre (UEA Pirates) and Israel Taylor, fresh off a season in the Prem South with the Kingston Cougars.
Head Coach Gur Samuel has built himself an experienced coaching roster that should mean despite an estimated week one roster of only 25 players, the Chargers should be well drilled entering the season and he'll look for QB Reid Coleman to have the Chargers putting out the kind of offensive firepower they were showing towards the end of last season.
The Essex Blades are understandably disappointed with their 3-5 record from 15/16, and their 48-0 loss to the Chargers when these two teams met straight out of the Christmas break is certainly a game they'd take back if they could.
However, new Head Coach Michael Biggs chooses to focus on the positive aspects of last season and believes the programme has a strong platform to build upon. Certainly this has been reflected in a very small number of off season departures for the team, along with a strong recruitment. Coach Biggs has assembled an experienced coaching staff, including his own mentor, former Blades and Colchester Gladiators HC Neil O'Hare, who has assumed the Defensive Coordinator position for Essex this season.
It's tough to looks past the 48-0 score line the last time these two met. Expect Essex to have improved, but Canterbury to take the win.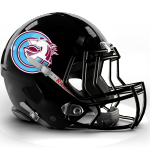 Greenwich Mariners v LSBU Spartans
Greenwich sailed through to a perfect 8-0 last year off the back of a dominant defence that meant the team conceded only 6 points in the regular season. They came undone in the playoffs however when they were scuppered by a Lancers team that far outpaced the Mariner's ability on offence.
Indeed, it may not be a coincidence that Greenwich have a new Offensive Coordinator coming into this season after the club averaged only 10 points per game through their first four competitive fixtures – OC Marcus Roome will be hoping the Mariners don't have to wait until Week 11 to start putting significant points on the board as they did last year.
Considering they're the only team in their conference that earned more than four wins last season, Greenwich quite rightly have a second-straight perfect regular season as only the first goal on their checklist for this year.
Looking to the Spartans, they quite rightly feel better about their 2-6 record from 15/16 than many might expect. Through their six losses, four came by three points or less, and were last season's LSBU team to have found the end zone just one more time per game they would have instead boasted a 7-1 record!
Stand out recruit Shaman Stocker joined the club this September and has already been invited to train with the London Warriors' Women's programme.
However, with an estimated Week One roster size only half of the Mariners' 40 kitted players, and a quarter their number of coaches, it's going to be a true test of resilience for the Spartans this season – they're going to be seeing a lot of ironman football.
Greenwich come into the fixture off the back of a preseason scrimmage with the BNU Buccaneers and their greater numbers and experience should see them through this fixture.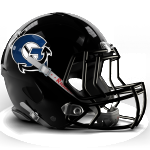 QMBL Vipers v ARU Rhinos
New to the league, the QMBL Vipers could likely not have hoped for a better conference within which to make their entrance to Uniball. Many programmes in the 2A South East are coming into 16/17 off the back of disappointing seasons.
In fact, the newly formed Vipers will enter the season reporting amongst the best roster depth in the conference, expecting a kitted roster of 45 players this weekend, compared to the 20-30 players reported by many of their upcoming opponents.
Unexpected events in the off season meant the Vipers nearly entered their inaugural season lacking a Head Coach, but following reaching out for applicants via Double Coverage, the Vipers appointed Sean Lewis to the role. Coach Lewis brings experience of playing at the game at a high level – having played College football in the US, before playing and assisting with coaching with the London Olympians and South London Renegades. With a coaching roster a dozen strong, preseason scrimmages against both the UCL Emperors and Surrey Stingers, the Vipers certainly have all the pieces in place to get their Uniball venture off to a fast start.
The Rhinos surprised many with a quick start to their 15/16 campaign – a confident opening win over the Chargers – but struggled as the season developed. They picked up their two other wins off an OBU Panthers team that was in the depth of a season sent tumbling by off-field issues.
Ultimately the Rhinos will need to find a way to be more productive on offence in 16/17 – having been shut out in four of their five losses.
We haven't been able to get to know much about either of these young programmes ahead of this match up, but we're going to roll the dice and pick the Vipers to win in their first ever competitive Uniball fixture!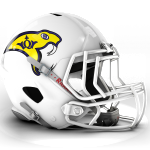 What do you think of our Week One predictions? Think one of our new #TeamDC members still has some swotting up to do? Get in touch in the comments down below and let us know!
Comments
comments