BUCS Predictions | Division One North, Week Nine
1A North
By Samuel Stoddart Durning
Edinburgh Napier Knights v Glasgow Tigers
With the promotion to Division One, rivalry weekend looks a little bit different for the Knights.
The past seven years have seen the Edinburgh Super Bowl weekend matchup feature the Knights taking cross-townown rivals, the Edinburgh Predators. This year the 'Varsity' game has subsequently seen a rebrand to an 'East Vs West' battle for Scotland royale. With this game under its previous title drawing larger crowds than the Britbowl final, we are sure crowds won't be disappointed come Sunday afternoon.
We hear rumours that there will possibly be an exhibition match against cross town rivals Edinburgh Predators further down the line, but for now it is the Tigers that Napier will be focused upon. With this game pretty much being a conference decider, we're sure to see some fireworks at Meggetland stadium on Sunday in front a lively crowd.
The Knights grinded out a 7-0 win over Tiger-slayers, Hull Sharks, last weekend. In what can only be described as a mud bowl, the Knights offence drove the ball well but seemed to struggle in the red zone with three fumbles all within their opponents' 20-yard line. Follow that up with two missed field goal attempts this could have been a very one-sided game with Napier's defence playing lights out once again and Hull struggling to get the ball moving. Regardless, a W is a W.
Following their win at the weekend, Head Coach Pete Laird is once again displaying a stellar defensive performance with its fourth straight shutout victory, having conceded only 35 points this season… Though notably, all of which came from when they first met the Tigers at the start of the season.
There is now a third straight conference title up for grab – a testament to the programme's growth and stability.
The Tigers seemed to finally find redemption at the weekend, after a slight mishap against Hull before Christmas. A 48-0 dismantling of the Sunderland Spartans showcased the offensive firepower Glasgow have at their disposable. With 136 points lodged on the season, Glasgow are averaging 34 points a game and look to have no intention of slowing down. This dual threat offence led by QB Euan Crawford shows they can convert through the air or on the ground which will be true challenge for the Knights' vaunted defence.
Although the last time these two sides met it was a fairly one sided affair with a 35-12 score line to the Tigers, this is a tough one to call.  The Knights have certainly found their form this season defensively and have showed glimmers of brilliance on offence putting up respectable score lines against both Northumbria and Sunderland. If the Napier offence finds some spark and takes the pressure off of their lights out D, there could be an upset by Sunday evening. However, we think the Glasgow's offensive firepower and division experience will prevail over the new boys
Glasgow to win in what's set to be a squeaker.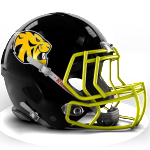 Northumbria Mustangs v Sunderland Spartans
While a conference crown is at stake in Edinburgh, it's a fight to stay in Division One between these two depleted sides. Both have had their fair share of on-field and off-field issues, which have led to seasons both sides would ultimately want to put behind them quite quickly.
Both sides saw losses at the weekend. Sunderland seemed to find no footing against an overbearing Glasgow side, seeing them concede 48 points on the day and having no answer offensively. Northumbria on the other hand arguably took a more painful loss, suffering defeat to cross-town rivals, the Newcastle Raiders, meaning they also suffered defeat to a team a division below. With Newcastle lining themselves up for Division One promotion for next season, the Mustangs will be looking for a win this weekend to keep out of the relegation spot and have another shot at their cross-town rivals sooner rather than later.
Sunderland are currently in the hot seat. They'll need to win out just to hit .500 on the season, but they have a chance to ease the heat a little bit with a win over their closest rivals for the drop zone. Sunderland will need to find some sort of offensive spark this weekend having only managed to notch up 26 points in five games. They will need to come together in all three phases of the game in order to notch a win in the belts and start the process of a turnaround campaign.
With all to play for in this game for both sides this new battle for the North East will no doubt have emotions running high but we will have to back the Mustangs to keep out of the relegation seat for another year
Northumbria to win
1A Yorkshire
By Andy Loch
Sheffield Hallam Warriors v LJMU Fury
Last week provided one of the shocks of the season, possibly the biggest shock seen in UniBall for quite some time, as Hallam dropped a game to the bottom of the table and winless Leeds Gryphons. With receiver Ronel Daley-Thomas out with a knee injury, it has forced QB Dutch Stephenson to share it around more, and last week in the windy microclimate that is West Park Leeds, they struggled to move the ball with any normal efficiency.
Fury have had a torrid couple of weeks facing off against the Rams and taking heavy defeats in both games. The Fury may now find themselves in a fight for survival if the Gryphons can prove their shock victory wasn't a fluke.
Hallam to win, but don't be surprised if we see some fight from the Fury.
UCLan Rams vs Sheffield Sabres
UCLan have put themselves firmly back in playoff contention with two big-time wins against the Fury over the last two weekends. Another winnable matchup this weekend against the Sabres that could really cement their place behind Hallam, and potentially give them a good platform to build for the Yorkshire Conference Title, but it would require them to flip the score on Hallam in the return fixture later this month.
The Sabres are now flirting with the drop for a second year running, after the Gryphons shock victory over Hallam. Although they got a handsome win over the Rams in the first game of the season, the Rams seem to have morphed into a bit more of the team we expect them to be, with three statement wins on the bounce. The Sabres gave a good account of themselves in the first half against Hallam, last time out, but crumbled in the second half. Their impending two games in four days against Gryphons is going to be more important than winning here, but it's always nice to stay ahead of the curve and stay out of trouble.
The Rams will use their resurgent scoring ability to carry them through in this one, but the Sabres will put up a good fight.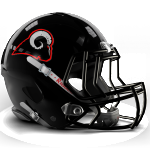 1A Midlands
By Erick Jupp
Leicester Longhorns vs Staffordshire Stallions
The Longhorns are coming off a back to back series with the Warwick Wolves in which last time out saw a narrow 15-14 defeat in what was a very close match-up. The game could have gone either way, but Leicester will take the positives, in which saw their offence get two scores, but keep the momentum up, unable to move the ball through hefty chunks of the game. Still, this weekend they will look to take inspiration from their very first Division one win, when they head to Staffordshire to take on the Stallions side they defeated 24-12 in the last meeting between the two in Week Four.
The Stallions are still winless and are running out of opportunities to save themselves from the drop. They need to beat both Leicester and Warwick if they are to stay up (and hope that neither get a shock win against either of the Nottingham sides.). They will also have to put up some numbers on offence in case results do go their way as it will be beneficial when it comes to the head to head scorelines. Their last outing against the Longhorns was a close one, but they just fell a couple of scores short in the end. Though the scoreline might not show it, there were also some positives to take away from their Week Eight outing against Nottingham.
In this matchup, both sides will be looking to put last week's results behind them. For the Stallions, it's a must-win, while for the Longhorns, it is an opportunity to keep their playoff hopes alive in what has been a successful first season in Division One.
Still, based on form this season? The Longhorns should have enough to edge out a closely contested victory.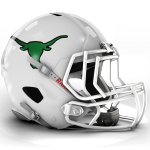 NTU Renegades v Warwick Wolves
What a win that was for the Wolves in their last outing against the Longhorns! They dug deep and came away with a close victory and it was so important for both team confidence and for their standing in the table.
It was a victory they certainly needed. Having lost significant numbers of veteran players during the offseason, they've gone from looking like possible conference crown contenders to raising concerns about relegation! In a conference with two probably Premiership calibre teams from Nottingham, it has been difficult year so far for the new players, so that was a great win to get under their belt. They will have another tough challenge this week, and they will need to bring their A-game when they face the NTU Renegades.
The Renegades are still second in the conference and will look to build on these upcoming games before facing Nottingham again, in a game that could possibly decide who wins the conference. Their roster still looks good on both sides of the ball and they will aim to continue their record against the other teams in the division before the big game against their cross-town rivals in Week Ten.
Considering the 45 points shut out the Renegades inflicted on the Wolves last time around, you've got to think the NTU squad are strong favourites here. Warwick will look to carry the momentum gained in their victory over Leicester into this one, but the Renegades should more than enough resilience to pick up the victory here.
Comments
comments