BUCS Predictions | Division Two North, Week Eight
2A Borders
By Pete Laird
Heriot-Watt v UWS Pyros
This game is scheduled for a 3pm kick-off at Edinburgh University's Peffermill ground. With no referee's assigned the teams will be relying on a volunteer crew to oversee the game. HWU rookie Head Coach Dayle Teergarden is desperate for this game to be played: with both teams going into this matchup winless, he will be eyeing up this game as the one to pop his W cherry as HC.
In truth HWU have matched up well against their opponents this season losing all three games played by a combined 18 points. That's heartache in a jar right there!
UWS, on the other hand, are suffering yet another season against the odds. We have highlighted issues that surround the programme in previous columns, but the number that truly standouts out are the three fifty burgers they have shipped so far (averaging 63 points against per game).
Nothing but a very comfortable HWU win and a popped cherry.
YSJ Jaguars v Edinburgh Predators
Jaguars can't catch a break lately… Whether it's iffy PI calls in the pros, or yet another postponded fixture, as York St John's game versus the Teesside Cougars game slated for midweek, was victim of the Rain Week rain.
This puts the novice program Jags in the unenviable position of one game played, four games postponed, six fixtures to fulfil…
…and just five Sundays until the end of the season.
Their one outing thus far was a loss to the table-topping Raiders, so it seems somewhat fitting that they should next play the second place Predators.
The Preds are still smarting from their crunch loss to Newcastle, and whilst they came out firing on redemption cylinders against Lancaster, are now throwing everything at every subsequent opponent and hoping for a miracle. Coach Harrison has a great team here and are always prepared well, so expect them to relish the opportunity to flex their muscles.
The real winner here might still be the weather, but expect the Predators to hunt the burger.
2A North
By Charlie Coë
Edge Hill Vikings v Tarannau Aberystwyth
Edge Hill picked up their first win of the season last weekend… Maybe?
It's a bit of a controversial mess, as the Vikings held a 2-0 lead going into the half, in a freezing downpour that saw the game called at the half.
Typical Britball rules would see them walk away with their narrow win… but BUCS regulations might see it differently!
Either way, it's been a rough campaign so far for the Lancashire outfit, who have a single touchdown to their names through three games.
Still, even that outscores a Tarannau side who've notched up zero through two fixtures played, and only have a probable tally in the win column thanks to a walkover from the Bears… Probably.
Edge Hill badly need a victory in this one to raise their spirits. They third and fourth in their conference in their first two years of existence, and are eager to not take a step backwards.
Aber meanwhile will have circled this one as an opportunity to salvage some pride and maybe kickstart the second half of their year.
Even considering the conditions, we thought we'd see more from the Vikings versus the Bears last week, and as such we're going to give Aber the benefit of the doubt in this one.
Chester Legion v Bangor MudDogs
Hearing the Legion have forfeited this fixture, unable to field a team. Awaiting confirmation.
The Legion lit up the Bears in their last outing, for the young programme's first win of its BUCS career… but that was all the way back in Week Five.
Weather has since seen their match up against Keele postponed, twice, and so it'll be a Legion side nearly two months away from competitive action that takes the field against a feisty Bangor MudDogs side on Sunday.
At 3-1, Bangor will be feeling hard-done-by that their aspirations of a conference crown seem to have been smushed by the arrival of the Tyrants into their conference. Still, they're a very worthy #2 team in the table, and can position themselves to swipe the top spot should the Tyrants slip up, by winning out the rest of their campaign.
Boasting a strong offence, they took a 42 to diddly win from their last outing against Aberyswyth, but similarly to Chester, haven't actually seen competitive action since Week Five.
Expect a messy first half as both teams shake the tinsel and turkey out of their brains following the break, but Bangors' resilience and offensive production should push them through to the victory here.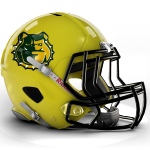 Manchester Tyrants v Keele Crusaders
Let's be clear on this one:
Manchester were a decent Division One side, in a helluva conference during 16/17.
Now? They're a great Division Two side, in a very middling conference during 17/18!
196 points scored…. nine conceded, and taking on a Keele Crusaders side that has only played two fixtures so far this year… losing them both.
Now, don't misunderstand – Keele are likely a better side than their 0-2 record would imply.  They ran Bangor close, and have put up points in both their games…
But having not seen any action since WAAAAY back in Week Four, odds are there's a lot of rust that's gonna need shaking off… and a big, physical, Tyrants side will be happy to oblige, we have no doubt.
A trial by fire to kick off 2018, as if Keele can weather Sunday's storm they could be well positioned to win out the rest of their year, wrapping up with a winning record overall if they can squeeze in all their fixtures…
But Sunday, we're expecting the purple dinos to munch on a burger.
2A Midlands
By Rose Wilford
DMU Falcons v MMU Eagles
N.B. This fixture has been flipped, with MMU now hosting, following a waterlogged pitch at DMU home ground.
The first game back for the 2A Midlands is the rivalry of the three initials… one a 2-1 team the other a 1-0 team. MMU have done well to only be beaten by the conference favourites and top team, the Coventry Jets.
Some could say that this will be the real test for both teams to see who's likely to land in 2nd place, although I'm not ruling out Huddersfield coming back strong this half the season.
The Falcons have had a pretty cushy run so far this season, getting the opportunity to practice a lot more than other teams, having only played Lincoln and getting the win and shutout.
Still, you have to ask the question of whether it's been too long since the guys kitted up and faced a real opponent, off the practice field? I guess only time will tell and this game may prove who has what it takes for a 2nd place slot in this conference.
I'm backing MMU for this one, a reverse on my pick for this game when it was originally scheduled in week six, but I do think it'll be a good (and maybe close) game.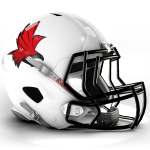 &nbsp
Comments
comments