BUCS Predictions | Division Two North, Week Eleven
2A Borders
By Pete Laird
Heriot-Watt v YSJ Jaguars
With the shock news of doubleheaders hitting BUCS this week, there are a couple of teams in Division Two in desperate need of this as a solution to their backlog of playing fixtures. Unfortunately for them, Div Two doesn't offer this opportunity in most conferences with only single fixtures between institutions.
YSJ are in the unenviable position of having played only two games thus far, the same amount as the now withdrawn BNU Buccaneers. They have fallen victim to a catalogue of issues outwith their control so they will be desperately looking forward to this away game being played at Peffermill.
Heriot-Watt kept things close against cross-town rivals the Predators on their last outing but have yet to notch a competitive league win. They have talent across the board, however, Quarterback Mark Smith is a danger when flushed out of the pocket, and defensively Sebastian Gabler always poses a threat.
This may not be a blowout but HWU should secure the win.
Newcastle Raiders v UWS Pyros
The Pyro's outing last weekend to Lancaster was a victim of waterlogged pitches (the Bombers pitches famously holding more water than the English Channel), so we are yet to see if they have been successful in their second term recruitment campaign. Lack of numbers for UWS make any sustainable campaign very difficult for them.
The trip south matches them against the conference-champions-in-waiting, the Raiders, at the birthplace of North East Football, Gateshead Stadium (with its infamous 2G surface).
Newcastle shouldn't have too many issues and their offensive double-act of QB Leo Hotchkies and RB Matty Thompson should put up some points. Defensively, Cornerback Jono Coombes had a stand out performance in the Stan Calvert and you would expect the Raiders bigger squad to be dominant.
Predicting a burger here. Newcastle for the win.
Teesside Cougars v Lancaster Bombers
Apologies for the delayed prediction. We had this one down as being played in Week Twelve following its initial postponement back in Week One. 
Teesside turned some heads with their win over the Predators last weekend, a victory that sets them up with a great shot at seeing some postseason action – even a conference crown if the Raiders were suddenly to take an unexpected nose-dive to round out their season.
The 30 points they put up are the most the Predators have conceded all year long, and just shows the kinda firepower the Cougars are capable of.
They take on a Bombers side that's been a bit of a dud so far this season – we've not seen sight of them since early December, and they went into the break off the back of two heavy losses to the Raiders and Predators.
Lancaster's Week Three win over Hawoo seems a long-long time ago and while the the Bombers' roster should be healthy given their lengthy break, they'll also come-in rusty and lacking any momentum.
Teesside should take this one, and with it hop into second place in the Borders.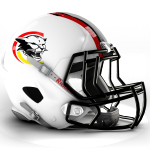 2A North
By Charlie Coë
Edge Hill Vikings v Chester Legion
It's not been a particularly fun 2017 season for the Vikings. Coming off the back of a solid 2-3 showing last time around, the North Easterners progress appears to have stunted somewhat in recent months. A 22-6 loss to Bangor on Superbowl weekend was the closest they have run a true contender this season, and their chance to put a notch in the win column was literally washed away in January when their game against the Bears was called at halftime. Only later were the Vikings made aware the 2-0 scoreline wouldn't stand.
Chester have not fared that much better, mind, although they got the chance to do what the Vikings were prevented from doing by the weather: beat Bradford.
They are also one of only two teams to score a point against the rampant Tyrants this season, and as such this writer is backing the Legion to grab their second win of the season on Sunday.
Keele Crusaders v Tarannau Aberystwyth
You can't ask for a much better response following a 61-6 defeat to the Tyrants, than the one produced by Keele in recent weeks.
Not content with a 34-8 home victory over basement-dwelling Bradford, the Crusaders went one better a fortnight later as they shutout the Legion and improved to a respectable 2-3 record. Season-closing matchups with Aber and then struggling Edge Hill gives Keele ample opportunity to push that win-loss ratio above .500, but this first fixture will give them the most cause for concern in terms of reaching a positive 2017 record.
Aber may have gone down 50-0 to the Tyrants, but despite the somewhat satisfying (or unsatisfying if you're Aber) even-ness of that scoreline, that's ultimately little-different to the 55 point deficit Keele ceded to Manchester. Also, considering that Aber's succumbing to the Tyrants was conducted with a 19-man roster? That gives Tarannau a certain amount of extra credit.
This is a tough game to call between two 2-3 sides, but we're picking Tarannau to do what Keele succeeded in doing earlier this month and rebound well from a big loss to Manchester.
Aber to squeak it.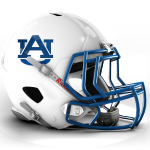 Bradford Bears v Liverpool Raptor
Attempt number two at this fixture originally schedule for Week Six as the Raptors head to Bradford.
Two teams chasing very differing goals – the Raptors are the only side remaining with an outside shot at poaching the conference title from the Tyrants, while the Bears simply want to salvage a little pride from an otherwise unbearable season for the Bradford team.
Liverpool have played just the one fixture this side of the break, but they dominated it with a 41-7 win over the Legion.
Considering the Legion themselves put in a similar scoreline over the Bears before the break? We can only see this going one way.
Raptors should romp to victory and set themselves up with a conference crown deciding fixture against the Tyrants in Week Twelve.
2A Midlands
By Rose Wilford
DMU Falcons v Huddersfield Hawks
DMU have only managed the one win in their three games so far this season, having had to postpone their game against Coventry last weekend. This currently puts them in fifth place behind Worcester and Huddersfield. If they can win this weekend against the Hawks, the low game-count in the Midlands should see them climb the table and there's the possibility of numerous teams ending up with a three-win tie around the top of the 2A Midlands.
Meanwhile, the Hawks are chasing MMU for the second place and chance of playoffs. Therefore this weekend is crucial for them. If they can get the win on Sunday and then follow up by beating MMU in Week Twelve they'll bounce into second and find themselves some postseason action.
With only two games to go until the postseason it's imperative that the Hawks put in the hard work to get the results.
Time will tell what happens for both of these teams but on this occasion? I'm backing Hawks.
Coventry Jets vs Lincoln Colonials
The Jets still remain unbeaten at the top of 2A Midlands, with two games technically still to play after they didn't play against DMU last weekend. This means they still have the opportunity to go 5-0 and waltz through to the postseason. It would take a drastic change of events for the Jets to not win out their fixtures after dominating the field in all three of their games this season, only conceding one touchdown.
Then again, it's been so long since we've seen the Jets in action – last taking the field in Week Four – that it's possible they'll come into this game carrying a lot of rust and their early-season momentum squandered. They're still missing club president and offensive weapon, Jonny Clark.
Across on the other sideline, it's apparent something happened to the Colonials in the offseason. After a playoff-bound campaign last season, 17/18 has been a washout for them – and that's not a reference to the number of games pushed back due to waterlogged pitches in the Midlands. Having played three games and not scored a single point, they really will be kicking themselves at how this season has gone.
Having similarly not seen competitive action since Week Four, squaring off against the high-flying Jets is unlikely to be the comfortable return to the gridiron they might have hoped for… but on the flip side, there might not be a better chance to cause a massive upset then taking on the Jets in their first game back from a massive break.
So long as they've not lost a step or ten to inactivity, Jets should take this one comfortably.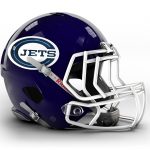 Comments
comments