BUCS Predictions | Division Two North, Week Five
2A Borders
By Pete Laird
YSJ Jaguars v Teesside Cougars
Obvious prediction of the week: This game probably isn't going to happen?…
If it does, however:
Teesside posted a great road win last week with a 32-28 win against HWU. Andrew Kane was a standout at Linebacker in this game, alongside Wide receiver Mike Healey.
Proving they have strength in depth the Cougars had rookie Quarterback Josh McIvor step in and performed admirably. The Cougars are now a solid 2-0 and will aim to keep the momentum up this weekend.
With York SJ now slated to play five games in the second semester, it's make or break time on whether this programme is going to participate this season. Whilst we can all appreciate the growing pains of a new programme it seems unlikely that recruitment and readiness is going to get better two months into the season.
Teesside 1-0… or more if the game actually takes place.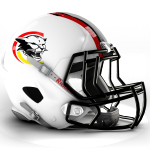 Lancaster Bombers v Newcastle Raiders
We suggested last week that the Bombers could be a dark horse in the division. If that was the case, then it just got euthanized as they fell at the second hurdle. A 42-8 defeat to a Predators team licking their wounds from last weekend's defeat to Newcastle means it's the harsh reality of fighting for a 3rd place spot. But it doesn't get any easier this week as they face the team under starter's orders for the winner's crown in prize fillies, Newcastle.
We asked questions of the Raiders' offense last week and they appeared to respond in the positive with 36 unanswered points. The Raiders were bolstered by the return of captain Jerome Klein to their defense, which then proceeded to pitch a shutout.
Newcastle to win at a canter
2A North
By Editor
Manchester Tyrants v Keele Crusaders
Manchester are looking like sharks amongst minnows so far this season. They narrowly dropped out of the middle tier at the end of last season, largely it looks thanks to the sheer quality of the conference they were part of. Since that time they've romped to comfortable victories over each team they've faced – they'll wrap up five of their seven fixtures this side of Christmas.
Keele meanwhile are winless on the year, though that's perhaps a harsh representation of their ability, having played two of the better teams in their conference so far this season – in Liverpool and Bangor.
…Which doesn't bode well when they take on what might be the best team in the bottom tier.
Keele should be able to find paydirt against the Tyrants, which is something of an achievement in itself… but we can't see the Dinos doing anything but win through this regular season.
Chester Legion v Bradford Bears
We've not seen much of either of these programmes so far this season.
Chester enter off the back of two byes, giving them time to recover from a #50Burger thumping against Manchester in Week Two. To their credit, they were the only team so far this season to put any points at all on a stalwart Tyrants D.
Still, it's been an even longer break for the Bears, who've we've seen little of since Week One, where they managed only a half of balling against the said-same Tyrants – calling it quits down 44-0 at the half, before bailing on their subsequent game against Aber at late notice due to a lack of available players.
Piling on the procrastination their Week Four fixture versus Edge Hill was pushed back due to a lack of refs, so we've only seen 24 minutes of balling out of Bradford on the year so far.
Taking that into account, we're gonna give the edge to the Legion here – their first competitive league victory?
2A Midlands
By Rose Wilford
Huddersfield Hawks v Worcester Royals
Well the Hawks have had a weird start to the season, after winning their first game 52-0 against the Colonials and then losing their second game against the Jets 42-0.
They've had both a shut out and have been shut out.
This week they host the Worcester Royals, who are 0-2 and have only scored 12 points this year, after racing out to an early lead last weekend, before falling behind in the second half
If the Royals have a hope of finishing in the top half of the table this year they need to be bringing their A game this weekend… More importantly, this weekend's fixture is their last chance to stave off hitting a two year anniversary since their last notch in the win column.
While the Hawks' big win to open the year looks less impressive given the Colonials subsequent heavy losses, at least the Yorkshire side have tasted victory this season, and have greater familiarity with the end zone. I think this one will go to the Hawks.
Comments
comments