BUCS Predictions | Division Two North, Week Ten
2A Borders
By Pete Laird
Teesside Cougars v Edinburgh Predators
Teesside showed up well last weekend against the dominant Raiders. With an outside shot at a conference title the Cougars knew they would need an exceptional performance to upset Newcastle. The Cougars saw stand out displays from WR Mike Healey, RB Matt Wright, and DE Alex Morrell. Two scores on the board was a valiant display but the Defence were eventually outmuscled by the Raiders machine.
Edinburgh notched three scores against crosstown neighbours HWU, all three from the ever-consistent Calum Davidson (taking him to twelve scores for the season so far) including a highlight catch from Fergus Head we featured as a possible contender for catch of the season. From our sources at the game, the Predators were dominant throughout and were worthy of a higher victory margin, but just couldn't capitalise to put more points on the scoreboard.
This will be the Predators last game of the regular season, and should they win, will have to sit around for a while waiting to find out if they have a home field seeing for the first round of the playoffs (they will want to avoid a trip to Bangor for the second season in a row!). Teesside have playoff aspirations of their own however, and if they want a second place berth rather than taking a game to see if they're one of the 'lucky thirds'? They will need to take the win, and the head to head.
Edinburgh to complete their season with the win.
Lancaster Bombers v UWS Pyros
A fortnight ago UWS forfeited their last game against HWU, an opponent a mere 50 miles along the road. This week they have to treble that for a long journey to Lancaster. As such, the concern for all of us Div. 2 watchers is whether the Pyro's can assemble a squad to complete this fixture?
The team have made efforts to recruit additional players for the second semester so we wish them the best in their attempts to right their faltering ship.
Bombers Head Coach Chris Plant has indicated that he believes the match will still go ahead and is emphasising the need for his team to get settled and execute on both Offensive and Defensive units.
It's been a frustrating time of late for Lancaster. They haven't taken the field competitively since the 3rd of December when they lost a 50 burger to Newcastle. However, if they can get the games in during the times remaining to them, can potentially still finish third in the conference and an outside chance at playoff ball.
We fear this one may go the way of the forfeit, but either way expectations are Lancaster get the W.
2A North
By Charlie Coë
Bradford Bears v Bangor MudDogs
In the race to keep up with Manchester for the North 2A crown, the MudDogs saw off the winless Vikings on the road as they shook off their Christmas rust.  While it wasn't the scoreline we might have expected, they seemed to pick up some steam in the second half and ended up with a comfortable victory. While their route to promotion is ultimately out of their hands, from their perspective they simply need to keep on winning if they are to topple the Tyrants, who would need to stumble against both the Raptors and Tarannau to allow the 'Dogs a shot at Div One balling next year.
Even so, Bradford shouldn't prove to be too much of an obstacle in Bangor's pursuit of certainly seeing at least some postseason action again this year. Their eight-point output in a losing effort at Keele last week counts for more than half of their total offensive production in 17/18. While any progress is positive, especially for a programme which has had as many off-field battles with their own SU as on the Gridiron this season, the Bears still seem well off the pace of the frontrunners in this conference.
Bangor shouldn't have too much issue in winning their sixth game of the season this weekend.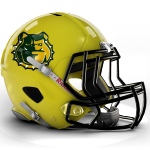 Manchester Tyrants v Tarannau Aberystwyth
Aber look to be on the right track in terms of building on their 2-4 record from last season as they adapt to life in the 2A North. Their 17-0 shutout victory over Edge Hill not only brought them to .500 but also will have given them a boost of confidence ahead of an unenviable showdown with table-topping, and Division Two Power Rankings-topping, Manchester.
Tarannau will have to pull off an upset for the ages if they are to beat the Tyrants on the road, who will be rested and raring to go after putting up their third – that's right third – 50 burger of the season in their first game back after Christmas. Aber aren't exactly immune to having points put up on them either, with both Liverpool and Bangor posting up big scores on the Welsh side in November and December.
We're thinking at this point that Tarannau are capable of rounding out the year with a positive win:loss ratio, with competitive but winnable games against Keele and Chester still ahead of them… but they'll struggle to contain a so far unstoppable Tyrants side this weekend.
2A Midlands
By Rose Wilford
DMU Falcons v Coventry Jets
DMU are playing both their penultimate and final games of the season at home this year, this weekend going head to head against the Conference leaders, the Coventry Jets.
After an extremely close, one point in it, game against the Royals on the weekend, the Falcons would have most likely appreciated an opportunity to bounce back against a softer opponent than the as yet undefeated and unchallenged Coventry Jets.
The biggest boon for DMU is likely that the Jets, however dominant the start to their season was, haven't seen action since waaaaaay back in November, and could well be rusty coming into this one, due an upset?
Yes, the Jets have been on fire this season winning all three of their games and only conceding one touchdown. Weather and withdrawals have meant, unless they can squeeze in their postponed fixture against the Colonials, this could well be their final opportunity to play for good postseason seeding.
Unfortunately for the Jets their President and offensive threat, Jonny Clark, somehow managed to break his ankle in three different places just a couple of weeks ago and therefore the Jets won't have Jonny to lead the way on the field – we wish him a speedy recovery.
With luck the Coventry side haven't indulged too much over their three-month break and outside el Presidenté are still fighting fit. Even down a key team member, if they play to form the Jets should still be able to dominate this fixture.
I'm backing Jets for this one, I can't see anyone taking a W from them until the postseason at the earliest.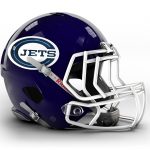 Comments
comments