BUCS Predictions | Division Two South, Week One
2A South West
By Lydon Ward-Best
Gloucestershire Gladiators v Bath Spa Bulldogs
So here we go. Uniball is back! And we rock straight into a David vs Goliath clash in the South West.
The Glads made the postseason last year but couldn't win when it counted down in Plymouth. With the Blitz now plying their trade in Div One, the Glads have got to fancy this conference as theirs to lose!
Coach James Wilford's boys will continue their physical style of play and look to stay perfect this year despite graduating a lot of players and a very different coaching staff.
Bath Spa have been quiet this preseason with Coach Ricahrd Lindsay being almost Bellicheck-esque in how guarded he is when talking to us. Will the "Small School Pride" team continue their gritty undermanned performances from last year?
Having seen pictures of a Bulldogs training session where you can count the participants on one hand, we also have to ask… will they even make Week One?
Glads to get a tune up for the season. Expect multiple scores.
BREAKING: Just in, we've heard through the grape vine that the Bath Spa Bulldogs have indeed notified the league they are unable to complete this weekend's fixture. It's worth noting we're still awaiting confirmation from BAFA/BUCS, though expectations are this game will be awarded to the Gladiators.
Bristol Barracuda v OBU Panthers
Cuda have got to feel like they have a shot this year. With Plymouth gone, they've got to consider themselves among the favourites for a postseason trip and possible promotion.
Despite some talented playmakers, Cuda struggled to score points against tougher opposition last year, especially in the Redzone – so perhaps the conversion of fleet footed WR, Jim Powell- Cullingford, to QB may just give them the spark they need?
OBU meanwhile were a bit of a mixed bag last year. They came one tipped pass away from scuppering Plymouth's promotion hopes in their opener, before turning round an 0-3 start with a 3-0 finish. We thought some new blood to the old SWAC might stir things up a bit, but all it did was muddy the waters.
The Panthers have very close links with the Oxford Saints with support being shared between the clubs. With many of the coaching staff stepping away during the offseason, the Saints' George Wright and Calvin Holmes have taken the reigns on D, whereas Nick Wykes continues to marshall the O.
This one will really be a good litmus test of the conference. Expect a close one and the victor to be the team making the least mistakes .
Cuda to squeak it.
2A South
By Editor
Westminster Dragons v RHUL Bears
The Dragons announced their withdrawal from the season back at the end of September – the first of three programmes initially scheduled by BUCS that have since pulled out. Similarly to the Midlands, these fixtures are being wiped from the slate.
UCL Emperors v City Wolfpack
If last year's tight match up between these two is anything to go by? This should be a cracker of a fixture to open the season with in the 2A South.
Last year the young UCL Emperors side managed to squeak the fixture by a mere three points, but reports out of the newly-dubbed 'Wolfpack' are that there's been some veteran recruits added to the roster that give them great potential – so long as they can find a way to come together as a team – something they struggled with last year, despite some great talent on the roster.
We've heard nothing out of the Emperors in the preseason, but you've got to expect the young programme will be looking for nothing less than matching their impressive playoff-bound rookie season, which even more impressively included their first postseason win, over the now Div One Canterbury Chargers!
Still, heavy losses against stiffer oppositions, such as the Stags and the now-promoted Burners will have tempered their expectations, and sustaining their level of play needs to be the key focus of the Emperors this year.
This one's a bit of a coin toss in our eyes, so we'll give the edge to the 'Pack… cos they answered our questionnaire 😉
2A South East
By Editor
If you're interested in writing about the 2A South East for DC, get in touch at editor@dblcoverage.com
QMBL Vipers v Greenwich Mariners
A new home but familiar opposition for both these programmes, as the young Vipers and ancient Mariners find themselves shuffled sideways into the 1A South this year.
The Vipers come in off the back of a very impressive rookie campaign that, similarly to their new conference rivals the Emperors, saw them achieve playoff balling in their very first year. They did this thanks to a large and committed roster, a hard thing to come by for a young programme, and huge credit therefore needs to go to Club Founder and 15/16 President, Ross Clarkson, whose presence will be missed on the field this year, having graduated. Still, he's sticking around on the coaching staff, and will be eager to see his Vipers continue their early success, ideally with a repeat of last year's narrow early-season victory over the Mariners.
Yes, for a storied programme like the Mariners, last year will have been a tough pill to swallow. One of their two victories came from a walkover, though at least they rounded out the year on a high note with a slim two point win over the Essex Blades.  We're yet to hear from the Greenwich side this preseason, but there's a lot of Football Pride at this programme that will surely allow them to be competitive in a conference that features a lot of inexperienced teams.
Per last year's form we're picking the Vipers, but either of these teams could easily be competing for postseason balling later in the year.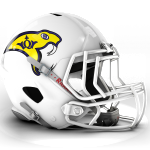 ARU Rhinos v UEL Phoenix
Division Two's baby conference with only five programmes? Even so we expect the 2A South East to be surprisingly hard fought this season.
The promotion of the undefeated Canterbury Chargers, means that this undersized conference is stocked with young programmes, and stacked with opportunity for them to make a splash.
With conference champs taking auto-promotion, both these mid-table teams from 2016 have the chance to compete for mid-tier balling next year – though it's going to be a testing road – the smallest conference also means the longest schedule, with 2A South East programmes completing a eight fixture schedule compared to seven for most D2 conferences (and now only five in the Midlands, six in the South West).
It's worth noting that both these sides picked up a number of their wins on paper last season rather than on the Gridiron, with the 2A South East ravaged by withdrawals and other bizarre controversies leading to forfeits, so for UEL for example they'll be expected to play double the fixtures this year, compared to last!
Still, last time these two teams met in the latter part of the season it was a confident and comprehensive 19-3 victory for the young Phoenix, so they'll come into this one favourites too.
UEL to win.
Comments
comments