BUCS Predictions | Premiership, Week Five
Premiership North
By Thomas Snee
Loughborough Students v Derby Braves
Week Five gives us an unlikely potential relegation battle. Early season results in Premier North mean that even pre-Christmas, this traditional rivalry game takes on an added dimension!
Both sides enter this one at 0-2 and off the back of shock defeats to a Leeds Beckett side that clearly pay no attention to reputation. Whoever takes the L here is likely to spend the Christmas break staring down the barrel of Division One football.
While their defence has kept it to (just about) two scores per game conceded so far, no points scored in their first two games illustrate that Loughborough need a spark on offence to kick start their season. The Derby game usually brings the best out of the Students – who swept their rivals in 2016/17 – but defeat here and they're in real trouble. With Stirling away in Week Six, 0-4 at the semester break is a real, terrifying possibility for the erstwhile Aces.
They travelled to take on the Filton Pride last weekend, and finally found something of a spark on offence, putting up points against the tough Bristol outfit.
As for the Braves, last week's visit to Carnegie sounded like a right old ding-dong. While the Derby defence struggled against the impressive Leeds Beckett offence, they should at least have an easier ride this weekend. Loughborough have lacked a stand out playmaker on offence so far this year.
At peak form and with the rivalry factor, this could have been a classic… However, with both teams struggling at this point in the season, we're going for a low-scoring Braves victory.
Premiership South
By Rose Wilford
Birmingham Lions v Hertfordshire Hurricanes
Birmingham are currently sitting in third place after a win and a loss as they head into week 5 and host the undefeated Hertfordshire Hurricanes. The Lions will be hoping that a special Saturday Night Lights show at home will be able to give them an edge against a team that looks set to be the champions of the Prem South. If the Lions can bring out their strong athletes and use some of the strength they showed at this year's xpLosION then they could get the opportunity to open the door to some scores this weekend.
The Hurricanes come into this off the back of a win against a team that put 48 points on the Lions back in Week One. Looking at the results table you can see the 'Canes have shown some real strength this season, with offensive players such as WR (who also spent time in the States) Michael Bradley-Banszki, RB Dwight Caulker RG Joel Adjei, as well as RT Olly Jr Sunmola whose strength has been utilised on both sides of the ball this year. On the defensive side of the ball players such as DT Jai Jackson and OLB Kayode Sampson Babatunde-Ige have played an important role in helping the Canes only concede 19 points in their first three games, including stunting the Titans offence.
Despite all the history and hype around this match up, the 'Winter Wonderlion' as it's being branded, I think this one should be an easy win for the Hurricanes, moving along to 4-0. The question is, are there any in the south capable of slowing the 'Canes trip to the conference crown?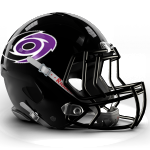 Swansea Titans v Bath Killer Bees
The Titans come off the back of a tough one score loss against Herts on Sunday and this weekend host the Killer Bees in what should be an opportunity for Swansea to put up a high score.
With EP Sports Elite Athlete, QB Sam Huxtuble, steering the Titans' ship, and Euroballer RB Shaun Vaughn in the backfield the Titans should be able to dominate on offence this weekend – against a team that's already had 98 points scored against them in three games.
The Titans defence including Bristol Aztecs CB Ben Cooper and South Wales Warriors LB Gethyn Chadwick may find themselves in a position to get their first shut out of the year against the Killer Bees on Sunday.
Bath have really struggled to get off the mark this season, having lost three straight and only scoring 25 points. Two opening losses to Herts might have been par the course, but last weekend's destruction at the hands of recent promotees, Portsmouth, really puts Bath in a difficult position, and they will be looking to their future fixtures to find a team that they can get one over on, else risk relegation.
With both fixtures against the Lions still to come they should be looking to outsmart a team that they are yet to play and make adjustments against the teams they've already faced. Even so, I just can't see the Titans losing this one.
Comments
comments