BUCS Predictions | Premiership, Week Four
Premiership North
By Thomas Snee
Leeds Beckett Carnegie v Derby Braves
When we saw the schedules for 2017/18, this one didn't exactly stand out as one to get excited for.
However, Carnegie's shutout win over Loughborough and Derby's winless start (albeit with an abandoned game against Durham to be replayed) have added a bit more intrigue.
The home side will have highlighted this as one of their "winnables" even before last week's victory, and another W here would put them two wins clear of Loughborough in the battle to avoid relegation. If their big offensive line stays fit, they've got a good chance.
As for the Braves, expect a fast start from a team raring to go following the abandoned Durham game and the opening week loss to Stirling. Another close game in the offing we feel, but we fancy Derby's passing game to be the difference in this one.
Braves win
Durham Saints v Stirling Clansmen
Now this…THIS is the one we were excited about. A replay of last year's big dance and the first part of the series that will likely determine the destination of the Premier Division North's #1 seed, this game will have the eyes of Uniball on it come Sunday afternoon.
The sample size isn't huge yet, but Stirling have made a solid start to their title defence, picking up good-but-not-great wins over Leeds Beckett and Derby. If they can go to Durham and win, they'll be in the box seat with a three game lead over their presumptive challengers.
As for Durham, the false start at Derby two weeks ago means they have gone three weeks without meaningful football. More time to prepare? Or time to get rusty? If they topple the champs on Sunday, Prem North will get real interesting, real quick.
We wouldn't be surprised to see a different result each of two (three?) times these two play eachother this season… but for now we're thinking the Saints will steal round one.
Durham win
Premiership South
By Editor
Portsmouth Destroyers v Bath Killer Bees
Too early to be calling these bouts the Battle to Dodge the Drop?
So far both southern sides have proven themselves off the pace of the rest of the Premiership.
To be fair to the Bees, it's been back to back touts against the top side in the south from last season, so their 0-2 start reflects rather harshly upon them.
Similarly, Pompey have an only xpLosION loss to their name so far, and will have circled this fixture on their schedule from the get go as their best chance to lock up top tier balling for another year.
The Killer Bees offence kept things competitive through the first half of their first Herts match up at least, but seemed to have no new tricks when they played the Hurricanes again a week later.
Both sides will be hoping for more from their offences this weekend, and indeed it could be the first team to three scores takes this one.
Based on their two scores in a tough xpLosION environment? We wanted to give the edge to Portsmouth, but our Prem South Correspondent believe this is the Bee's to lose.
Hertfordshire Hurricanes v Swansea Titans
Flip the table, at we see two undefeated and largely unchallenged sides squaring off.
Herts have two comfy wins over the Bees to open their year, whereas the Titans turned up what was probably the upset of the season so far in a near #50Burger performance against the Birmingham Lions.
If the Titans have aspirations of a conference crown, today's the day to take that shot, but it's going to be hard work against a Herts' D that's looking just as stingy as the one that led the Prem South last season. With the Lions' shaky start to the year, the Hurricanes are surely favourite to take the title once more?
Still, Swansea were the only side to best the 'Canes last year, and we wouldn't put it past them doing it again considering their impressive Week One outing.
We're hoping for an outright shoot out between these two on Sunday, with the our Prem South Correspondent believing the Herts' D could be the difference maker here;
'Canes out shoot Swansea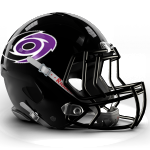 Comments
comments