BUCS Predictions | Premiership, Week Seven
Best we can tell, it's just the single fixture this weekend, as the Hertfordshire Hurricanes host the Portsmouth Destroyers.
Premiership South
Hertfordshire Hurricanes vs Portsmouth Destroyers
So few games on this week, the #TeamDC BUCS office have all vacated already, meaning we had to find a random elf to write up this final prediction of 2017…
Hence the number of Christmas references that have apparently snuck in.
With only eight sleeps til Santa, the Hurricanes will be looking to head to the holidays clear atop the Prem South, shining like angels atop the Christmas tree.
To do so however they'll need to bounce back from their troubles against the grinch-like Birmingham Lions, back in Week Five, where early mistakes from the 'Canes, and a Lions offence that seemed more unstoppable than a post-Turkey nap, delivered the first defeat of the year for the reigning Prem South champs.
Taking on the newcomers to the Prem, in a week that many Unis find it tough to keep players around for, could well be the perfect gift for the Hurricanes – with a better chance of getting their season back on course than following Rudolph's very shiny nose.
Course, the Destroyers will be doing their best to throw a snowball in the works, and while we've not seen a whole lot of the south coast side so far this year – their recent game against Swansea one of a swathe of presents lost in the wintery weather last week – they did prove their top tier credentials with a healthy 44-12 victory over Bath in Week Four.
So long as both teams have ensured no naughty elves have disappeared early for the holidays, both rosters should be coming in fairly healthy, and so we could be in for a more competitive match up than many would have suspected in the preseason.
By the forecasts, weather shouldn't be too much of a factor in this one, and rather it's likely to come down to whether the 'Canes are able to rely on their ground attack, led by London Blitz RB Dwight Caulker, to control the game clock and muscle their way through this fixture like a good grandson through his second helping of grandma's Christmas pudding that he tried to very politely refuse…
If they have to take the Santa's Sleigh approach and go to the air? Pompey have proven they've got a very capable secondary that could punish the hosts and keep the game well within reach for an offence that certainly found its festive cheer against the Bees.
A competitive game, but we think it'll be the Destroyers that have coal in their stockings by game's end.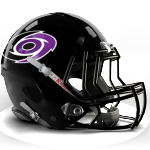 Comments
comments