BUCS Premiership Predictions Week Six
Both the North and South Premierships are looking more competitive than ever before and it's playing havoc with our Power Rankings and making the lives of our top tier Conference Correspondents far harder than they were expecting coming into the season!
Durham Saints v Derby Braves
It's going to be Cash Money Central in the North-East this weekend as the newly crowned Power Ranking leaders take on the team they've replaced at the top of the charts. Durham's win over Stirling was a proper "for real" moment, hung on the back of a three touchdown, two interception performance from former NCAT baller Chaz Dawson, and that chip on the Saints' shoulders looks justified right now.
As for Derby, is it a case of heavy lies the crown? They have their fair share of quality players on both sides of the ball, but Sunday's game was the first time they've ever entered a Premier Division matchup as clear favourites, and they blew it. Perhaps being the underdog again this week will spur them on?
It could go either way if Derby can bounce back, but we're going for New Money over New New Money in this one.
Stirling Clansman v NTU Renegades
It's been a very, very long time since Stirling lost a home regular season game, and at 1-2 – with their only win coming from an overtime bum-squeaker against Loughborough – their season stands on the verge of being incredibly underwhelming.
NTU meanwhile have problems of their own, not least that they look doomed for relegation barring some kind of Christmas miracle that brings them seven or eight scholarships over the winter break. They aren't a bad team, but have been victims of circumstance in a conference that is full of… well, better ones.
That being said, this won't be a blowout. NTU have a lot of pride to play for, and they'll land a couple of decent blows on Stirling before succumbing to an honourable defeat.
Birmingham Lions v Swansea Titans
The undefeated Swansea Titans head to Birmingham for their first away game of the season. The new boys to the conference have had a dream start as they sit pretty with a 2-0 record after dispatching the Kingston Cougars and the Bath Killer Bees. An aerial attack led by QB Sam Huxtable and key WR Joe Cotterill has given opposing defences nightmares, while a stout Titan defence has only given up 6.5 points per game. They will look to carry momentum into this game, however, they have not yet faced a team with as much talent and experience as the Lions. The Titans have a total W/L/T record of 35-3-0 over the past 3 years, they aren't used to being in tough situations, so it will be interesting to see how they react if they do go behind early in this one.
The Birmingham Lions come into this with a 1-2 record. The reigning national champions have really struggled to begin the new season with the same winning class that they ended 15/16 showing. However, there have been flashes of brilliance. In the Bath Killer Bees loss, the Brum D didn't concede a single TD. And then, in the Hertfordshire loss, the O managed to put up 30 points! There is little doubt that if they can get both sides of the ball to execute on the same day the Lions will go back to their winning ways. Running Back Elliot Walters has been carrying the bulk of the work load for the offence, racking up over 400 yards on 60 carries over their last two games. While defensive lineman Will Stone has been living rent free in the oppositions' backfield.
We are going to go with the hot hand of Swansea to win this one, however, we expect it to be a tight match up. Everyone knows the championship winning class that Birmingham have and on the day if everything clicks, they would be more than capable of claiming the W.
Swansea Titans to win
Hertfordshire Hurricanes v Kingston Cougars
The Hertfordshire Hurricanes sit atop the Premiership South with a perfect 3-0 record. Last weekend they defeated the reigning national champion Birmingham Lions 35-30, with the offence finally going into fifth gear for the first time this season. QB Kit Varney and WR Kyle Jervier humiliated the Birmingham DBs, connecting for five TDs! If they can continue this impressive aerial attack, there won't be a single team in the South who will be able to compete with the Hurricanes.
After a tough start to the year with successive losses to the Birmingham Lions and the Swansea Titans, the Kingston Cougars finally got their first win of the year, putting the sword to the Bath Killer Bees in a tight 26-20 match up. The Cougars are a tough team with plenty of ability. MVP Tim Thomas has been showing his ability in all three phases of the game, however, this over-reliance on one baller can hinder them at times, with the occasional interception being thrown as the QB tries to find his favourite target, forcing a ball into triple coverage. If Kingston are to really start competing they will need to find a way of getting the ball into the hands of other playmakers.
The Kingston Cougars will be a tough test for Hertfordshire, however, they lack the killer bite to be a real threat this season. The Hurricanes should have more than enough talent to get the W.
The Hertfordshire Hurricanes to win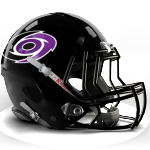 Comments
comments