BUCS Premiership Predictions – Week Two
The Premiership is back for its second week of action, which means the first hit in anger for the newly-promoted NTU Renegades in the northern section. How will they fare against the 1-0 Saints? Meanwhile in the Premiership South, the Birmingham Lions look to go 2-0 as they face the Bath Killer Bees.

Premiership North
Thomas Snee, Premiership North Correspondent
Durham Saints v NTU Renegades
Durham's start to the season went largely as expected with a solid win over Loughborough Students, as they survived a late comeback to hold out for the W. Running back John Taggart – brilliantly nicknamed "DCI" – was sharp on debut, gashing the Students' defence with the kind of power running that gives safeties nightmares. He can expect to be busy against the Premier Division fledglings of NTU.
You could say that it's a baptism of fire for the Renegades in their first game at Premier Division level, but in truth this will be the first of many big challenges for them as the season progresses. A lot of their success has been due to a strong and consistent coaching set up, led by Adrian Giles, which has softened the blow of some big-name graduations over the past few seasons. We expect them to lean heavily on their experienced players to give them a chance of staying up.
Taggart against NTU's star linebackers Jack Rice and David Izinyon could well be one for the ages, but we expect it to be purple (Eds: palatinate?)  over pink on Sunday.
Stirling Clansmen v Loughborough Students
Stirling have had plenty of bulletin board material out of DC over the years, so we're not going to go rubbishing their title chances just yet. However, their shootout loss to Derby last weekend will be a huge wake-up call for the Clan. The division will be smelling blood, and the Clansmen must know they are in a real battle to retain their conference title.
In many ways, Loughborough should provide the perfect remedy for the Clansmen, who put up big wins on the Students in last season's clashes. However, the East Midlanders did put up a decent fight against a highly-ranked Durham side in Week 1, and were a couple of conversions away from pulling off a shock win.
We can't see the Students matching Derby's 40-point showing on the Stirling defence, so expect the homecoming Clan to take the victory in this one.
Premiership South
Frankie Pankhurst, Premiership South Correspondent
Frankie actually went missing this week… We suspect gremlins.
Birmingham Lions v Bath Killer Bees
It's that time of year when we have the BIGGEST event in the annual Britball Calendar!
No, not the Britbowl, silly.
xpLosION!
Yup, the Lions' annual home opener currently attracts the largest crowds of any Britball fixture year in, year out – and that's only partly thanks to the free entry, bonfire, fireworks and half time show.
This year's xpLosION kicks off at 4:30 and will be live streamed by the University of Birmingham's media society GuildTV, with commentary and analysis by the University's Radio Station, BURN FM.
You'll be able to watch the steam online via guildtv.co.uk (don't worry, we'll be plugging the stream on the day as well in case you forget) and you can find out more about the festivities on the event page.
Oh wait, this is a prediction too right?
Lets be clear: the reigning National Champs have never lost an xpLosION game, and they don't look likely to break that trend this year either.
Bath were giving repeated opportunities to take away a win against Herts last weekend, but couldn't capitalise on their six takeaways. Against a Birmingham team brimming with confidence following a strong opening day win in Kingston? You've got to take the Lions in this one.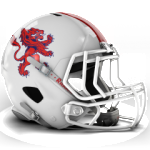 Swansea Titans v Kingston Cougars
The noobs to the Premiership South open their season at home against the other top-tier young bloods, the Kingston Cougars.
The Titans have had a lot of success in recent seasons, being one of the most dominant teams in the lower tiers, but now they're going to try to #MakeTheLeap up to the big boys in the Premiership.
Swansea certainly don't lack depth and should open their season with an approximately 80 man roster… However it will be interesting to see how they handle the departure of workhorse back Jacob Amadi, who graduated from Swansea last year and this year is plying his trade as a Sports Scholar up in Nottingham.
They're not without weapons, particularly so in offensive playmakers Joe Cotterill and Sam Huxtable, but you have to wonder whether they have the bulk and power to take on the Premiership.
Kingston's scoreline from last weekend might not look great, but the reality is that stopping the National Champs on more drives than they didn't actually says quite a lot. They took advantage of Birmingham's mistakes, and forced more of their own, but ultimately still need to develop the standout playmakers to take on the teams at the tip of the top tier.
For the Titans, they have a lot to prove this week. While Bath and Herts do look vulnerable after a decidedly sketchy opening day performance from both programmes, it's games such as this that the Titans need to prove competitive in, if not win outright, if they want to stay in the Premiership for a second straight season.
It should be a toughie, but we'll give the Cougars the edge – if only because they've had the opportunity to work out their opening day jitters last week against the Lions.
What do you think of our Week Two predictions? Think one of our new #TeamDC members still has some swotting up to do? Get in touch in the comments down below and let us know!
Comments
comments