East Kilbride Pirates and Edinburgh Napier Knights share cardiac testing opportunity in memory of Rob Worboys
The East Kilbride Pirates and the Edinburgh Napier Knights have gotten in touch to share word about some of the great works they're engaging in this year, as the programmes work with Cardiac Risk in the Young (CRY) to host Cardiac Screening Events for their players and staff this month and next.
Rob Worboys, a popular player with the East Kilbride Pirates and coach with the Edinburgh Napier Knights, tragically passed away in 2016 aged 27 as the result of an undiagnosed heart condition.
Every week in the UK at least 12 young people die of similar undiagnosed heart conditions.  A staggering 80% have no prior symptoms – just like Rob.
Thanks to the Worboys family and charity Cardiac Risk in the Young (CRY) the Pirates and the Knights have a tremendous opportunity for their players and staff aged 14-35 to go through a simple and painless screening procedure to identify any undiagnosed cardiac conditions.
Young people involved in sport, in particular, stress their heart the most and if they have an underlying cardiac abnormality, they are more likely to be at risk.
The Pirates will be hosting their screening event on Saturday 18 May at their home ground of GHA Rugby Club in Giffnock, Glasgow. They are working in partnership with GHA on the screening session, who also have the opportunity to have their members screened as part of the event.
Pirates chair Amanda McDonald commented:
"Rob was a much-loved member of our club. We're very lucky to have been offered this opportunity by the Worboys family which could potentially save young lives and prevent another family from going through the heartbreak of losing a loved one."
The weekend before their screening session, the Pirates will also be remembering Rob when they play against the Yorkshire Rams – Rob's previous team before he moved to Edinburgh. This is the first time both teams have been in the same division since Rob passed away, and the game will be played as the Rob Worboys Memorial Game. A collection will also be made in aid of CRY at the game, and the Pirates' gameday medical supplier Hart Services have already generously pledged to donate their fee for the game.
The Edinburgh Napier Knights will be holding their session on Sunday 19 April at Napier University's Sighthill Campus, and will also be extending the opportunity for testing to other Napier Students too.
Napier Knights Head Coach Pete Laird said: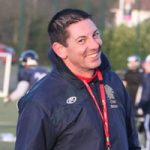 "I can't think of a better legacy for Rob's memory than screening the young players he loved working with. This process has the potential to save someone's life and the Knights and the university are delighted to support this in any way we can."
More about CRY
Since their formation in 1995, CRY has been working to reduce the frequency of young sudden cardiac death. Sudden death syndrome is an umbrella term for the many different causes of young sudden cardiac death. These conditions include thickening of the heart muscle or an abnormal structure of the heart, and irregularities of the impulses that control the rhythm of the heart.
CRY promotes and develops heart screening programmes and funds medical research, as well as publishing and distributing medical information written by leading cardiologists for the general public.
CRY funds specialist referral, screening and cardiac pathology services at leading UK hospitals.
A simple way to diagnose most cardiac abnormalities is a quick, painless and non-invasive test called an electrocardiogram (ECG) which records the electrical activity of the heart. If a more detailed image is required, an ultrasound scan of the heart – called an echocardiogram – can be taken.
Any person between the ages of 14 and 35 can book a place at a CRY screening event through www.testmyheart.org.uk. There is usually no charge for the testing. CRY operates screening programmes for the general public (aged 14 to 35) in schools, universities, sports clubs and community health centres.
Photography (c) Duncolm Sports Photography
Comments
comments