Good Week / Bad Week – BAFA NL 2018 Week Five
The busiest weekend of Britball so far! 
But which teams had the best of it?
Honourable Mentions
The Sheffield Giants appeared to get their season at least somewhat back on track after a couple of tough losses, hosting the East Kilbride Pirates and walking away with a comfortable shutout victory, 39-0.
The first leg of the 2018 Essex Derby between the East Essex Sabres and Essex Spartans turned out to be an early Game of the Year contender! The Sabres leapt out to an early 18 point lead, before the Spartans responded with 19 in the second quarter to take a single-point lead at the half. The two Essex sides tussled back and fourth throughout quarters three and four, with the Spartans eventually emerging on top by the narrowest of margins – 33-32 to the visitors, the two teams meeting again in Week Twelve.
For fans of offence, we saw a bunch of big scorelines once again – the Leeds Academy Assassins (U17), London Blitz (U19), Solent Seahawks (U19), London Warriors, London Blitz, Solent Thrashers and Bournemouth Bobcats
The Birmingham Lions and Leeds Academy Assassins both put in dominant showings, each going 3-0 on their Under 17's tourneys at the weekend.
Good Week
Wyverns win first league victory over Raptors
The Somerset Wyverns notched up their first ever league victory at the weekend with a confident 42-8 performance against the Jurassic Coast Raptors. Their offence is finding its feet at the perfect time as they head to a short-on-numbers Sharks team next weekend, with a goal of putting a second notch in the W column.
Wolverines worthy of first win, despite suspensions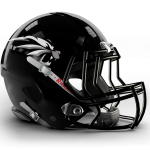 Despite missing a handful of starters due to suspensions following last weekend's mass-ejection shenanigans, the Lancashire Wolverines were clearly galvanised by their tough start to the season so far and put in their best performance to date – outscoring the Senators two-to-one in the second meeting between the two teams.
Titans do the double over the Nighthawks!
In an inter-city rivalry that bridges all sports, the Manchester Titans hosted the Merseyside Nighthawks on Sunday – both their Under 19's and Adult teams – and in hard-fought fixtures emerged victorious in both formats of the game.
The U19's took a large lead early, before fending off a comeback from the Nighthawks' Juniors, while in the adult game that followed the crowd at Belle Vue were treated to a superb back and forth game between two teams that look like strong contenders for postseason action!
Starting their season with a huge loss to the Phoenix, the Titans definitely appears to have their time in the top tier back on the right track with back to back wins.
---
But which outfits are feeling Week Five was a week to forget?
Comments
comments