Good Week / Bad Week – BAFA NL 2018 Week One
Dishonourable Mentions
We've got the final (probably) U17 contact schedules and we'll be working to have the site updated with them this week… But all-in-all it makes for pretty grim reading as once again this year we see many teams struggling to support viable youth development programmes. A big reason for the distinctly delayed release is BAFA simply trying to give clubs a chance to get teams in place before the season's set in stone…

How do we reach these kids?
Bad Week
'Tecs remain off the pace in the Prem?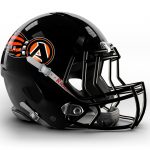 There were a lot of positive vibes coming out of the Bristol camp this offseason… They've got an experienced staff and a great area to recruit from, boasting a bunch of quality university programmes and Britball development schemes and teams.
On the flip side, there were a lot of questions around the erstwhile top-dogs of Britball, the London Warriors. High-profile departures, questions about who'd be starting under centre, all gave the impression that the Warriors might not start the season with their usual 'zest'…
Well, it seems those questions have been effusively answered! The Warriors romped to a comfortable 55-0 win, outshining either of their wins over Bristol from 2017. The scoreline should put the rest of the Prem South on alert.
Did Leeds make the leap too soon?
The Leeds Bobcats may have dominated the NFC 2 Central in emphatic fashion last season, going 10-0 and outscoring opponents 4-to-1 throughout the year, but they received a rude welcome upon arrival in Division One on Saturday, facing off against local rivals, the Yorkshire Rams.
The Rams followed up on their playoff-bound 2017 campaign by seemingly making short work of the Bobcats on Saturday afternoon, a 31 point shutout loss hardly the momentum building start to Div One life Leeds will have been looking for.
Pumas positivity doesn't translate onto the field
The Maidstone Pumas have done a great job this past offseason in reframing the club's image, and indeed we've seen a lot of positive vibes coming out of the much-maligned Maidstone side as they revamped their coaching staff through last season and saw some good recruitment coming into their 2018 campaign.
However, Week One it seems they were simply unable to turn positivity into points – a late lone score the only bright spark in a very tough opening day for the Kent team that faced an East Essex Sabres side that put up almost as many points in this opening fixture (60) as they managed in the entirety of their 2017 campaign (81).
It's possible the SFC 2 East might be a feistier conference than some of our pundits expected this preseason, and the re-schuffled Pumas may have been moved out of the frying pan and into the fire by their offseason hop out of the SFC 2 South.
---
But who do YOU think had good or bad weeks, #BritballNation?
Let us know who we missed out in the comments down below, on Facebook, or @Dbl_Coverage – #GWBW
Comments
comments