Good Week / Bad Week – BAFA NL 2018 Week Thirteen
BAD WEEK
Dishonourable mentions
The inevitable has happened for a number of teams…
East Kilbride Pirates are relegated to Division One without playing this weekend
A 0-67 home thumping confirms Leeds Bobcats' swift return to Division Two
Birmingham Lions U19 announced the forfeiture of two of their three final games, aiming to return for their regular season finale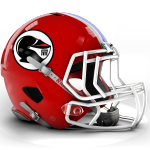 FARNHAM KNIGHTS
The Knights announced earlier in the week that they'd be taking a 'tactical forfeit' of their game against the Warriors (who must be infuriated at having a second game taken away from them this season). While the honesty of their statement was somewhat refreshing, we'd be surprised if the situation, and the similar forfeits across the game that led up to it, aren't looked at by BAFA, perhaps a full review of the competition regulations. That this kind of forfeit happens in the top tier is astonishing.
WEST COAST TROJANS
(Old decal, we know… pop us the new one and we'll fix you up a new lid) The Trojans forfeited a second game in as many seasons owing to player numbers. If we're understanding the competition rules correctly, there is the potential for the Trojans to be demoted to associate status as the multiple forfeitures isn't just focused to one season. They're scheduled to face Aberdeen in a fortnight… hopes are the Trojans numbers will be bolstered enough for the game to go ahead?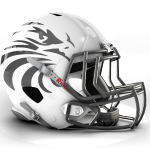 OUSE VALLEY EAGLES
Prior to the 63-7 hammering at the hands of the conference champs, Solent Thrashers, Head Coach Neale McMaster announced his intention to step down from the role at the end of the season. The single biggest loss in the club's short history since the merger, the Eagles have now gone three consecutive seasons without a winning record in the hotly contested middle tier.
COVENTRY JETS
The Jets, who had already forfeited against Leicester a fortnight ago and were on a 'yellow card', made the trip to Sandwell yesterday and were on the end of a 57-0 hiding at halftime, before calling the game. Knowing a second forfeit in the season would almost certainly demote them to associate status for 2019, by turning up and playing through to the half, the cynic in me worries this may have been an option they were considering from the get-go.
Either way, the Jets will need to patch their roster back together swiftly, as they host the Revolution next weekend.
Comments
comments