Good Week / Bad Week | BUCS 18/19 Playoffs Week Two
Bad Week
Now, as noted, the preference is always to avoid double-dipping on fixtures – mentioning a victor in the Good column, while also making note of the team that came up short in this half of the article… However, when there's only a handful of fixtures to pick from, we don't have oh so many options to choose from!
Dishonourable Mentions
There was a handful of National Leagues Adult preseason games scheduled for this weekend… However, it looks like the senior programmes aren't any better at dealing with the wintry conditions that the BUCS outfits, potentially even worse, as we saw half the fixtures called off due to the weather.
Our pundits have found their nemesis this year in the form of the Exeter Demons. For a fifth time this season, the Demons used our pundits' picks as bulletin board material, and have ridden their underdog status right to the cusp of promotion!
Sheffield stumble out of playoffs, rumbled by the Renegades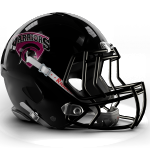 As we noted when Brunel burned out early in the first round of the playoffs, there are certain expectations that come with being an undefeated #1 seed…
Losing heavily to a team that just barely snuck into the postseason on the final week of fixtures is not part of that package!
While Hallam haven't looked entirely invulnerable this season, with a couple of close-calls during their 8-0 Yorks/Lancs campaign, they were still among the favourites for promotion back into the top tier for much of the season. Their 7-27 loss to NTU, however, means they'll return to terrorising the middle tier for yet another season.
Stags stay put in Div One, following defeat to the Demons

There's a lot of pieces that need to be in place for a team that earns promotion to the Premiership – there's as many risks as there are rewards, as we've seen time and again that if a team hasn't built themselves in a sustainable way, a tough year of losses in the top tier can hurt a team for a good number of seasons that follow!
Looking particularly at the South over the last few years, and you've got teams like Brighton, Imperial, Kingston, who each took a rapid tumble to Division Two football just a couple seasons after relegation out of the Premiership, and as such there are some teams that, come this point in the season, actually start to wonder whether they really want to keep winning games…
One team that has never shied away from declaring their aspirations to reach the top flight of University football, however, is the Stags – and so they'll be disappointed that despite clutch performances throughout their regular season, they came up short at the third time of asking against the Demons.
Comments
comments