Good Week / Bad Week | BUCS 18/19 Week Four
Bad Week
Dishonourable Mentions
Our first two forfeits of the season, as the BNU Buccaneers and UWS Pyros were each unable to field a team for their Week Four fixture.
A third straight heavy loss for Derby Braves, this time against new boys, Nottingham. The team will need to rally fast if they're going to look like contenders in the toughest conference in Uniball – update: miscommunication. No changes at the top. we hearing rumblings of a change at the top spot in the Coaching staff and have reached out to the team for confirmation.
The Manchester Tyrants and LJMU Fury each move to 0-3 after a heavy loss to the Warriors for Manchester, and a particularly poor first half performance from LJMU. It's looking like it could well come down to a fight between these two as to who'll be playing D2 ball next season.
Cobras Stung with Second Straight Loss
After their fast start to the season with a big win over the Blitz, the Cardiff Cobras will be frustrated to find themselves taking back to back losses against the Stags and Bees.
The Welsh side allowed the Bees' aerial attack too many big plays, and so despite an impressive second-half comeback, couldn't quite come away with the goods in this classic SWAC showdown.
They'll need to make sure they don't let their heads drop as they head towards what's likely to be another hotly-contested fixture hosting the Demons next weekend – a third defeat could well spell doom for this talented teams' postseason chances.
Sharks Look Like Fish Out Of Water In Loss To Knights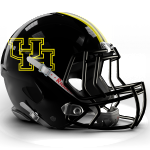 The Hull Sharks have already proven they're a talented football team with a nice win over the Mustangs to open their season… However, in the Napier Knights they seem to have simply stumbled upon their kryptonite!
The Scottish side completely shut down the Sharks for the fourth meeting in a row between these two teams, the 0-32 scoreline not doing justice to a game that was 0-6 at the half.
Lancers Skewered By Bobcats
And it's a third straight loss on the year for the Oxford Lancers, making it a long-old road back into any kinda postseason contention and ensuring their Week Five fixture vs Solent next weekend is a must-win.
Notably, this was the first game where the Lancers weren't bested in a shootout, hinting at a strong defensive showing from the Bournemouth Bobcats!
The Gloucestershire Gladiators should also probably get a mention here as well, as their big loss to local rivals, the Royals, moves them to 0-3.
Comments
comments