Good Week / Bad Week – BUCS Week Four
We finally have all but one BUCS programmes on the scoreboard (YSJ should be finally popping their competitive cherries next weekend), so in a weekend of #CrunchTime games, which programmes had the best of weeks? And which had a Sunday they'd rather forget.
Good Week
Honourable Mentions
Southern promotees to Division One had a nice weekend, Brunel Burners, Plymouth Blitz and Canterbury Chargers all winning their fixtures and each Div One rookie currently sat at 2-1 and a potential postseason berth (should the season unexpectedly end VERY early).
Leicester Longhorns bounced back from a rough Week Three and picked up their first Mid Tier win – a crucial step in securing their place in Division One for yet another season. Similarly, the Sunderland Spartans have gone some way to securing their standing with a narrow win over Northumbria.
Two wins out of their first three top tier games for Leeds Beckett Carnegie is going to make them pretty tough to dislodge from the top tier. A clutch second half performance gave them a single point victory on Sunday and Loughborough and Derby will now be circling their rematches against Leeds as must-wins later in the year.
The Coventry Jets and Manchester Tyrants continue to look like Wolves among sheep in Division Two – either side yet to find a competitive contender so far this season. If/When they meet in playoffs should be fun though!
Saints road to redemption right on track
Eight months to the day from their crushing Britbowl loss against the Clan in Worcester, the Durham Saints offence was on fire as they punished Stirling for each and every mistake from the reigning national champs. The win puts the Saints top of the Prem North and is the first 30+ point performance in the northern half of the top tier.
Nottingham trounce Trent in local derby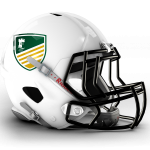 It definitely seems like Coach Jason Scott has been holding something back up to this point in the season, as on paper the Renegades were taking the bigger wins up to this point in the season. Hopes were for a hotly contested back and forth between the two Nottingham programmes, but instead 'YooNaf' unleashed their full firepower through the first half of the fixture, and NTU simply didn't have any answer to it.
We've gotta be careful about talking them up too much once again, but University of Nottingham certainly look like the cream of Division One at this point in the season.
Destroyers Dominate Bees in 'Dodge the Drop' Round One
New boys to the Prem South, the Portsmouth Destroyers put in a strong all round performance against Prem vets, the Bath Killer Bees. The offence put up a very healthy 44 points, and if anything it was penalties from the Pompey D that kept the Killer Bees offence able to sustain drives and put up some scores of their own.
While it's probably rather early to judge it, there's potential these Bath/Portsmouth match ups will be key to seeing which team survives in the top tier for yet another season.
Comments
comments