Good Week / Bad Week – BUCS Week Two
Uniball is back in full swing, and already the tumultuous impact the offseason can have on BUCS programmes is showing, as we see some surprising results showing up on the score ticker!
Many a team picked up their first W of the 2017/18 season this Sunday… while others still saw yet more pain piled on their programme even at this early stage of the season…
It's Good Week/Bad Week!
---
Good Week
Honourable Mentions:
The Stirling Clansmen may have come away with the victory, positioning themselves at 2-0 a top the Prem North, but some kudos has to be given to Leeds Beckett Carnegie in their top tier debut. The new boys to the Prem actually led the game through the majority of the fixture, before mistakes in the fourth quarter were capitalised upon by the Clan to secure a win. Let's just hope we're not seeing the emergence of another NTU-esque season for the Yorkshiremen, coming close-but-not-close-enough throughout their Prem campaign.
The Sheffield Sabres had to rely on points differential to avoid the drop into Division Two last season, and yet they've gotten their 2017/18 run off to a great start with a win over a UCLan Rams side that blunted the Sabres on both occasions last year.
And the team that dropped at the Sabres' expense last year, the Manchester Tyrants, seem to be embracing their time in Div 2 and running with it! Two games into their seven game season, and two resounding wins for the Tyrants so far.
Canterbury prove their Div One Creds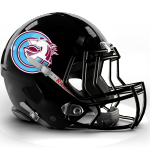 We've been asking the Canterbury Chargers to prove their Division One credentials before we'd pick them in any predictions this season, and while they their year off to a shaky start with a heavy loss to UEA Pirates in Week One, they followed up on Sunday with a shut out victory over the Cambridge Pythons – a team that saw playoff balling last season! Kudos to Canterbury… and early alarm bells for the Pythons?
Also, a shout out to the Brunel Burners, who similarly picked up their first victory in the middle tier with a 20-8 win over the Reading Knights.
Burgers are back baby!
We only saw a single measly meat sandwich in Week One, but the juicy scorelines came back with a vengeance in Week Two as three Division Two fixtures saw #50Burgers racked up, including two absolute whoppers! As noted above, the Manchester Tyrants posted up a big 53-9 win over the Chester Legion, but then we also saw too more particularly grisly one-sided affairs as the Teesside Cougars stomped 82 unanswered points on the Pyros, and the Southampton Stags debuted in the 2A South West with a 72 to zip win over the Bath Spa Bull Dogs!
Birmingham Lions get their bite back at xpLosION
There were some concerns that the Birmingham Lions were looking a bit off-colour in Week One, suffering a significant loss to the Swansea Titans.
However, they bounced back this Saturday under the bright lights of xpLosION, racking up a comfortable 39-14 win over new boys to the Prem South, the Portsmouth Destroyers.
Rohan Sandhu looked far more comfortable under centre in his second stint, and Pompey will now have to wait until Week Four to get another shot at a top tier win.
Comments
comments