Good Week/Bad Week: BAFA National Leagues Wk2
Week 2 of the BAFA National Leagues is in the bag, so it's time to throw the thumbs once more. Before we begin; there were a lot of possible 'Good Week' nominations this week, but not every team that wins makes it. For those that didn't, keep up the good work, and you'll find your team gracing these pages in the future.
GOOD WEEK
Honourable mentions;
Peterborough Saxons put up a 70-burger, even with a running 2nd half clock.
Cornish Sharks prove that, occasionally, we get a prediction wrong…
Ouse Valley Eagles go 2-0 with come-from-behind victory over the Cheetahs.
CLYDE VALLEY BLACKHAWKS
Question: How do you bounce back from an early exit in last season's playoffs? Answer: By tub-thumping the Chester Romans 41-0. That's how. Clyde Valley staked their claim for NFC 1 supremacy by mercilessly putting the Romans to the sword. Up next for the Blackhawks, a road game against a Shropshire side that lost a number of veterans in the off-season. That game could get ugly.
WEST COAST TROJANS
The Trojans opened their season with a bang on Sunday, brushing aside the Dundee Hurricanes 58-8. We were obviously misinformed regarding the state of the Dundee playing squad, as a squad in the high-30s helped prove that the Trojans are too good a side for Division 2 football, and will likely seal promotion back to Division 1 at the first attempt.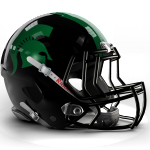 HALTON SPARTANS
A come-from-behind victory in their first competitive BAFA National Leagues match against the Railroaders. Welcome to the League, Spartans! Tougher tests lay ahead for Halton, including a week 3 trip to the favoured Manchester Titans, but a favourable schedule could see them begin their inaugural campaign 3-1 at the very least. #InRichWeTrust
LONDON HORNETS
Well, what a difference 12 months makes! A year ago, the newly-founded Hornets forfeited their season opener against the Ipswich Cardinals as they didn't have the numbers. Quite rightly criticised, the London side turned it around and improved as the season progressed. A 52-7 victory over the Cards is a measure of how far they've come since last April.
Comments
comments