Good Week/Bad Week – BAFANL Week Seventeen
Perfect seasons and BIG scorelines this week. Whilst Division Two still has one final week of the regular season, the top two tiers are now in playoff mode…it's Good Week/Bad Week!
GOOD WEEK
Honourable mentions
A perfect 10-0 regular season Tamworth Phoenix (20-0 over two campaigns), who host the Warriors in the semi-finals.
Manchester Titans, Leicester Falcons and London Olympians all secured their Division One semi-final spots with comfortable margins of victory.
Wembley Stallions and Bristol Apache both moved one step closer to a perfect regular season with victories over the Mavericks and the Black Knights respectively.
Swindon Storm avenged the defeat to Cornish Sharks from earlier in the season to get level with the Sharks' record. Cornish, however, still own the tiebreaker.
London Blitz
For the first time in what seems like forever, the Blitz head in to the post-season crowned Premier South champions following the convincing 40-21 road win over the rival Warriors. The Blitz will now host the #2 seed from the North, Merseyside Nighthawks, in the semi-finals this coming weekend.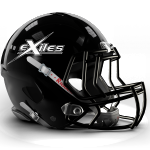 Kent Exiles
The underdog prevails. Nobody outside of the Exiles organisation and our man Will gave the Exiles a chance against the previously perfect Sussex Thunder, but Kent took the hosts in to overtime before winning 22-21 courtesy of a missed PAT on a Thunder score. HC John Moore takes his side to the Olympians in the semi-final.
Shropshire Revolution
What a way to wrap up the regular season! The Revolution completed a perfect 10-0 campaign with an 82-0 hammering of Humber at the weekend. Their 436 total points scored (43.6 per game) tops all of Division Two, whilst they await the outcome of the Bobcats versus Senators game to see who enters the playoffs as the #1 seed.
Comments
comments