Good Week/Bad Week – BAFANL Week Six
BAD WEEK
Dishonourable mentions
With only the undefeated London Blitz yet to take them on, the Farnham Knights look to be in for a rough year in the top tier this year as they drop to 0-3.
With half their season complete already, the South Wales Warriors now sit at 0-5. While their voluntary relegation meant they have a two year postseason ban, we're wondering what this means if they end up dropping down to Division Two?
Sunday's loss ends a domestic winning streak going back to August 2015 for the Warriors. Whether Euroballing has left them worn, certainly few expected the Blitz to have bounced back so swiftly from the bruising loss they took in last year's Britbowl final. Before we start getting too excited and claiming the end of the Warriors' dynasty, it's worth noting the two teams ran each other close in their first meeting last year too, that the Blitz took a narrow win away from the Warriors in 2015,  and yet on both occasions the Warriors would go on to Britbowl victories. Rather, we should be celebrating that it's looking like we'll actually get some competition in the top conference this year!
HASTINGS CONQUERORS 
The Conquerors travelled with a small squad, and it cost them when they came up against a Berkshire Renegades side that is really beginning to find its groove. A spate of injuries early in the fixture left the south coast side short-handed and trailing by 40 at the half, leaving the coaching staff few options but to wave the white flag and protect what remained of their roster. With luck the Conquerors will recover their numbers, though they'll need to be snappy about it – an away trip to a totally dominant looking Hertfordshire Cheetahs side looms in Week Seven.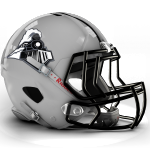 CREWE RAILROADERS
Crewe's season appears to have gone off the rails early this year.  They're toughing it out through their fixtures, and the close game against Humber shows a win is not beyond them this season. That said, they conceded their second #50Burger of the year on Sunday and have many of their tougher opponents still ahead of them. Head Coach Gary Delaney will need to work hard to get the Railroader's season back on track.

Comments
comments