Good Week/Bad Week – BAFANL Week Ten
BAD WEEK
Dishonourable mentions;
Prem South air attacks got a little worse with two QBs done for the year (at least…). More to follow.
Another shutout loss against Newcastle for West Coast Trojans, who travelled with a small squad.
A third agonisingly close defeat to Nottingham for Coventry Jets for the season, this time 7-6.
The loss of QB Callum Davidson was apparent for Sandwell Steelers, who were shut out 42-0 by Leicester.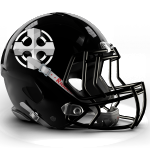 SOUTH WALES WARRIORS
For the second straight week, the Warriors lost by a single score, this time inside the final 30 seconds of the game against the Thrashers. The loss dropped the Warriors to 0-7 on the season, and their fate could be decided as early as next week, where anything less than a win will result in consecutive relegations.
KNOTTINGLEY RAIDERS
Two weeks removed from laying the smacketh down on Northumberland, the Raiders were on the wrong end of a humbling from Gateshead on Sunday, losing 72-6. Three straight road games to come, but with home and away games against Carlisle still on the schedule, it could yet be a decent rookie year.
COLCHESTER GLADIATORS
Similar to the Warriors, Colchester's Division One fate could be decide in the next three weeks, following the 19-25 defeat to the O's. At 0-5 the Gladiators now have a brutal run of five games in six weeks to close out the regular season, including home and away clashes against the Exiles and Hornets.
Comments
comments