Good Week/Bad Week – BUCS Quarter-Finals
PLAYOFF FOOTBALL! For some it was a step too far, whilst others are really beginning to find their groove. It's time for Good Week/Bad Week!
GOOD WEEK
Honourable mentions;
For the third time this season, Hull Sharks grabbed the W over Glasgow.
The UCL Emperors ended the Canterbury win streak. #8 seed defeating #1. Nice.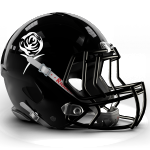 LEEDS BECKETT CARNEGIE
On, off, on again. Credit to Carnegie for getting their quarter-final match up against Warwick back on. The entire team car pooled to the game, even after the starting centre broke down right outside of Leeds, and QB1 continued his hot streak of at least three scores in each of the last four games. Solid weekend all round for the Leeds outfit.
PREMIERSHIP NORTH
It's been quite some time since neither Birmingham or Hertfordshire were represented in the BUAFL/BUCS final. But the 2016/17 season will see the North rule supreme as Stirling, Durham, Loughborough and Derby all came out of their quarter-final match-ups victorious.
GLOUCESTERSHIRE GLADIATORS
The Glads put up the biggest margin of victory in postseason so far with their win over QMBL Vipers. The 50-2 scoreline will have sent a warning to the rest of the playoff teams as we enter semi-final weekend. Next up is a Plymouth Blitz side riding a four-game win streak, including handing the Glads their only loss of the season so far.
Comments
comments