Good Week/Bad Week – Football America BAFANL Week 14
Good Week/Bad Week triumphantly returns following a couple of weeks off. With the BAFCA conference a fortnight ago, and only three games played in Week 13 of the Football American BAFA National Leagues, read on to find out who has been making an impact in Week 14…
GOOD WEEK
Honourable mentions;
Manchester Titans came back from another big deficit to beat the Surge 28-27.
Bury Saints defeated the resurgent London Hornets 33-30 to move to 4-3.
London Blitz & London Warriors put up huge scores ahead of their massive clash this coming weekend.
EDINBURGH WOLVES (6-2)
The Wolves continued their tremendous charge towards post-season football with their 5th successive victory in the National League North division. Even more impressive, they have averaged over 52 points per game in their last 3 outings. With other teams around the League boasting similar records, the game against Clyde Valley this weekend is crucial.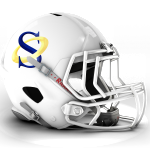 OXFORD SAINTS (5-3)
The Saints steadied the ship this past weekend, beating Sandwell 39-16 to end a three game skid that effectively put paid to their playoff hopes in 2014. It's still mathematically possible, of course, but Oxford certainly shot themselves in the foot with defeats to Shropshire (twice) and Lincolnshire. To stand any chance of making the post-season, they'll need to beat the Saxons and Falcons.
EAST KILBRIDE PIRATES (7-0)
EKP stole a march on Tamworth in the race for the #1 seed out of the Premiership North with a big victory over the Birmingham Bulls. Travelling with a lighter squad than normal, the Pirates pulled away in the 2nd half, racking up a further 34 points to race to a 51-0 win. EKP host the Jets this weekend, before the massive showdown with the 'Nix to close out the regular season.
OUSE VALLEY EAGLES (6-2)
Another big win for the Eagles this weekend, as they racked up 58 unanswered points in the victory over Ipswich, just 3 weeks removed from putting up 75 against them. The OV offense is really clicking at the moment, and they're in prime position for a playoff spot come the end of the season. Up next, an away trip to Kent Exiles and a chance to avenge the heartbreaking 1 point defeat from earlier in the season.
Comments
comments