Match Report | BAFA NL '19 – Roughnecks vs Senators
ROUGHNECKS SEND SENATORS HOME SOMBRE AFTER 56 – 0 ROMP
Looking to get back on track, we would face the Gateshead Senators on Sunday in our 7th game of the season determined to come away with the win.
Winning the coin-toss and opting to defer, the Roughnecks defence would get on and then off of the field quickly, a feat repeated nearly all day with 3 and outs followed by quick, decisive scoring drives from the offence. Finding the endzone on their first drive through #6 Lewis Hughes the offence wouldn't look back adding another six touchdowns to their first half tally.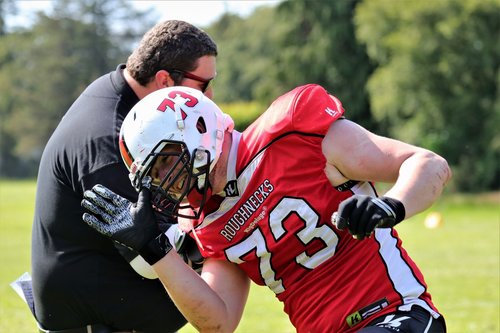 In no particular order for the rest of the first half touchdowns, Lewis would find the endzone twice more to equal his own personal best tally, and the Roughnecks individual single game record with 3 touchdowns, adding 4 more points to the team's tally through two successful 2PATs. WR #18 Rhys Elmslie would haul in two touchdowns, coming down in the endzone both times having leapt above the Senators' defensive back to secure the ball both times. WRs #3 Wako Anindo and #9 Greg Keenan would both score their first ever touchdowns, both weaving through traffic on their way into the endzone after receiving short passes from QB #16 Chris Breen who himself would total 4 throwing TDs for the day. Chris and TE #85 Rob Hayes would also combine for a 2PAT in the first half, with K #4 adding two PATs to make the score 50 – 0 to the Roughnecks at the end of the first half.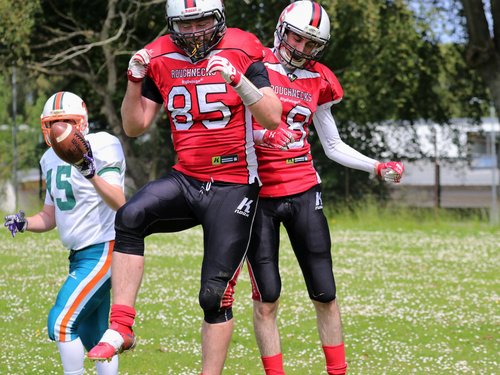 With the deficit greater than 35 points in the second half, the game would proceed under a running clock for the remainder of the game. This would mean that the 30 minutes on the clock in the remaining two quarters would only stop for an injury timeout or a team timeout. The defence would continue to stand resolute throughout, only conceding one first down, right at the end of the game, and never allowing Gateshead to gain any type of momentum. Continuing to move the ball throughout the second half, the offence would find the endzone once more as second half QB #18 Rhys Elmslie would find TE #85 in the endzone to round out the day with the scoreline at 56 – 0.
FT: ROUGHNECKS 56 – 0 GATESHEAD SENATORS
Comments
comments